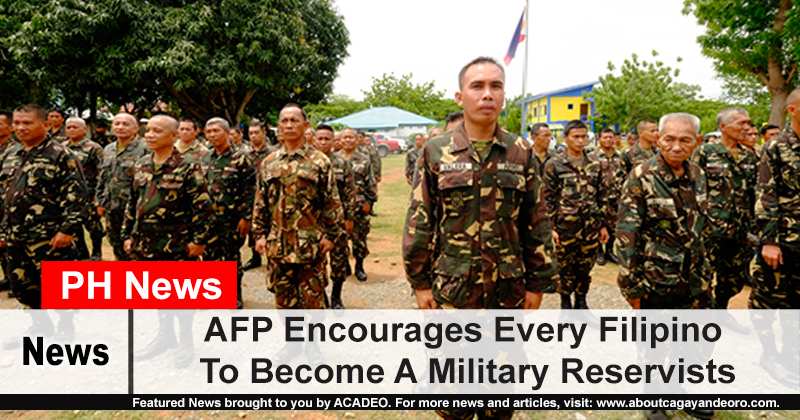 The Armed Forces of the Philippines (AFP) is encouraging able Filipinos to join the Military Reserve Corps.
According to the Director of 307th Community Defense Center of the Philippine Army, Major Husain A. Esmael, reservists have a vital role in the accomplishment of missions conducted by the AFP.
A misconception towards military reservists is that they're just considered force multipliers. But the AFP corrects this assumption saying that a reservist is an important component and a reliable partner in various non-lethal military operations and activities.
Military Reservists' four-fold mission:
#1 provide the base for expansion of the AFP in the event of war, invasion or rebellion such as the recent Marawi Siege
#2 relief and rescue operations during calamities or disasters;
#3 socio-economic development;
#4 operations and maintenance of government and private utilities in furtherance of the overall mission of the AFP
Military Reservists will undergo officer training programs and once certified they would get identification cards as a  Military Reserve Corp.
Military Reservist Programs are not just training platforms of ideas and opportunities. This program is also an effort of showing our patriotism and volunteerism for nation-building.
Some military reservists in the country are government officials,  architects, environmental planners, information technology experts, foresters, lawyers, doctors, nurses, veterinarians, teachers, and engineers.
To apply as a Philippine Military Reservist you can visit their website at Philippine Air Force