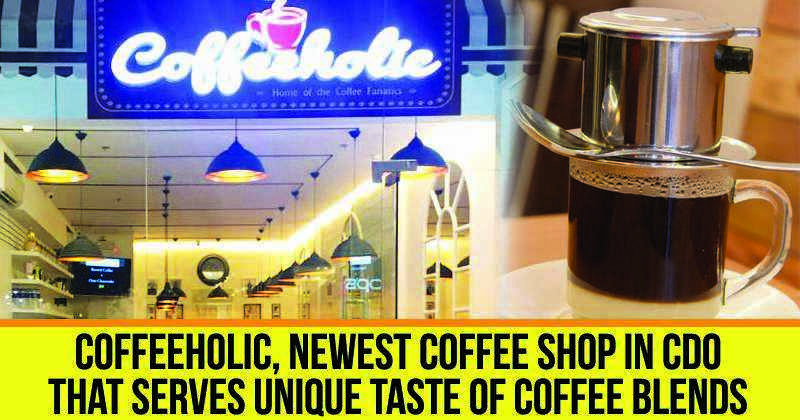 On October 1, Saturday, a new coffee shop with unique brew named as "Coffeeholic" is now ready to serve them coffee lovers in Cagayan de Oro City. The shop is owned by the couple Tara Jane and JC Vargas located at SM City.
Tara Jane stated, "What is fresh about Coffeeholic is that we are not only offering the usual coffee menu such as cappuccino, cafe americano, espresso, or the classic brewed coffee. Here, we brew other types of coffee coming from Italy, Vietnam, Turkey, the Middle East, Malaysia, and Ireland and we want Kagay-anons to experience these coffee tastes."
The couple has worked abroad as language teachers for 10 years. They spent their time traveling to several countries particularly in Asia and Europe. From this travels, the couple made their menu that includes all the recipes from their visited countries.
The couple already planned to put up a coffee shop in the city, once their employment contract abroad ended.
Locals from the countries that the couple once based for their job personally taught those unique coffee recipes.
Coffee lovers must try these unique coffee blends, offered in Coffeeholic are Turkish coffee, Arabic Coffee, Irish coffee, Vietnamese coffee, and the Karak Tea.
JC stated, "Irish Coffee is a mixture of espresso, cream, and whiskey. The key lies in the proportion of these ingredients in the mixture. This type of coffee, however, is known for its strong alcoholic content, so be sure to be ready for its effect."
He added, "Turkish coffee is unfiltered coffee. To prepare it, our beans which are shipped directly from United Arab Emirates, are roasted and then are simmered in a pot, optionally with sugar, and served in a cup where the grounds are allowed to settle. The taste should be a mixture of bitter and sweet and this coffee should be immediately consumed while hot."
His wife Tara Jane said, "Karak Tea is a famous tea from India. This is a beverage that we really want our customers to discover. This is made by brewing black tea with a mixture of aromatic Indian spices and herbs."
Coffeeholic aims to serve high-quality and a latest foreign coffee experience as their suppliers for the mixture and ingredients for coffee blends are from abroad.
Customers not only from the city but also from Lanao del Sur, Zamboanga, and Butuan gave a positive feedback to Coffeeholic in its first three days in business.
JC said, "Last day, we had customers who were very impressed with our serving of the Arabic coffee. They shared that the taste immediately reminded them of their connection to the Middle East."
The couple plans to establish another branch at the new upscale commercial complex, SM CDO Premier by 2017.
JC stated,"We would really like this business to grow but of course, we do not like to hasten everything. Our love and passion for coffee has given us the chance to open up this business. We want to also maybe open up in Cebu or Manila but then, we want to take this one step at a time."
News Source: Sun.Star
Image Source: Coffeeholic Facebook Page