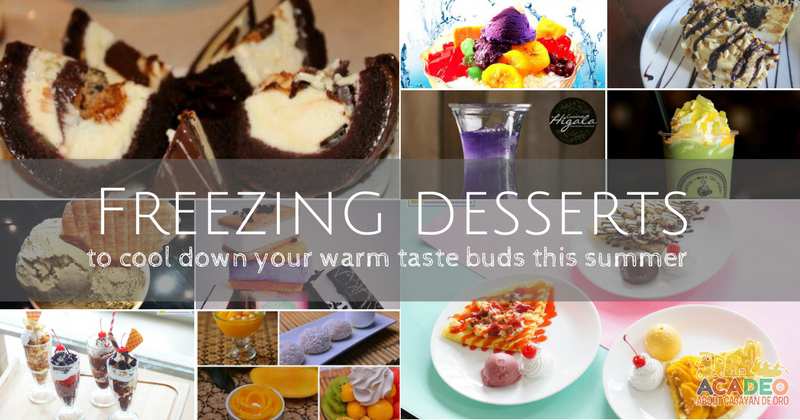 Feeling the heat? Enjoying the summer sun? Although sometimes the heat is just too much that it drains off our body and our energy. We just love to munch on something cool and refreshing like a cool drink or a nice freezing dessert just to neutralize those body heat. Well, we've listed down below some freezing and drooling desserts that can cool down your warm taste buds this summer. No worries, you can find these freezing desserts within the city.
Mango Ice Choco Banana
A modern banana split which can be found in Mango Mania Healthy Dessert Restaurant, they also serve various healthy dessert since they are using fresh fruits with no preservatives. Located in Lifestyle District along Corrales Avenue Extension with two other branches in the lobby of Cinema 1 and 2 at the Limketkai Mall and at Ayala Centrio Mall.
Magic Potion
A top beverage which is made from Blue Ternate flower that is extracted and it is also known to be good for its health benefits. This is a perfect combination with another dessert, you can visit Cucina Higala for more questions and try their other products, it is located in Capistrano-Mabini Street, (formerly the Thai Me Up).
Sans Lava
The bestseller in the store, it is a different sort of sans rival with creamy chocolate filling inside. It can be found in Chocolates and Creams pastry shop on the corner of Don A. Velez and Gaerlan Streets.You can also try other desserts that will surely suit your taste, like the fondue.
Tartufo
It's like imagining the size of a bowling duck ball that's a spherical chocolate cake and inside is pure vanilla ice cream.And was already sliced when serve, so you need to rapidly eat the ice cream before it melts for a fabulous taste. You can visit Candy's Cafe along Corrales Avenue or Centerpoint Arcade and try another dessert.
Berry Merry
Is a dessert filled with whipped cream, strawberry gelato, chocolate cubes, grated chocolate, blueberry gelato, and topped with a fresh strawberry on top. Can be bought on Missy Bonbon located in Limketkai Center and Centrio Ayala Malls.
Choco Overload
Is served in a large cone and inside is an overload of chocolate and vanilla gelato topped with a fresh cherry. Both are sure to melt when touch on your tongue that can make the heat of the summer go away. Can also be brought in Missy Bon-bon.
Matcha Mangga
This is a refreshing drink for this hot weather. Have you tried this made-in-heaven blended drink that is available in Caffe La Tea is located at G/F Montecarlo Bldg, Hayes Street, CDO.
Freezie Ice Cream
Various flavors of ice-cream that can hook you upon tasting it. They offer Pinoy classic flavors with some twist.Visit them at RN Abejuela St., Divisoria, Cagayan de Oro City.
Frostbites Ice Cream Sandwich
You can choose the ice cream flavor that you love and what kind of "bun", like chocolate chip cookies, red velvet cake, tiramisu and chocolate wafers. The sweetness of the ice cream compliments well with the sweet bun. You can visit them on their store at the Ground Floor of Grand Central, Velez-Hayes Streets, Cagayan de Oro City.
Halo-halo
Filipinos are very fun of halo-halo since it has various ingredients that meet the taste of an individual. But lucky you, this halo-halo from Yakimix Restaurant is really different. Why? Because you can make your own halo-halo. The restaurant is located at Cagayan Town Center, Captain Vicente Roa and Anotonio Streets.
Wherever and whenever we go for adventure, trips, and traveling, food is one of the factors why we keep on going back to that specific place. It gives us the satisfaction that can make everything more enjoyable. Indeed, food, in the end, in our own tradition, is something holy. It's not about nutrients and calories. It's about sharing not just to the people we love but those who don't have.