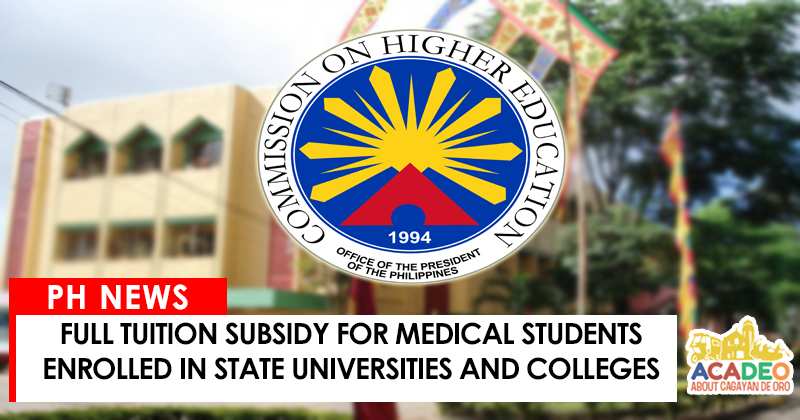 Commission on Higher Education (CHED) issues a statement last June 11 the Doctor of Medicine students in State Universities and Colleges (SUCs) will get to avail and enjoy a full tuition subsidy.
According to the press statement released by CHED this is possible through the Cash Grants to Medical Students Enrolled in State Universities and Colleges (GGMS-SUCs) program of the Duterte administration.
It was disclosed that qualified students will be experiencing a full one hundred percent (100%) tuition subsidy based on their actual tuition.
The financial assistance will be implemented within this year.
The program will cover both new and continuing Filipino medical students for the Academic Year 2017-2018.
8 Identified SUCs:
– University of Northern Philippines
– Mariano Marcos State University
– Cagayan State University
– Bicol University
– West Visayas State University
– University of the Philippines-Leyte
– Mindanao State University
– University of the Philippines-Manila
Qualifications:
Pass the admission requirement of the SUC

Enroll in the authorizes Doctor Medicine programs of SUCs

Maintain a general weighted average (GWA) of at least a passing grade

Carry a regular academic load and complete the degree within the period allowed in the University
In return, student-grantees of the CGMS-SUCs program will have to serve the Philippines for one year (Return Service System)They can return the favor by being a doctor on government or private hospitals, local government health facilities or become doctors to the barrios.
Return Service System is already established on SUCs to ensure that student-grantees are to stay and serve the country after the graduation.