Choosing the right lunch box or lunch bag for your children doesn't have to be confusing even with so many different varieties and styles to choose from. It all boils down to the right size for your children's lunch and snacks, the right size that can be carried comfortably, and if it needs to be insulated or not and even accessories. Generally, lunch boxes come either in plastic, tin, and stainless steel, while lunch bags come in reinforced cloth, leatherette, plastic, or tin.
Avoid so-called "microwavable plastic"
Only special ceramics specifically made for microwave ovens should be used to cook food in the microwave. So-called plastic food containers and plastic lunchboxes that are marked "microwavable" can be dangerous. Assuming the plastic really won't melt and damage your microwave, even BPA-free plastic will transfer chemicals from the plastic to the food due to the microwaves emitted. Also be careful with very cheap plastic lunch boxes (especially those from unrecognized brands made in China) because the cover might not fit properly and chemicals tend to leak out if the food is hot and sealed inside the box.
Make sure the lunch box keeps food fresh
Contrary to popular belief, rice and viands will not spoil even if sealed in a plastic lunch box. It will spoil if the rice or viand is already spoiling even after being heated, so make sure you cook fresh food for your kid's lunch and not leftovers. Make sure the cover fits properly and will not accidentally open. It should be sealed enough that not even creamy sauces will seep out (avoid soups as these may seep out). The lunch box, whether plastic or tin, should seal properly to keep food fresh until lunch time. For instance, a sandwich can be kept fresh in it without the need for a plastic wrap.
Easy to clean
The best and easiest to clean lunch boxes are those with a single lid, whether attached or unattached as they are easier to clean out and dry out. For lunch bags, make sure they are easily wiped with dry cloth or wet cloths and can be laundered from time to time. Note that while some brands will indicate "dishwasher safe," and even if you do own one, hand washing your kid's lunch boxes is always the best way to clean them out.
Sectioning and portioning
The best lunch boxes are those with sectioning in order to separate different foods, especially separating the rice from the viands, or the sandwich from the other foods. The best lunch bags are those with portable or removable insulation or with separate pockets outside to place snacks separately.
One size does not fit all
Your grade 5 child might need a bigger lunch box than his grade 2 sibling. If you just prefer a lunch box rather than a separate lunch bag, it must be enough to fit into the kid's school bag, or take up most of the bag's space. It's not a good idea for two kids to share a lunch box so make sure all your kids have a lunch box or bag each (especially if they dig the superhero types), make sure they're not too big since they already have a school bag to carry. The average elementary school child's lunch box should be able to fit at least a sandwich, sliced fruits of at least two variations, a snack, and a muffin or biscuits, or at least rice, one or two viands, and the others as indicated.
Help out with the environment
Don't use plastic zip lock bags daily as these will cost you an arm and a leg over the long period and also you're not helping the environment since you need to throw these away after only one use. Try to buy a lunch box or bag that will last a long time so you won't be spending each year.
Easy to store
Lunch boxes and lunch bags should never be too bulky to store away when not in use during the weekends and during summer vacation.
Lunch bags with insulation
It really depends on the parent if they need insulated lunch bags or not. The best thing is to have insulated lunch bags around just in case you may need them. Or you can buy lunch bags that have portable or removable insulation. One use for insulation is in case the school requires their students to have "fruit days" so parents will need to put an ice pack inside the insulated lunch bag to keep the fruits fresh even if the bags get hot sitting in the bag racks before lunch.
Some common examples of lunch boxes and lunch bags:
Plastic Triple Split Lunch Box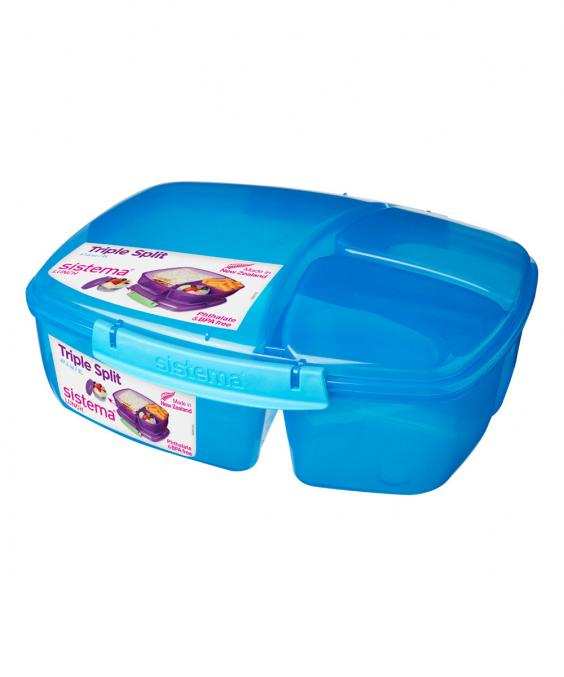 The most common type of lunch box. If well sealed can easily fit into any school bag.
Typical Separate Carry Lunch Bag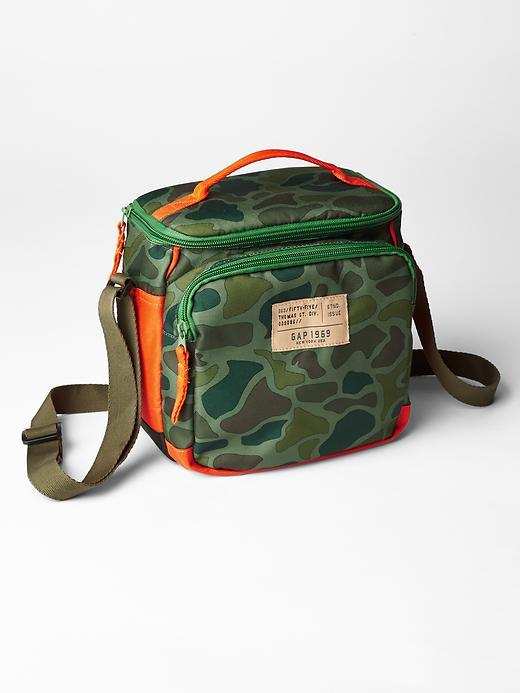 This typical stylish lunch bag has a long strap to carry it over the shoulder, with plenty of room to store a medium sized lunch box and individual drinking containers, with an extra pocket in front to keep snacks separate. It usually has portable or removable insulation inside and is easily wiped clean.
Storage Tin Lunch Box with Cartoon or Superhero Themes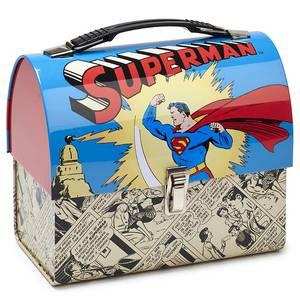 Although this type of design came out in the 1970's, it still has a very strong appeal with children especially if it features their favorite cartoon or superhero character. They last for years and while some are still made from reinforced tin, others are already made out of stainless steel.
Bento Style Stainless Steel Lunch Box with Optional Lunch Bag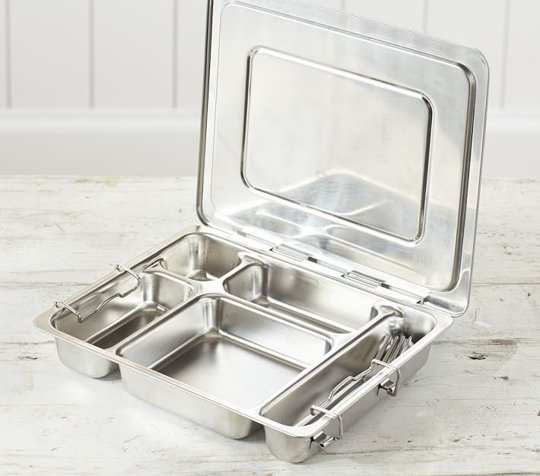 The Bento lunch box is Japan's typical lunch box design with multiple compartments for different foods. Aside from the food being safe and fresh, the utensils are assured of being stored and clean as well. While this one is in stainless steel, there are bento boxes sold in plastic and without an optional lunch bag.
Insulated Sleeve Lunch Bags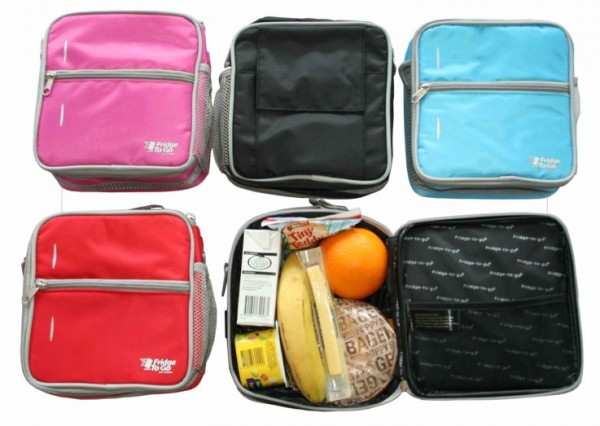 The most common type of insulated lunch bag is the insulated sleeve type wherein you can place the ice packs along the side or sleeves of the bag to keep food cool and fresh up to 6 hours. You also have the option to use a lunch box or to just store food separately in the bag.
Flip Lid Plastic Lunch Box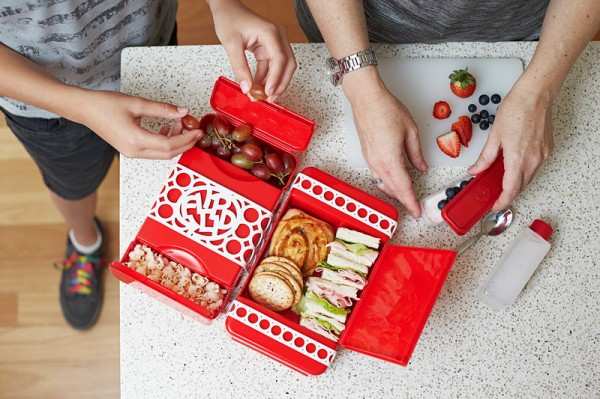 Another common type of plastic lunch box is the Flip Lid. It features at the most, 6 compartments across a unique double sided design. Pack 3 compartments for snacks or fruits and flip it over and pack the other 3 for lunch.
Note of advice: If you haven't yet bought your kids their lunch boxes or lunch bags, do it NOW because the stores can get crowded as school opening day approaches.