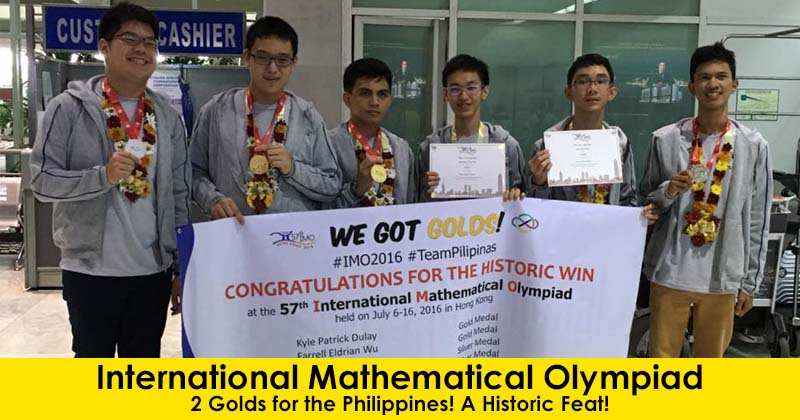 In the 57th International Mathematical Olympiad held on July 6 to 16, 2016, the Philippines made a historic feat by bagging 2 golds in this prestigious event!
The drought of Gold medals in this event has spanned for 18 years when the Philippines first joined the competition in 1988 headed by the late Ateneo math professor Jose Marasigan. Finally, this year's representatives Farrell Eldrian Wu of Makati Gospel Church-New Life Christian Academy and Kyle Patrick Dulay of Philippine Science High School got us Gold medals.
Aside from the Gold, the country also got 2 Silvers and 2 honorable mentions as well.
Clyde Wesley Ang (Chiang Kai Shek College) and Albert John Patupat (De La Salle University Integrated School) both won silver medals.
Vince Jan Torres (Sta. Rosa Science and Technology High School) and Shaquille Wyan Que (Grace Christian College) both had given honorable mentions after completing at least one problem.
The Philippines ranked 13th overall after getting a total score of 133 in this year's event where 109 countries participated. This is marked as an improvement compared to the 36th spot we had in 2015 against103 countries.
Team Philippines' IMO Facebook page stated in a post, "This brought us closer to Southeast Asian powerhouses like Thailand (#12) and Vietnam (#11), and ranked us higher than usually strong countries like Bulgaria (#18), Germany (#19) and Romania (#20). This is the best finish of the country since it first participated in 1988."
The top spots in this year's competition belonged to the United States, followed by South Korea, China, Singapore, and Taiwan.
"The 6 problems appearing at the IMO are certainly very difficult that even the easiest of these is several times harder than the math problems that are usually encountered by high school students," also stated in the Facebook post.
They added, "These 6 problems are administered to all contestants over the span of two days, and the 3 problems in each day are to be tackled within 4 and 1/2 hours."