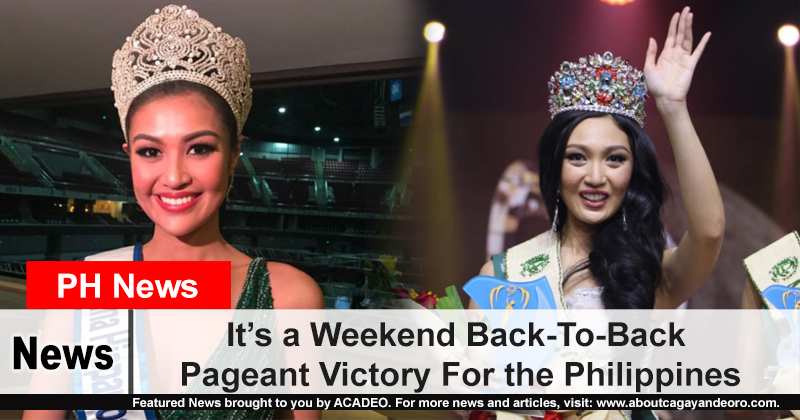 It was a magical weekend for the Philippines as two lovely Filipinas, Karen Ibasco and Winwyn Marquez reigned in two different pageants, in the Miss Earth 2017 and Reina Hispanoamericana 2017, respectively.
In the evening of November 4, Philippine representative Karen Ibasco showed her genuine advocacy as an Earth warrior which left both the audience and the judges in awe inside the Mall of Asia Arena with her answer to the pageant's official question "Who or What do you think is the biggest enemy of Mother Earth and why?"
Ibasco answered with confidence and conviction: "I believe that the real problem in this world is not climate change. The real problem is us because of our ignorance and apathy. What we have to do is to start changing our ways, to start re-calibrating our minds and redirecting our steps because together, as a global community, our micro-efforts will have a macro-effect to help save our home, our planet."
Being an advocate of energy conservation and renewable and sustainable sources, Ibasco embodied the qualities to deserve the Miss Earth 2017 crown.
Other contestants making to the so-called elemental court were, Miss Earth Air 2017-Nina Robertson from Australia, Miss Earth Fire 2017-  Lada Akimova from Russia and Miss Earth Water 2017- Colombia's Juliana Franco.
On the other side of the world and at a different day, actress-turned-beauty queen, Winwyn Marquez, bested 26 other beauties in the Reina Hispanoamericana 2017 competition last Sunday morning, November 5 (Saturday night in Bolivia).
During the question and answer portion, Marquez was asked how would she promote the Hispanic-American culture with the great difficulty or barrier of language.
Marquez answered with a heartfelt statement : "Language can be learned but the will and determination to contribute to the organization cannot. It has to come from the heart. It has to be natural. I believe that kindness is a universal language that if you treat people with tolerance, patience and love, you will understand each other."
"The Hispanic culture is not about language only. It's about love for God, love for country, love for history and culture and love for family. As a Filipina with a unique heritage, I have instilled that I am ready to promote the Hispanic culture not just in Asia but in the whole world. It is time to celebrate the Hispanic culture. It is meant to be celebrated."
Winwyn Marquez is the first Filipino to compete and win in the said beauty pageant. Apart from this, Winwyn also gave the Philippines a back-to-back victory for the Philippines over the weekend.