Miss Charinna Barro, candidate number 10 from Barangay Macasandig, is the newly crowned queen for the Miss Cagayan de Oro 2015 Beauty Pageant recently held at the Atrium of the Limketkai Center last August 22, 2015.
Miss Charinna Barro is a BS Accountancy student from Liceo de Cagayan University; this gives a sort of 4-peat for the university that has fielded candidates and won the Miss Cagayan de Oro crown since 2012.
Many agree though, that what probably propelled Charinna to win the crown was her honest and down to earth answer during the question and answer portion. The question given to Charinna was, "… if given the chance, what one thing would you do to change the world?" Her simple answer (in summary form here) was that, "… if there was one thing that I would like to change in the world, I would change something within myself."
Though not really the crowd favorite, it was clear that as the night drew on, Charinna slowly won over the majority of the crowd to her charms, buoyed on perhaps by a number of obvious Liceo students who loudly cheered Charinna on to the point of getting hoarse. The newly crowned queen bested 11 other candidates with her obvious wit and poise, though the other candidates also had their qualities and abilities as well.
Aside from winning the crown, Charinna also won a handful of awards such as Miss Flawlessly U, Miss Marianne Suites, Miss Natasha, Miss 2Go Travel, and Miss Globe Texter's Choice. She also won Miss Photogenic as well as Best in Mags Casual Wear during the Gown Competition and Mega Fashion Show held last August 8 at the Ayala Centrio Mall.
Following Charinna is First Runner up Dylanna Bax, candidate number 12 from Macasandig; Second Runner up Kiezela Quiz, candidate number 1 from Nazareth; Third Runner up Caroline Veronilla, candidate number 6 from Balulang; and Fourth Runner up Josabeth Valdehuesa, candidate number 11 from Barangay 14. It was not lost on many people when they noticed the coincidence that both Charinna and first runner up Dylanna Bax are students of Liceo de Cagayan University and from Barangay Macasandig.
Dylanna Bax herself won minor awards such as Miss Island Souvenirs, Darling of the Press, and Miss Philippine Airlines.
Kiezela Quiz won minor awards like Miss The Loop, Miss Aruga, Miss Le Rouge Spa, Miss Stronghold Insurance, and Miss Ororama. For the Gown Competition and Mega Fashion Show, Kiezela won Best in Evening Gown. This gave Juniel Doring, a CDO fashion designer, the Best in Gown Creation award, breaking the grand slam streak of Albert Rivera, another CDO fashion designer.
Caroline Veronilla was the hands down favorite to win Best in Swimwear as well as being named Miss Camella, and Miss Sanctuary Spa.
Josabeth Valdehuesa also won Miss Personality and Miss Shopwise.
Megan Julia Digal, candidate number 5 from Kauswagan also won her share of awards with Miss Gaisano and one of three tied for Best in Talent. Incidentally, in this year's Miss Talent Show, for the first time in the pageant's history, three candidates won the Best Talent Award. Aside from Megan, Caroline Veronilla and candidate number 8, Charlene Jane Huera also won the Best Talent Award.
The audience was definitely treated to a great stage decked up with a full complement of decorations, two curving stairs that meet in the middle, and walls painted with women in masks. There were even two huge LED screens for the benefit of the audience's maximum viewership. The judges did notice that some of the candidates were somewhat struggling with the stairs, but in spite of the odds still kept up their grace and poise as expected from beauty pageant contestants.
During the judge's tabulation of the scores after the question and answer portion – since all scores revert to zero for this portion – there was a bit of a lull as the judges made doubly sure that all scores added up correctly and the clear winner would be finally announced with no errors.
The pageant was professionally hosted by no less than Nicole Abas-Datayan of local ABS-CBN Northern Mindanao and international actor-model Alejandro dela Fuente. They did a pretty good job at hosting the show and very much entertained the crowd with their natural banter.
Prominent Cagayanons were noticeable in the audience such as Mayor Oscar Moreno, Ms. Dorothy Jean Pabayo, former Department of Tourism regional director and now city tourism consultant, Carla Marie Madrigal, and Mags Cue.
As a candidate was announced for the final five finalists, the crowd would go cheer even louder. The crowd also went wild every time a runner up was announced, but none really louder than when Charinna was announced as the new Miss Cagayan de Oro 2015. Beatrice Alvarez Pohl, the reigning Miss Cagayan de Oro 2014 then came on stage in all her regal beauty and glory to pass on the crown to Charinna and give her own advice to the incoming queen.
Those following the pageant from the beginning will probably notice a disparity from the official announcement on June 29, 2015 during the Pamahaw Espesyal TV show guesting and City Hall presentation and the Official Press Announcement and Meet and Greet at the Limketkai Center Rotunda. While the former showed 14 candidates, the latter presented a final 12 official candidates. Two candidates from Kauswagan and one from Barangay 30 were gone from the second presentation; Charinna Barro from Macasandig replaced all three candidates at the LKKS Rotunda presentation.
The final list of official candidates for the Miss Cagayan de Oro 2015 Pageant according to their candidate number: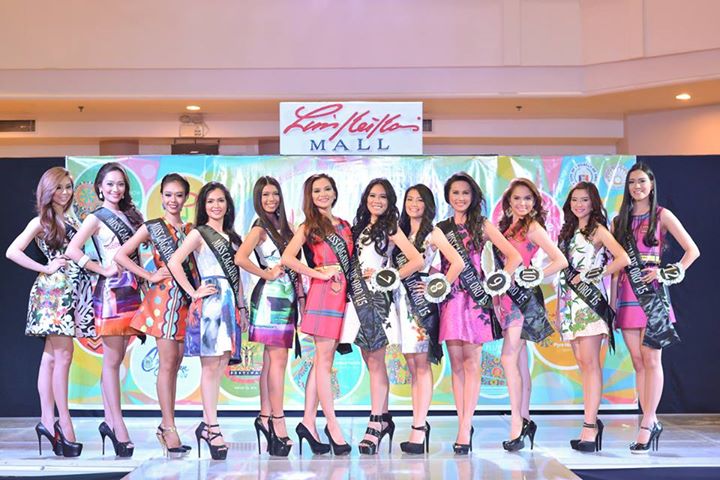 #1 – Kiezela M. Quiz – Nazareth
#2 – Maelyn Joy S. Unson – Barangay 21
#3 – Rose Cherry Ruiz – Carmen
#4 – Andrea Lesley M. Seronay – Lapasan
#5 – Megan Julia R. Digal – Kauswagan
#6 – Caroline Veronilla – Balulang
#7 – Nikka Mae M. Esic – Macasandig
#8 – Charlene Jane B. Huera – Macasandig
#9 – Joyce Artango – Carmen
#10 – Charinna Barro – Macasandig
#11 – Josabeth A. Valdehuesa – Barangay 14
#12 – Dylanna Bax – Macasandig