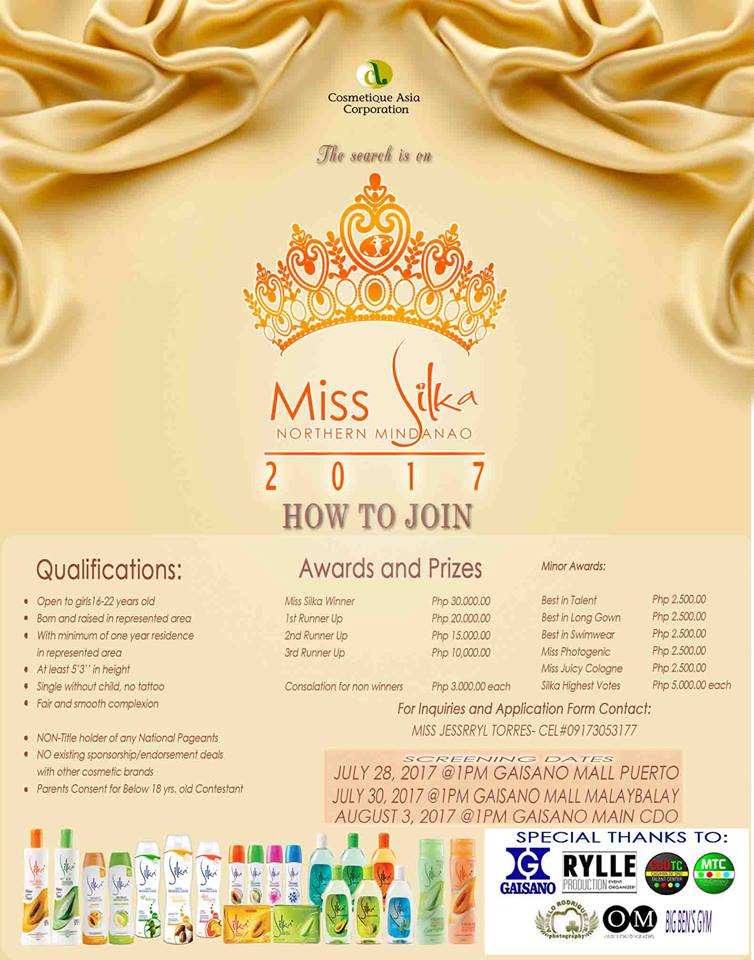 Calling all the beauties of Mindanao! Cosmetique Asia Corporation is now searching for the next Miss Silka Northern Mindanao title holder.
Qualifications:
*16-22 years old (for contestant below 18 years old, must secure a parents consent)
*born and raised in Northern Mindanao
*at least 1 year resident of Northern Mindanao
*at least 5'3″ in height
*must be single and without a child nor tattoo
*fair and smooth complexion
Additional requirements:
*Must not be a title holder of any National Pageants
*Has no existing sponsorship or endorsement deals with other cosmetic brands
Cash prizes:
Php 30, 000
Php 20, 000
Php 15, 000
Php 10, 000
Non-winners will receive Php 3,000-worth of minor awards and some special awards worth Php 2,500 each.
If you think, you have what it takes to be crowned as Miss Silka Northern Mindanao 2017, join their screening at these dates and locations:
July 28, 2017 (Friday) at 1pm – Gaisano Puerto
July 30, 2017 (Sunday) at 1pm – Gaisano Malaybalay, Bukidnon
August 3, 2017 (Thursday) at 1pm – Gaisano Main Cagayan de Oro City
For more updates, you can follow  Miss Silka Cagayan de Oro City