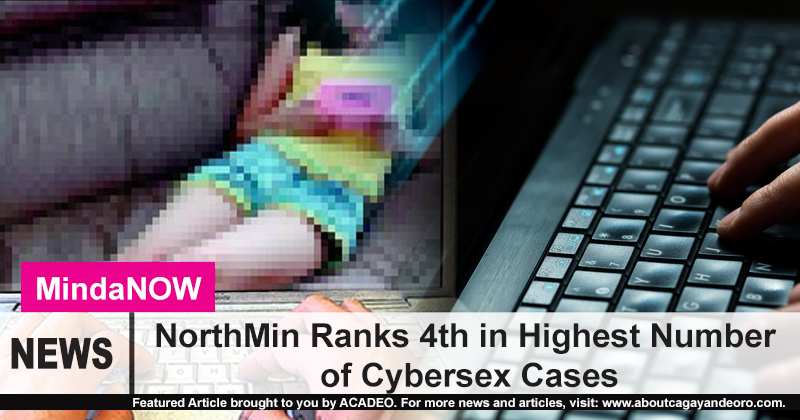 Northern Mindanao has the highest number of cases in terms of cybersex crimes involving minors in the country said Misamis Oriental Governor Yevgeny Emano.  
In an article from Manilatimes.com, Emano based his statement on a report which covers the province of Misamis Oriental and the Northern Mindanao region by the police regional command's cyber crimes unit under the leadership of Chief Insp. Ignacio Gamba.
Emano also said that not only cybersex crimes is prevalent throughout the region but also identity theft cases that are allegedly administered through doubtful links and illegal skimming such as the illegal withdrawal of cash at automated machines in various banks.
Gamba said that is already a regional cybercrime unit who have trained abroad with the latest cyber technologies assigned to assist those who have become victims of cybercrimes in filing the appropriate cases against perpetrators.
The cybercrime also handled child pornography cases in Misamis Oriental where the involved suspects are from foreign countries who were identified and extradited.
The 2014 effective Republic Act 10175 or the Cybercrime Prevention Act of 2012 covers 16 cybercrime-related cases such as child-pornography, cybersex, unsolicited commercial communications, and libel.
Violators of such law will be fined with P50,000 to P500,000 and will be imprisoned from one to six years. For juridical or corporate violators, fine reaches P1 Million to P10 Million and the number of years of imprisonment is from 6 years to 12 years.
Emano encouraged all provincial government employees to be careful in using the internet and social media platforms, especially when dealing with people and friends online.
He also urged residents to report any suspicious activities of persons or foreign nationals as might be discovered that they might have something to do with pedophile cases which is becoming an issue throughout the region.