A little bit of history
Oktoberfest or Volksfest (beer festival and travelling funfair) is held annually in Munich, Bavaria, Germany. It is celebrated during the 16 days of October and is now celebrated in conjunction with German Unity Day on October 3. During the event, the main attraction is the consumption of large quantities of high quality German beer. An average of 6 million tourists attend the festival from all over the world. In the Philippines, as part of the commercial strategy of beer manufacturers, Oktoberfest is celebrated in many bars and restaurants all over the country or as drinking festivals sponsored by said manufacturers.
Since its Oktoberfest time once again, the city isn't lacking in watering holes that offer their own Oktoberfest feasts and events that will surely brighten up this month.
Lifestyle District
Lifestyle District, Bacardi and Bacardi Breezer presents the 2nd annual Halloween event and challenge, Riddle me this Batz! All the participants need to do is to solve the riddle of who the Mysterious Batman villain behind the scares in Lifestyle District.
They must come in their best individual and best group themed costumes. Winners get to take home big cash prizes and other surprises. The Halloween Party is set to happen on Oct. 29, 2016, winners of the contest will be announced there and it is expected to be the best Halloween event in the city.
Giuseppe Pizzeria and Sicilian Roast CDO
Good times are here!  Enjoy the good times with a bucket of beer with a choice of Hawaiian or Pepperoni Pizza at Giuseppe Pizzeria and Sicilian Roast CDO for only Php 659!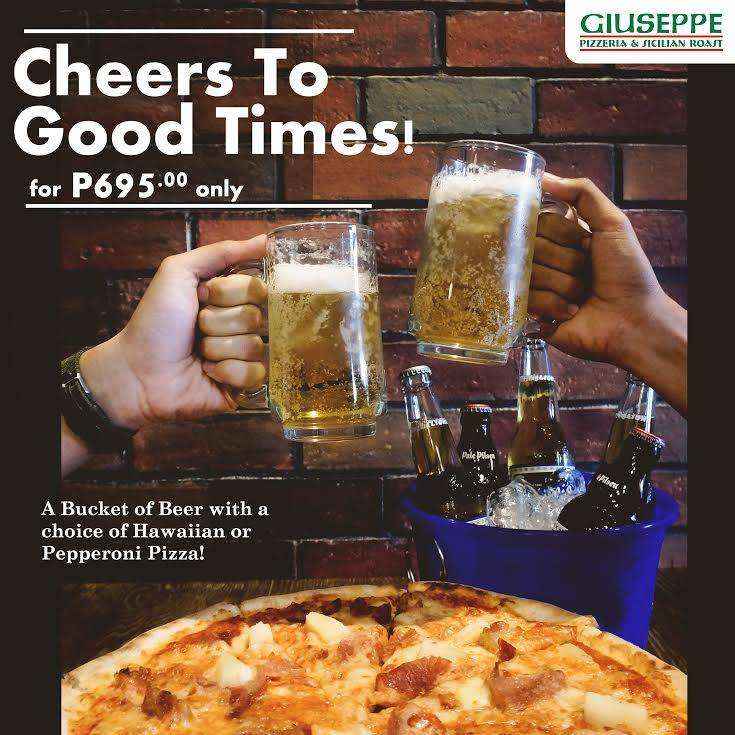 See you at Giuseppe Pizzeria and Sicilian Roast CDO in The Nest. Enjoy this great deal from October 17 to November 20, 2016.
Club Illusion
Club Illusion is the newest dance and event club in the city, offering very affordable drink promos and good food and table nibbles. Starting this Sunday the club will now run the Illusion Raffle every Saturday. Tickets for the first draw will go on sale this Sunday for just P10.00 per ticket.

The winner will be drawn at 12:00 midnight every Saturday, with all ticket sales to be cut-off by 10:00 p.m. The event will go live every Saturday evening on their Facebook page. The winner will receive 75% of all ticket sales for that week, with 25% going to a charity for less fortunate children. So if you are looking to win and to help the less fortunate at the same time, just visit and like the Club Illusion official Facebook page and get yourself down to the club starting this Sunday at Corrales Avenue, beside Sattae Grill, fronting Xentro Hotel. Oh, and they claim one of the cheapest beer bucket promos in the city.
Wild Onion
Wild Onion Pub and Grub is celebrating the Oktoberfest in its Happy Hour from Mondays to Thursdays from 1:00 to 5:00 p.m. Selected beers are only P39 per bottle during the happy hour. There will also be a 10% discount on selected food items for the happy hour.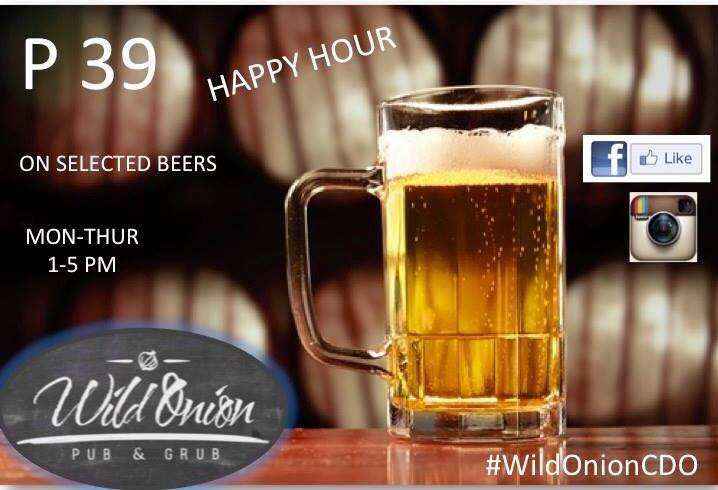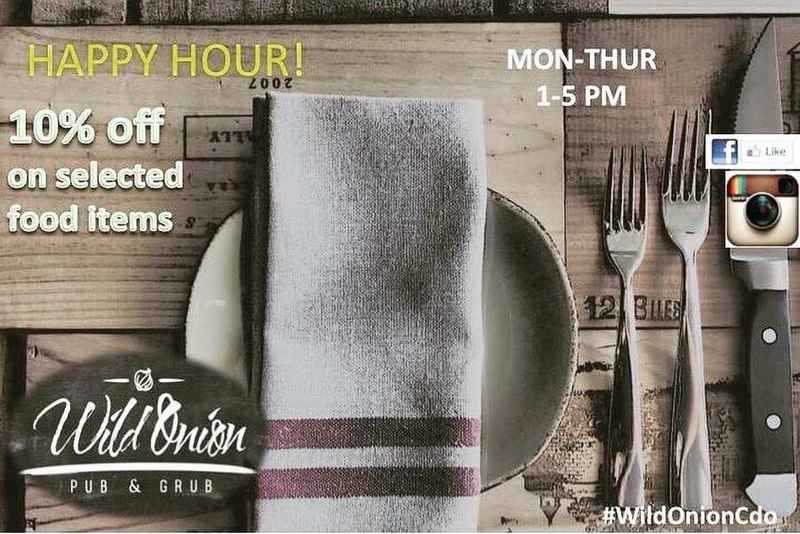 But if you want to celebrate you Oktoberfest nights at the Wild with friends or colleagues, the pub and grub offers really good and delicious foods with a variety to choose from on their menu, and order affordable drinks, beer buckets, and tower specialty drinks like the "happy ending" and the "Gugmang Giatay" for more fun group drinking. They're located at the Center Point Arcade at Domingo Velez Street and Corrales Avenue.
Junno Deli Café
As their moniker suggests – great food, awesome drinks, fun times – this restaurant and bar is another perfect place to celebrate your Oktoberfest nights. On October 20, from 11:00 p.m. to 3:00 a.m., Junno will have live DJ's such as DJ RB, DJ Kyle, DJ Cocoy B, and DJ Julius B.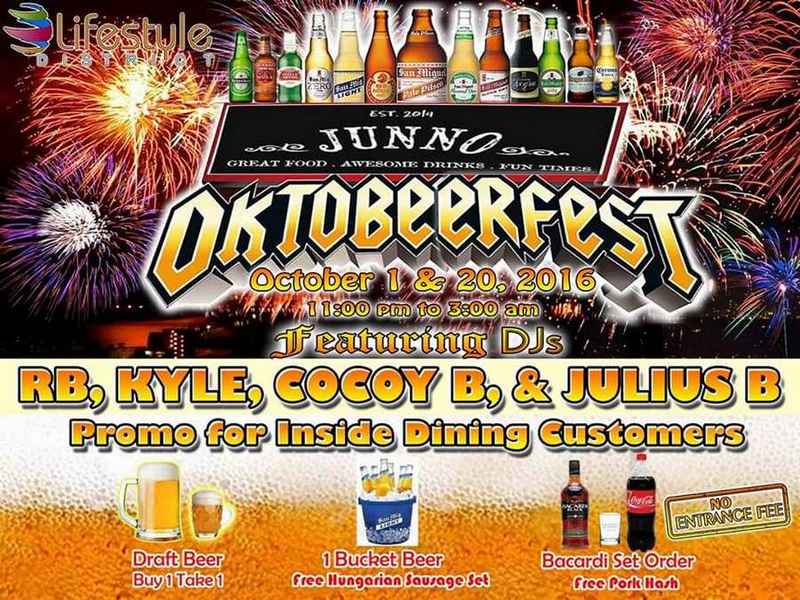 Aside from this, they will also have a promo for inside dining customers such as Buy 1 – Take 1 for Draft Beer, Free Hungarian Sausage Set for every 1 Bucket Beer order, and Free Pork Hash for every Bacardi Set order. There is no entrance fee. Junno Deli Café is located at the Lifestyle District along Corrales Extension.
Pane e Dolci
Pane E Dolci in partnership with Maddmen Productions proudly presents the P.E.D. Live Originals – An Indie Acoustic Music Fest on October 8, 15, 22, and 29 at the Pane E Dolci Café at the LYL Building on 8th and 21st Streets in Nazareth. The show starts at 6:00 p.m. Entrance is free.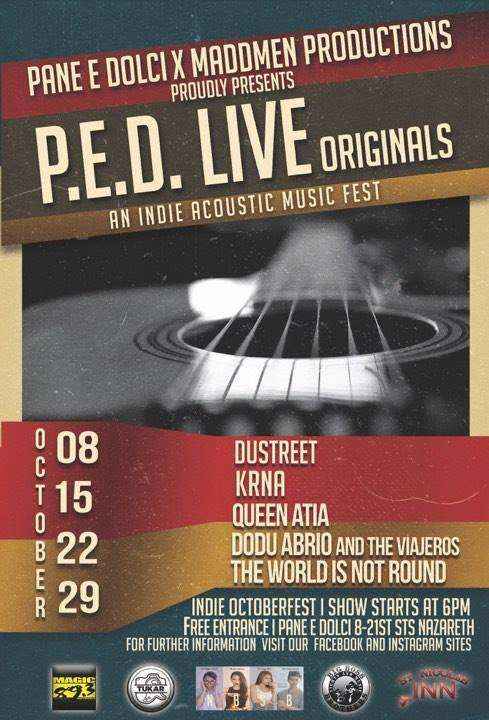 Artists to be featured are Dustreet, Krna, Queen Atia, Dodu Abrio and the Viajeros, and The World is Not Round. What a different way to celebrate the Oktoberfest month by listening to P.E.D. Live Originals and witness firsthand some of Cagayan de Oro's truly talented local indie singer-composers and their original creativity while enjoying good food, delicious sweets and cakes, or a nice cup of specialty coffee. It's a different thing away from the noisy beer bangers. Entrance is free.
Seda Centrio Misto Restaurant
Aside from its Beer and Liquor Happy Hour, Seda Centrio's Misto Restaurant is offering a great treat for all Oktoberfest patrons who want to celebrate outside of happy hour. Celebrate the German festival Misto Resto and partake of unlimited sausages straight off the grill plus a free round of iced tea. Beer and other alcoholic beverages are made available at special or discounted rates.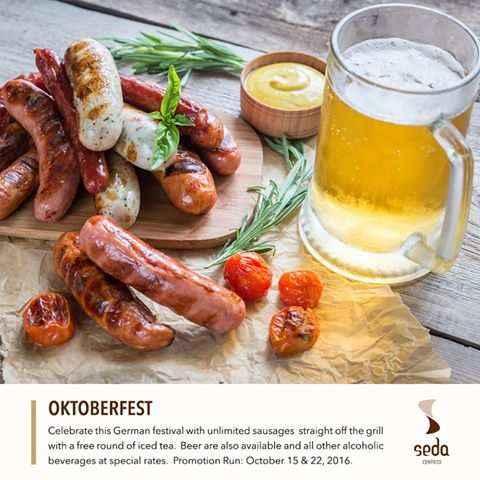 This Oktoberfest unlimited sausage dinner buffet is available for only P699 net per person. This promo will run on October 15 and 22, 2016, from 6:00 to 10:00 p.m. But if you just want to come to Misto to drink some beers and have some table nibbles, the menu lineup provides quite affordable prices. The place is really great for groups of friends or colleagues. Seda Centrio Misto is located on the 4th floor of the Seda Centrio Hotel just beside Ayala Centrio Mall along Corrales Avenue.

Shoutout to all ghouls and ghosts, witches and wizards, superheroes and villains out there! Seda Centrio is offering a spooktacular night complete with a themed dinner buffet and entertainment. "Most Creative Costume" wins a prize at the end of the night!
HALLOWEEN DINNER BUFFET
October 29, 2016 | Misto, Saturday, 6:00 PM – 10:00 PM
Php 699 nett per person
Php 349.50 nett for kids aged 7-12 years old
Complimentary for kids aged 6 years and below. For inquiries and reservations, please call (088) 3238888 or 09175775910 or email cdo@sedahotels.com. You may also visit us at the 4th floor of Seda Centrio.
Since the 1980's the celebration of Oktoberfest in Cagayan de Oro is often looked forward to by lovers of beer and other drinks and food and has become a sort of unwritten tradition for many Kagay-anons. Many beer lovers simply go out to enjoy the beer and gather around the table for fun conversations while others still prefer the loud dancing floors along with their beer. Whatever your celebration choice, always remember these safety clichés: "If you drink, don't drive, and if you drive, don't drink" and "Drink responsibly."