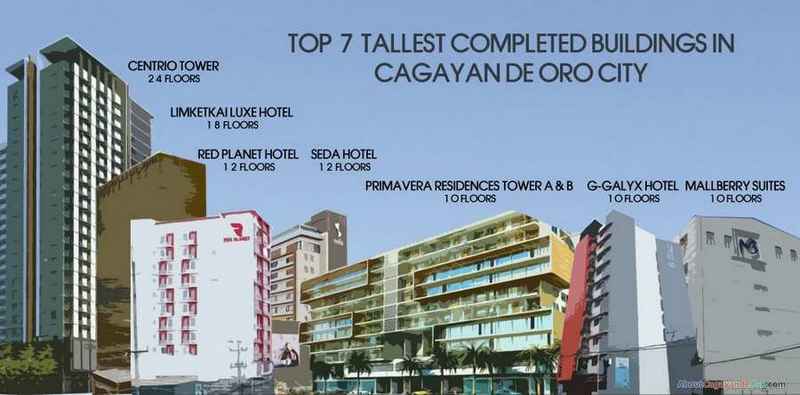 Cagayan de Oro, the so-called City of Golden Friendship, has grown continuously as evidently shown by the presence of many establishments that you can find at any corner in the city, population, towering buildings, and developed roads and parks. Being tagged as the adventure capital in Mindanao, sure making it become more popular to tourists and invite investors.
Mentioning the towering buildings, know that the tallest completed building to date is the Centrio Tower located along Corrales Avenue. Curious about some of the tallest towering buildings in Cagayan de Oro? Here is a list which bases at least 300 feet (91m) tall which includes spires and architectural details excluding antenna masts.
Centrio Tower
A part of the whole Centrio, Centrio Tower is a 3.7-hectare mixed-use development by Ayala Land in partnership with Antonio Floirendo Group of Companies (ANFLO) Corporation. Specifically located at C.M. Recto corner Corrales Avenue, alongside Centrio Tower are the Centrio Mall, urban lifestyle hotel Seda Centrio and BPO centers.
Centrio Tower was completed in 2016 with a total of 24 floors.
Limketkai Luxe Hotel Tower 1
Located near Limketkai Center at Lapasan, Tower 1 of Limketkai Luxe Hotel is the second tallest building with 18 floors. It is part of a building complex, with the other tower called Limketkai Luxe Hotel Tower 2 in which the construction is currently on hold. It was completed in 2013.
Tune Hotel
Located near Limketkai Center and can just a walking distance to Centrio and Gaisano Malls is Tune Hotel, an international hotel operated by the Tune Group which is a sister company of AirAsia. Opened in July 9, 2013, it is a 12-story 159-room facility and is the first in the Philippines to provide a function room that can cater up to 30 guests for meetings and social gatherings.
Seda Hotel
Completed in 2012, 12-story Seda Hotel is part of the whole Centrio in between Centrio Mall and Centrio Tower located at C.M. Recto corner Corrales Avenue. It has an e-lounge, bank of iMacs and Misto restaurant and bar. Further up the hotel are the meeting rooms while outdoors are the adult and children's pools.
Primavera Residences Tower A & Tower B
Located within the Pueblo de Oro Township of Cagayan de Oro specifically located along Masterson Avenue is the 360-hectare Primavera Residences. This project has been master-planned since 1995. Composed of two towers, Tower A was completed in 2013 while the Tower B was in 2015. The said 10-storey Italian design-inspired condominium was built at an elevated location 110 meters above sea level making it flood-free.Definitely the first eco-friendly building in Cagayan de Oro.
G-Galyx InnHotel
Located along Capt. Vicente Roa Street and fronts the City Fire Station is the G-Galyx InnHotel. It is a 10-story accommodation facility which was completed in 2015.
Mallberry Suites
One of the business hotels in Cagayan de Oro is the 4-star 10-story hotel Mallberry Suites which is settled near a major shopping mall called Limketkai Center. Built in 2009 with having only 40 rooms, it was then renovated in the year 2010 adding more rooms equated to 133 rooms.
One Providence
Intended for business processing and outsourcing companies or BPO is the 10-story One Providence. It is located inside Lifestyle District which is along Corrales Extension. It is within the shopping center belt with an easy access to the main thoroughfare, schools, hospitals, and church. It has an open parking for 100 or more, plus their basement parking area. It was completed earlier this year, 2016.
Maxandrea Hotel
Built in 2005, 4-star Maxandrea Hotel is located at J.R. Borja corner Pres. Aguinaldo Streets which features renaissance marbles and hardwood floors in gold building structure. Its location gives it access to the lively centers and great restaurants that abound in the Divisoria area. This popular hotel offers a broad range of amenities coupled with superior customer service that have people frequenting this hotel as repeat customers. It offers three types of rooms with great facilities and services. It is 9 stories which house 47 rooms including suites.
Limketkai Gateway Twin Tower 1
Completed in 2009 was Limketkai Gateway Twin Tower 1, an 8-story building just beside Limketkai Luxe Hotel.
One Oasis Cagayan de Oro Condominium
Located at Rosario Limketkai Avenue in Barangay Camaman-an, 2.7-hectare One Oasis Cagayan de Oro features a clubhouse, administration and fitness building, basketball court, multi-purpose hall, swimming pool, and children's play area. It was completed in 2016.
MUST Engineering Complex
Inaugurated last June 20, 2014, was the 8-storey Engineering Complex of the Mindanao University of Science and Technology (MUST), now USTSP, which stands along C.M. Recto Avenue.
Capitol University Medical Center
Established in 1973 as a maternity hospital, over the years it has been given numerous names until it was finally called Capitol University Medical Center. It is a tertiary hospital equipped with the latest art equipment composed of highly trained nursing service and support staff, specialists in the clinical area, with a homey ambiance. This 8-storey hospital is located at Barangay Gusa.
Polymedic Medical Building
Located at C.M. Recto National Highway in Kauswagan which is just beside the entrance to the NHA Subdivision is the 8-story Polymedic Medical Plaza, with the main Polymedic General Hospital along Don Apolinar Velez Street. It is a private tertiary healthcare facility that has been continually operating since April 4, 2009. It has a registered capacity of 150 beds consisted of a suite, standard, de luxe, ward, semi-private, 10 ICU beds and 2 stroke units.
Following are the next 7-story buildings, still located in Cagayan de Oro.
Centrio BPO Building
New Dawn Hotel
Granvia Residences 
Wingrace Dormitory 
Dynasty Court Hotel
VIP Hotel CDO
Golden Stallion Suites
Lastly, towering 6-story buildings in the city.
Pioneer House Building
Capitol University Buildings
Xavier University Colleges Buildings
TH Cagayan Building
Currently, the highest completed building in the city is the Centrio Tower with 24 floors, however, as soon as the Gateway Tower 2 will be completed, it will be the new reigning tallest building in Cagayan de Oro with 164m in height and having 36 floors. However, this would take time for its construction is currently on-hold.
More towering buildings are currently being proposed with some already held their groundbreaking, and even started the construction. Sooner or later, the city of Cagayan de Oro will be the home of the tallest buildings in Mindanao.
Data Source: Wikipedia