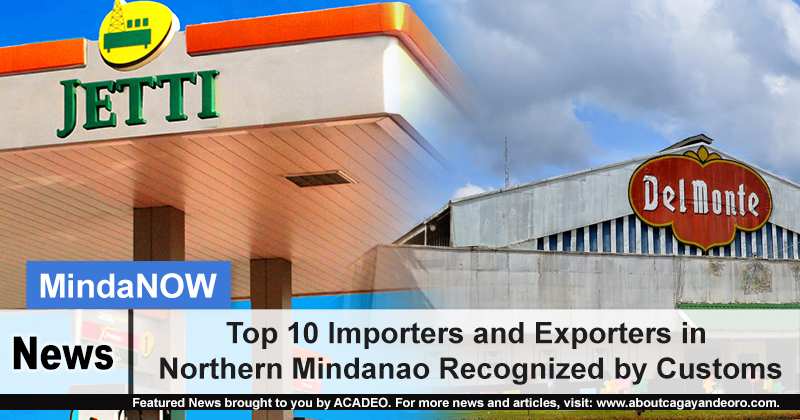 The Bureau of Customs (BOC)-Northern Mindanao gave recognition to private companies operating within the region for paying their duties and taxes diligently over the years.
In an article from Sunstar PH, BOC-Northern Mindanao has cited the top 10 exporter and importers who have transactions in the region's various seaports.
Among of the top 10 importers are:
– Nestlé Philippines Inc.
– Jetti Petroleum Inc.
– Minergy Coal Corp.
– Pilipinas Shell Petroleum Corp.
– Phoenix Petroleum Phils Inc.
– Cagayan Corn Products Corp.
– Seaoil Philippines Inc.
– Steelasia Manufacturing Corp.
– FDC Misamis Power Corp.
– Steag State Power Inc.
Meanwhile, the top 10 exporters are:
– Pilipinas Kao Inc.
– Del Monte Philippines Inc.
– Axelum Resources Corp.
– Newtech Pulp Inc.
– Phil. Sinter Corp.
– Granexport Manufacturing Corp.
– Wilmar Edible Oils Philippines Inc.
– Jacobi Carbons Philippines Inc.
– Cargill Oil Mills Philippines Inc.
– Donau Carbon Philippines Corp.
Recognition of these importers and exporters was held at the BOC-Northern Mindanao district office last November 6.
BOC-Northern Mindanao Collector Jamail Marohomsalic said that these importers and exporters have been complying with the Customs regulations and have been properly declaring all of their goods which makes it easier for them to collect tariff from them.
The Customs is also positive that they can reach their collection target of P13 billion. As of October, BOC has collected P10 Billion from January up to the month of October.