05 Apr

10-Hour Blackout to Occur in Cagayan de Oro Barangays This April 8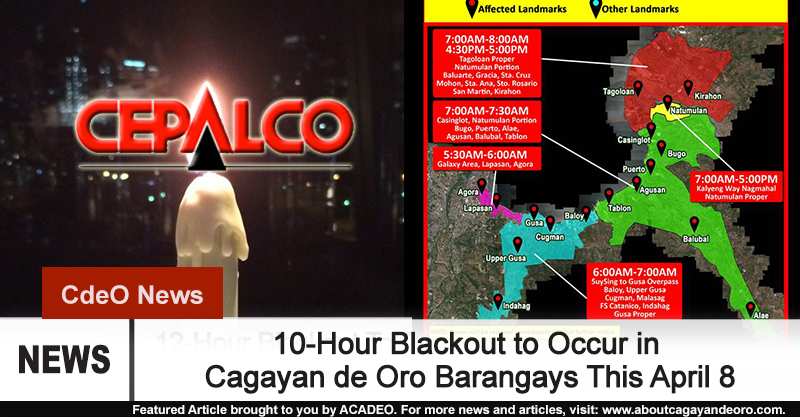 Mga higala! The Cagayan Electric Power & Light Co. or CEPALCO would like to inform all customers of a 10-hour blackout on Sunday, April 8, 2018. This is due to a line tapping operation of the Kirahon-Tagoloan 69KV power line at Tagoloan Old Road and a hotspot correction work at the Baloy Substation.
A. TAGOLOAN OLD ROAD, KALYENG WAY NAGMAHAL TO NATUMULAN PROPER: Total Blackout, 7:00AM – 5:00PM (10 HOURS) 
All of Kalyeng Way Nagmahal St., Natumulan Proper, Tagoloan.
Church of Christ of the Latter Day Saints, CDO Construction Corp., VM Paras, G&P Builders and Kimwa
B. TAGOLOAN FEEDER 1: 7:00AM – 7:30AM (30 MIN); SWITCHING
Portion of Natumulan Old Road from El Mundo towards Casinglot, Tagoloan including towards NGCP-Tagoloan Substation.
All the Barangays of BUGO, PUERTO, UPPER PUERTO to ALAE, AGUSAN, BALUBAL, TABLON, up to Nestle including Sapong and Palalan areas
Firstgen HEP, Global Agro and Menzi-Agri.
C. TAGOLOAN FEEDER 2: 7:00AM – 8:00AM (1 HOUR); 4:30PM – 5:00PM (30 MIN); SWITCHING
Portion of Natumulan, greater part of TAGOLOAN PROPER, all the Barangays of Baluarte, Pulot, Sugbongcogon, and Gracia, Tagoloan, PACCO/Vicmar area up to Kibulda.
From back of Tagoloan Convent including St. Mary's School to Siayon, Tagoloan.
All the Barangays of Sta. Cruz, Mohon, Sta. Ana and Sto. Rosario.
Centro San Martin, Villanueva up to Solane, Pilipinas Shell including Kirahon Resettlement area and KSEC PV Plant.
Vicmar and SWL Enterprises.
D. BALOY FEEDER 2: 6:00AM – 7:00AM (1 HOUR); SWITCHING
From Minergy/UKC to Suy Sing Warehouse-Umalag, Tablon towards BALOY to CUGMAN up to Gusa Overpass, Philippine Independent Church area.
Malasag and FS CATANICO.
GUSA PROPER, along Emerald St. to Sapphire St. up to corner Ruby St. including Gusa Barangay Hall Areas and Gusa Elementary School.
E. GALAXY AREA IN GUSA TO AGORA, LAPASAN: 5:30AM – 6:00AM (30 MIN); SWITCHING
Portion of Gusa at Galaxy road to Dao to Upper Gusa, Camacawan up to Brgy. INDAHAG Alegria Hills Office.
Portion along Gusa Highway (EXCLUDING Capistrano Complex Subd., Sta.Cecilia Subd. and Mega Heights Subd.) from Mitsubishi to CUMC including Gusa Old Road from Golden City Alliance Fellowship up to Purok 7 at corner Sapphire-Ruby Sts.
Greater portion of Brgy. LAPASAN to Agora Market area, Sto. Nino, Little Cebu and Tabaco up to Solid Shipping Lines.
Source: CEPALCO