26 Aug

1,000 Soldiers Sent to Sulu to Strengthen Government Force Against Abu Sayyaf

To strengthen government's campaign against Abu Sayyaf in Jolo, Sulu, about 1,000 soldiers of 10th Infantry Division were sent to the region.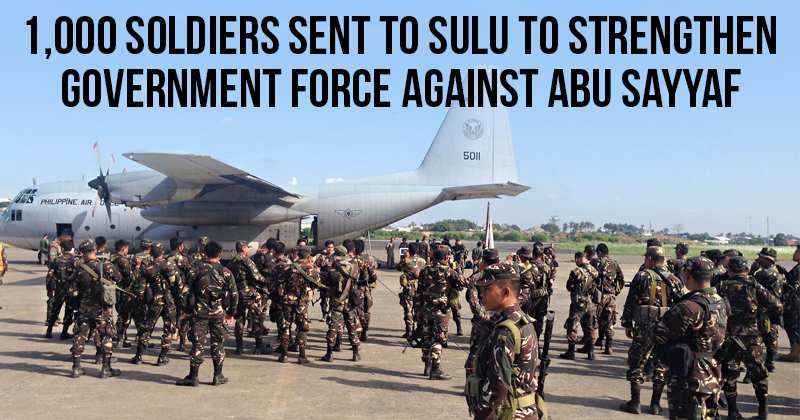 On August 24, Wednesday, the 69th Infantry Battalion had their send-off ceremony and on the next day, the 2nd Scout Ranger Battalion also had their send-off ceremony, Captain Ryan Batchar, 10th ID spokesperson said.
Batchar stated, "They will be the one who will handle the operation control in Western Mindanao." He added that the two battalions are just sectors of about 15 battalions of army units to be deployed in the Western Mindanao Command. As he spoke, "I think there are around 15 battalions that were sent there from different brigades all over the Philippines. It is an adherence to the focus of President Rodrigo Duterte against terrorism."
Apart from the ranger unit, 69th IB was chosen by the 10th ID since it is once of the most prominent battalions in Davao region, Batchar said.
Batchar said that last June 26, 2015, 69th IB was involve in killing Leoncio Pitao, aka Ka Parago, commander of New People's Army. As he spoke, "They are very instrumental in the neutralization of Leoncio "Kumander Parago" Pitao and they are also holding some area in Paquibato District." And the battalion also covers Maragusan, Compostela Valley.
On February 17, 1999, Ka Parago has been renowned as the only NPA commander to have caught B/Gen. Victor Obillo – the highest ranking military officer, and is also considered as the most "elusive" NPA commander in Davao region.
71st IB would take over the areas of 69th IB. With this, the operation in the region would still be firm, Batchar assured. He added that the Army will have to readjust their units and if they lack soldiers, they just have to request from the headquarters.
Batchar said that the time frame on when the troops will be back in Davao region is indefinite, as he spoke, "as long as the service of the Army is needed in the Western Mindanao then they will be available."