05 Jun

12 private institutions in NorthMin to increase tuition fee on opening of classes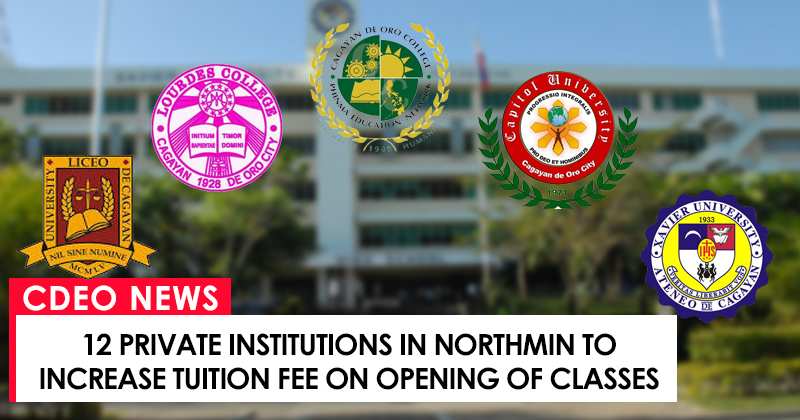 From an article posted on Sunstar news, 12 private colleges and universities in Northern Mindanao will be pushing through a tuition fee increase upon the endorsement of the Commission on Higher Education (CHED) which will start on the opening of School Year 2017-2018.
The private schools include, PHINMA- Cagayan de Oro College, Capitol University, Christ the King College de Maranding, La Salle University, Liceo de Cagayan University, Lourdes College, San Agustin Institute of Technology, St. Michael's College, St. Rita's College of Balingasag, Stella Maris College, STI Colleges of Mindanao, and Xavier University.
CHED, on its website, said that the basis for the tuition fee increase involves the Section 42 of the Education Act of 1982 which stated that, "each private school shall determine its rate of tuition and other school fees or charges… subject to rules and regulations promulgated by the Ministry of Education, Culture and Sports."
The second determining factor is the Republic Act 6728 which only allows the increase of tuition fees only if there is also an allocation for the increase on the salary and for the improvement of the facilities and equipment of the school be made incremental to the increase of tuition fee.
The third determining factor will be CHED's memorandum number 3 in which regional inflation rate, the financial standing of the institution, and financial capacity of the general studentry, among others, are taken into account.
Lastly, the so-called "education deflator" where inflation throughout the region of interest is being looked into and how it affects the average cost of providing education services.
The average increase of tuition fee in the region is 5.04 which Liceo de Cagayan University has 7.7 percent who top in the list and was followed by the St. Rita's College of Balingasag with 7 percent.