19 Aug

12-Year-Old From Cagayan de Oro City Joins Kamp Kawayan In The Voice Kids Season 4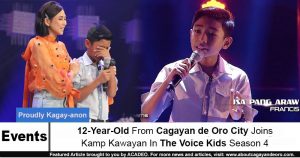 Mga higala! Francis Indonto, a 12-year-old student of the Liceo de Cagayan University in Cagayan de Oro City, has advanced in the Season 4 of THE VOICE KIDS after he impressed the judges on last Saturday's episode!
Francis performed "Isa Pang Araw" which was originally sung by Sarah Geronimo, as the official soundtrack of the movie "Miss Granny."
However, instead of Coach Sarah, it was Bamboo who turned for Francis and made him part of his team- Kamp Kawayan.
BTW, Francis Indonto's performance is now Trending #8 on Youtube!
Don't forget to support him in this competition higala!