23 Aug

16 XU-REM Graduates Dominated Real Estate Appraiser (REA) Licensure Exam

First ever graduates of Bachelor of Science in Real Estate Management (REM) at Xavier University (XU) – Ateneo de Cagayan dominates the August 2016 Real Estate Appraiser (REA) Licensure Examination.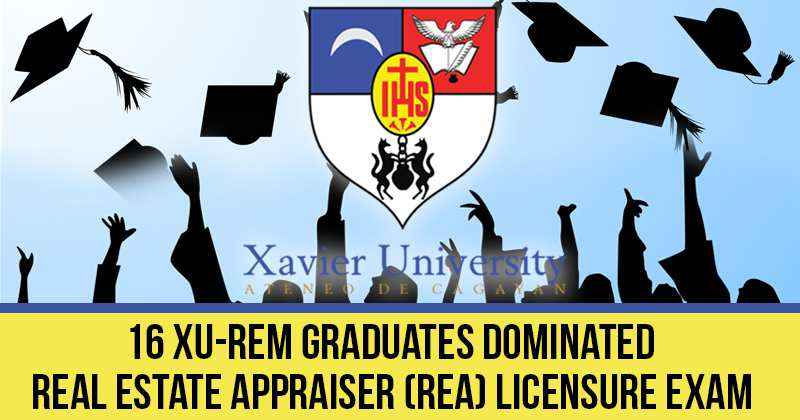 16 REM graduates of XU batch 2016 passed the REA examination and there were only 20 exam passers nationwide. Above the national passing rate of 74.07% (20 out of 27), the university garnered a passing rate of 84.21% (16 among 19 takers).
Fr. Roberto C. Yap SJ, XU president congratulated the passers saying, "Congratulations to our new Real Estate Appraisers! All 16 graduated in March and are already Licensed Real Estate Brokers. They have done really well in the [two] licensure exams."
"Let us thank SBM dean Dr. Ruth Love V. Russell, REM coordinator Edgardo A. Palasan, the SBM faculty and staff for the guidance and support they have given to our students," Yap added as he expressed his appreciation to the School of Business and Management (SBM) on this latest accomplishment of the inaugural REM graduates of XU.
The REA exam was conducted last August 14 by the Board of Real Estate Service in the cities of Manila and Cagayan de Oro.
The exam results were disclosed on August 17, two days earlier than the expected date and was announced by the Professional Regulation Commission.
REM graduates and passers are the following:
Andaling, Lovie Leannie Legara
Baldon, Lianne Bantugan
Calingin, Cleo Jovie Tomines
Calva, Krizia Camelle Ordiz
Gaputan, Lyrra Carmel Odchigue
Guerra, Mike Edgielou Dagumo
Meneses, Arsenio III Fermano
Mercado, Yrna May Dalman
Nisperos, Clarmagne Adelan
Pacana, Easter Angela Torres
Pailagao, Ivana Alech Nario
Palarca, Mari Kris Evans Deloso
Plaza, Glorie Mae Daaca
Potolin, Jecelle Gepiga
Ramos, Maria Elena Kriztina Bugo
Salcedo, Vanesa de los Reyes
Earlier on May, 17 XU-REM graduates also passed the Real Estate Broker Licensure Examination.