16 Aug

1st Kagay-anon 4×4 And Off-road Expo To Launch In Higalaay Festival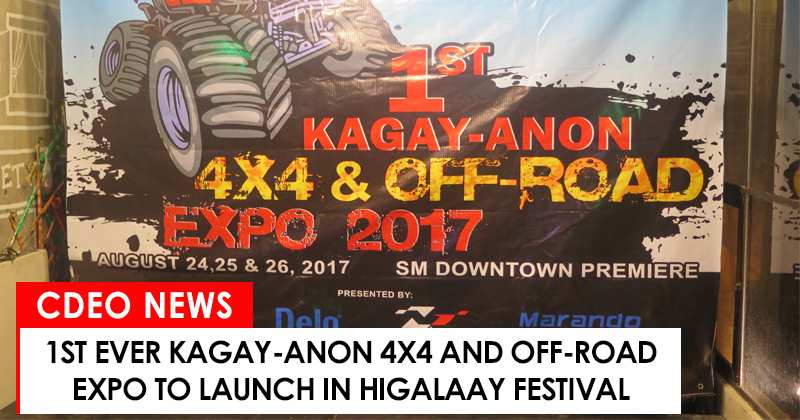 Off-road vehicles are types of cars specifically designed to withstand any kinds of land conditions be it in paved or gravel surface and have always been noted in the car-dealership industry for their versatility and many uses. Having made with such traits, a division of sports was created for car enthusiasts to exhibit their skills in off-road maneuvering and to simply appreciate the different types of innovation emerging from the off-road car technology.
Happening in the Higalaay Festival 2017, the first ever Kagay-anon 4×4 and off-road expo in Cagayan de Oro City will be held on August 24, 25, and 26 at the SM CdeO Downtown Premier where Kagay-anons will be witnessing a different kind of exhibit of the collection of off-road companies, parts, equipment, gear, and experts in the city and around the country.
Also, participants will get the opportunity to meet and greet the people behind the popularity of the off-road industry in the Philippines.
Prior to the three-day expo, a Media Conference was held and organized by He and Sons Corporations yesterday, August 15. He and Sons Corp General Manager for Northern Mindanao Rolex Magallanes and Technical Sales Officer Jed Francis Bullecer shared about the upcoming expo and other activities.
According to Bullecer, various tire designs from the biggest tire and wheels brands in the world like  Mickey Thompson, Nito, Marando, and Karrjackson Tires will be seen on display for the visitors and spectators as well. "…patterns of Nito and Mickey Thompsons tires like patterns for street tires… and also other patterns of Marando and Karrjackson tires. All of the tires will present in the three-day event." he said.
Magallanes said that the organizers have prepared activities and surprises for in the expo including a media coverage in partnership with a TV network in the region and a music entertainment to be provided by local DJ's in the city. "We are also having special prizes and awards for the participants like what i mention GC's (gift certificates) worth P3,000 during the three-days event and… we also have visitors from Manila just to highlight that this the first… but not the end of this kind of event.." he added.
Magallanes shared that future plans are being made to add an event competition aside from the expo and have the event be held annually…"we have a plan to make this an annual event. For now, this is just an expo, an exhibit but with the best of the outcome,.. We are more positive na maganda talaga ang outcome nito (We are more positive that the outcome of this event will be something great), so we are making this event for the following year as a competition, a Mindanao-wide competition for the next year.." he said.
According to Magallanes, the event will also to promote the expertise of off-road shops in Northern Mindanao through a lead wall on which the participating off-road shops will get the chance to show their video presentations on the overview of their stores.
Other off-road enthusiasts from other parts of Mindanao such as from Zamboanga Sibugay, Ozamiz, and Iligan City, will also be visiting the event displaying at least one car unit.