19 Aug

251 Lumad Schools to be Built In Mindanao!

On August 18, Thursday, Leonor Briones, Education Secretary reported that there will be 251 new public schools to be built for indigenous people (IP) communities in Mindanao. This is the first time in the history of Philippine government to construct numerous Lumad school simultaneously with a total of 605 classrooms to accommodate Lumad students.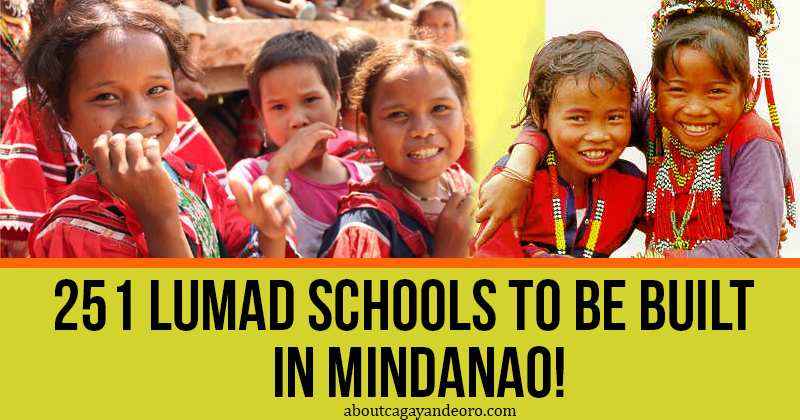 The construction of these new schools is supported by Judy M. Taguiwalo, the secretary for the Department of Social Welfare and Development (DSWD). On the other hand, the Department of Education (DepEd) will provide 583 teachers.
Briones said during the Social Development Initiatives Summit at the SMX Convention Center Davao that DSWD would fund the project with an estimated amount of P200 million. The construction of this project will commence within the year and it intends to improve the devotion and loyalty to the culture.
A data from DepEd states that the Caraga Region has the most number of schools with 75 along with 198 teachers. Second is the Davao Region with 69 schools and 147 teachers, Socksargen with 50 schools and 135 teachers, Northern Mindanao with 39 schools and 82 teachers and lastly, Zamboanga Peninsula with 18 schools and 21 teachers.
The structural design of the Lumad schools will not be the same with the standard design of other schools, said Briones. She added, "The structure, the designs of the school buildings will be identified by the cultural preference in the different communities. It will not be subjected to the standard designs of the elementary schools because we admire and (to Lumads) you are the keepers of our culture, living expressions of our tradition and culture in the country."
An IP (Indigenous People) Education office will also be reestablished to accommodate concerns with regards to these schools. The office would give more attention to the IP education then, those individuals involved can go directly to the IP Education office.
Briones said, "That's how close the IPs and different tribes – the original Filipinos – to the heart of the President and to the Department of Education."
Briones planned to appoint an assistant secretary for the alternative learning education and strengthen the Madrasah education – schools with a core emphasis on Islamic studies and Arabic literacy. She added, "The Madrasah was in a way merged with other offices because of the rationalization program in the past administration."
Assistant secretary for IP Education, Butch Rufino said: "This is the biggest effort of the government to build new schools for Lumads in one go."