30 Aug

Duterte Offers P2 Million Bounty for the Arrest of Police Officers Involved in Illegal Drug Trade

On Monday, August 29, during the celebration of the National Heroes' Day at the Libingan ng Mga Bayani, President Rodrigo Duterte stated that he will offer P2 million reward for the arrest of the police officers who are involved in the illegal drug trade.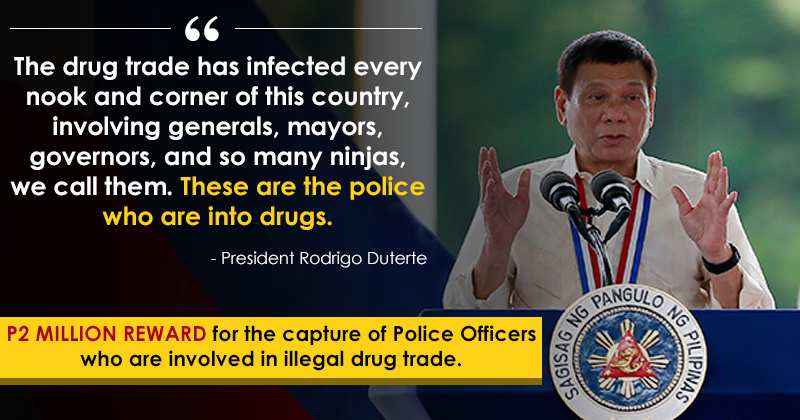 "Today, I might be inclined to place a reward on their head, members of the police protecting the drug syndicates, I'm placing per head, P2 million," Duterte said.
He labeled these undisciplined police officers as "ninjas." He said, "The drug trade has infected every nook and corner of this country, involving generals, mayors, governors, and so many ninjas, we call them. These are the police who are into drugs."
As far as we can remember, it was just two months ago when he declared that he will give a P3 Million reward for drugs lords; either by capturing them alive or catching them dead.
P2 million, P1 million, and P50,000 are also offered to those who can capture drug personalities who are engaged in drug business on a much smaller scale than that of the drug lords.
"Pray that I'll die without a resurrection," Duterte said, giving warning to those who are not willing to submit themselves to the authorities.
The Philippine National Police (PNP) are very grateful and eager to continue their pursuit on these criminals as this newest incentive from the President kicks in. The PNP said in a statement, "We see this as a bold initiative to once and for all rid the organization of errant personnel who are in cahoots with drug syndicates."
For those who want to submit a report, the PNP Text Hotline is 09178475757, this number is open to calls and texts 24/7.
The PNP assured the people that the information that will be given to them "will be kept in strict confidence and will undergo rigid validation procedures."
The President did not end his speech there. He also attacked his bashers who are kept on saying and sharing on various Social Media sites that he is only killing the poorer class of drug personalities and sparing the richer class.
Duterte said that the "Big Fish" syndicates are already out of the country, beyond his government's reach, while its subordinates, which he called "lieutenants," are the ones who remained here in the country.
Duterte is very upset with his bashers because of their feeble reasoning of sparing the poor drug users/pushers "just because they are poor."
He said, "Don't tell me because he is poor, he has to sell shabu!"
For those who are worried about the fact that the military was involved in this war against drugs, the President has an answer. He said, "If the military will not do its part and we'll leave it to the police alone, we cannot ever, ever suppress the drug problem."
In retrospect, it was the former President Gloria Macapagal-Arroyo who declared illegal drugs a national security threat, justifying the involvement of the military, Duterte added.