27 May

2nd Day of Canvassing of Votes for Vice President, Marcos Ahead of Robredo!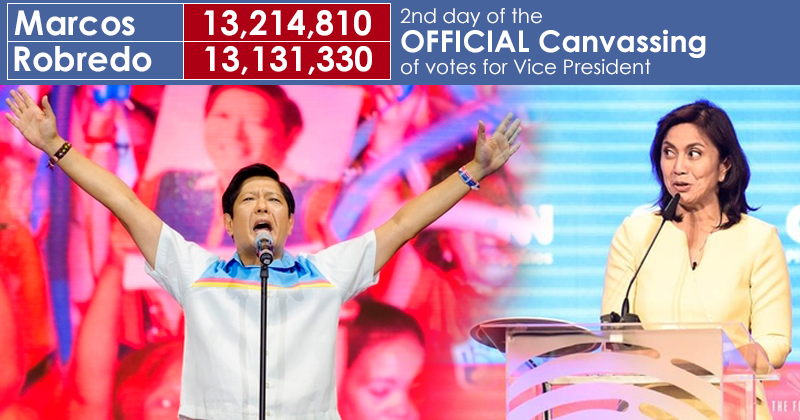 On Thursday, May 26, Senator Ferdinand Marcos Jr is ahead of Leni Robredo by a slight margin on the second day of the official canvassing of votes for the presidential and vice-presidential race.
On the first day of the canvassing of votes, Robredo was ahead of Marcos by 295,492 votes. Yet at 6 pm yesterday, Marcos has overtaken Robredo that had him leading by as much as 1.9 million votes!
But the overwhelming lead of Marcos has been slimmed down when the votes from Camarines Sur and Mindanao came in later. These areas were won by Robredo.
At the end of the count 10 pm that day, Marcos' total votes were tallied at 13,214, 810 and Robredo's vote count were at 13,131,330. That's only a slim 83,480 lead.
Here are the votes coming off from the "Solid-North" area where Marcos has triumphed over Robredo:
Ilocos Norte – 298, 786
Ilocos Sur – 316, 121
La Union – 338, 455
Pangasinan – 832, 711
Other Northern Luzon provinces near Ilocandia also favor Marcos:
Isabela – 516, 926
Abra – 112, 694
While these provinces of the Luzon area had Marcos as their top choice too:
Cavite – 556, 785
Laguna – 441, 154
Bulacan – 556, 480
Pampanga – 434, 235
52 more COCs are yet to be canvassed. Yesterday there is a total of 66 COCs that has been successfully canvassed.
There are also 4 COCs that are yet to be cleared by the canvassing committee. It is the COCs from Antique, Kuwait, Canada, and Iloilo City.
It has been reported that COCs from Antique did not have the same results in their electronically-transmitted and physically transmitted COCs.
The one from Canada is yet to be delivered while the COCs from Kuwait is still at the Bureau of Customs pending clearance for release.
Meanwhile, the votes from Iloilo have not been considered since the ballot boxes from the area did not contain any COC.
Day 3 of the official canvassing of votes for President and Vice President continues today.