10 Feb

3 Tips & Tricks for Decorating Small Homes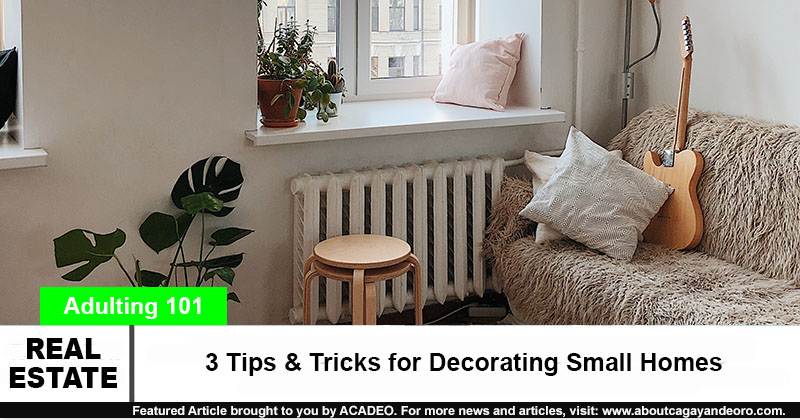 Not all homes are made equally.
This isn't a bad thing! Sometimes, your home is perfect just for you, making it a unique and treasured sanctuary for you and your loved ones. Our homes don't need to be a mansion if we're happy with what we have, and there's no reason to feel bad if your home isn't as extravagant as the ones you see in movies and television shows.
That being said, there's no reason either for your home to look shabby. Bring out the best of your home with these Acadeo tips and tricks designed to elevate the space available in tiny homes.
LEARN TO PRIORITIZE WHAT YOU REALLY NEED
Being an adult involves learning how to prioritize your obligations, responsibilities, and other desires. With decorating a home, it's the same principle: put what you absolutely need above everything else first, and the rest can come later.
For example, most apartments for rent don't have a lot of room to work with, so you won't be able to fit a dining table inside. However, a folding table good for 2-4 people with corresponding chairs is reasonable, because you can put it away when you need to. Similarly, a condo unit won't have too much space for large furniture, so if you absolutely need a loveseat, choose one that can double as a second bed or has hidden compartments where you can store items inside.
Basically, stick with the basics first. You can decorate around a nice bed and a lovely work desk, but an ornate dresser will just take up more space than it needs to, no matter how beautiful it looks.
NARROW DOWN YOUR AESTHETIC
What do you want your home's vibes to be? Do you want a cozy atmosphere, or do you prefer an all-white minimalist look more? The better you understand your intended aesthetic, the easier it will be to decorate.
This is true for many homes, regardless of the size. A more unified theme overall is better than individual decor that looks good on their own but doesn't match the rest of the home. If you like woodsy decor, a collection of 90's-themed memorabilia might not match very well with the aesthetics. Likewise, surrounding simple but elegant furniture with a lot of mismatched decorations can make your home feel more cluttered than it really is.
Our best advice is to stick with one theme throughout the space, so that everything feels unified. When a home's decorations match each other very well, it feels more peaceful and cared for, because the homeowner's personality and thoughtfulness shows through.
MULTIPURPOSE FURNITURE IS KEY
As much as possible, get furniture that serves double duty.
As mentioned above, a sofa bed might not be the prettiest kind of furniture, but its double purpose can save you space and convenience when you have guests or relatives staying with you. Likewise, coffee tables with built-in shelves or drawers mean you can store things like favorite books or frequently used electronics within easy reach without having to buy a separate shelf or cabinet for them.
Other multipurpose furniture are rechargeable fans with built-in emergency lights, desks or chairs with built-in bag hooks, and coat racks with a shoe tree at the bottom.
"Less is more" applies to many things in life, and one of these things is with home decorations, especially if your home doesn't have a lot of room to spare to begin with. You can definitely make beautiful houses out of small residences, so don't feel like you need to fill up all the space to make it look wonderful.
Good luck with your home decorating!