23 Nov

4-day Weather Forecast for Cagayan de Oro City (November 23 to 26, 2017)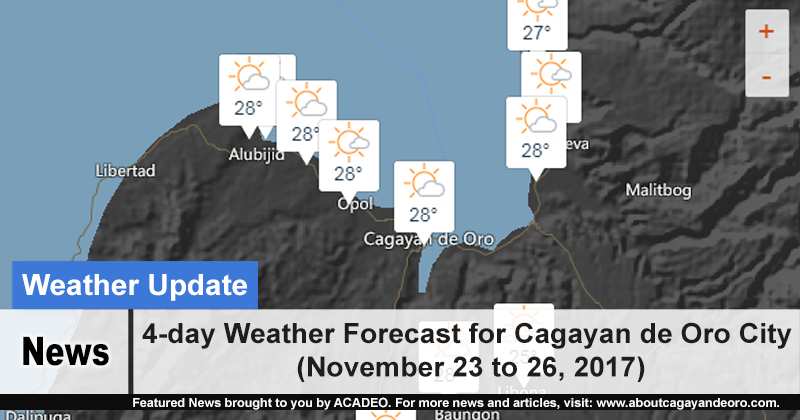 In a statement released by PAGASA, neither storms nor Low-Pressure Area (LPA) was recorded inside the Philippine Area of Responsibility (PAR). Meanwhile, Easterlies will continue to dominate across the archipelago. Hence, the regions of Eastern and Central Visayas, Caraga, Davao and Northern Mindanao will continue to have partly cloudy to cloudy with scattered rain showers and thunderstorms.
By Friday, Northern Mindanao will be expecting isolated rain showers and thunderstorms mostly on the Eastern Sections of Visayas and Mindanao.
Meanwhile, below is the four-day weather forecast for Cagayan de Oro City:

November 23, 2017
Summary: A Thunderstorm Around
Day: Mostly cloudy with a thunderstorm around in the afternoon
Night: Partly cloudy
Temperature: 23-33°C

November 24, 2017
Summary: Clouds and Sun
Day: Periods of Clouds and Sunshine
Night: Partly Cloudy
Temperature: 23-24°C

November 25, 2017
Summary: A stray thunderstorm
Day: Widely separated thunderstorms; partly sunny in the morning followed by considerable cloudiness
Night: Considerable cloudiness
Temperature: 24-32°C

November 26, 2017
Summary: Cloudy with spotty showers
Day: A thick cloud cover with spotty showers
Night: Partly cloudy
Temperature:23-30°C