30 Mar

4 Simple and Easy Home Decoration Tips for Small Spaces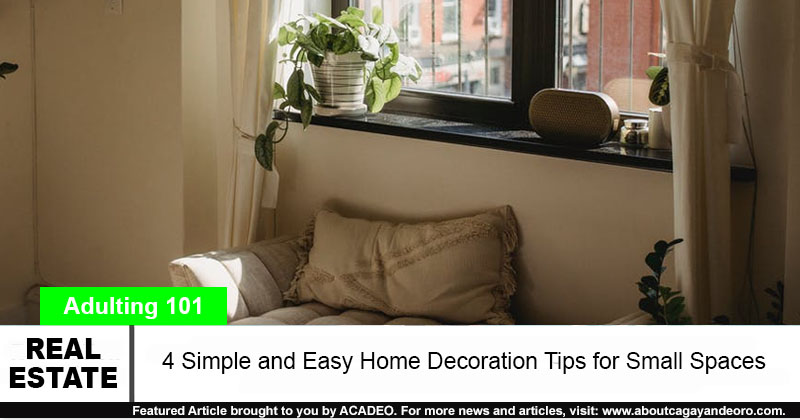 Hi there, higala! Are you like me, constantly window shopping for cheap apartments online? Do you have many websites on simple house designs bookmarked?
Do you yearn for the independence that comes with having your own home?
Well, here at Acadeo, we appreciate good advice, especially when it comes to real estate. If you've finally found your dream apartment or house and want to maximize the space, here are some tips you'd love to know about!
Keep The Floor Clutter-Free
Your floor is your biggest asset when you're living in a small space. A clear floor can give your apartment or home the illusion of being more spacious than it really is. Cleaning up after yourself should be a habit, anyway, so kill two birds with one clean stone and make your floor space spotless!
There's a reason why "Lights!" come first in "Lights! Camera! Action!" – your lighting could spell the difference between a gloomy atmosphere or a sunshine-y aura. Don't block any available windows, and let as much natural light in as you can.
Mirrors, Mirrors, on Your Wall
If you don't have a lot of windows to make use of, mirrors are the next best thing. Not only will they give your home the illusion of depth – thus seeming like it has more space – it also helps illuminate your surroundings by reflecting light. Invest in a good set of large mirrors and install them strategically in your home.
It can be really tempting to go wild with decorations for your new home. But let us say it now: resist! Too many decorations can give your home a suffocating atmosphere, especially if the decors don't match. You don't want your home to look or feel cluttered! Choose a few decorative pieces and place them in prominent areas in your living space, instead of packing every nook and cranny with decorations. After all, less is more!
And there you have it – 4 simple and easy tips you can use for decorating your home! Let us know if these tips helped you, or if you have similar suggestions we can feature in future articles. We'd love to hear from you!