07 Jun

6 Students From MSU-IIT Went Missing in Iligan City!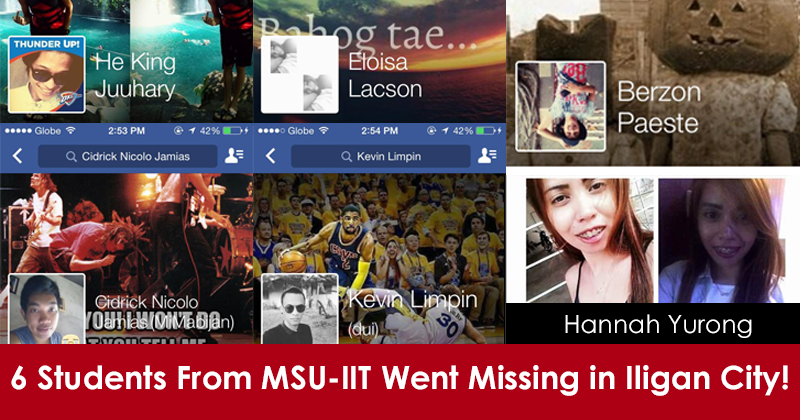 On Saturday, June 4, it has been reported that there are six (6) students that went missing in Iligan City, all of them are students of the Mindanao State University – Iligan Institute of Technology (MSU-IIT).
Based on the Facebook posts of some students in the University, the missing persons were last seen boarding a white van somewhere at Caltex Tibanga, Iligan City.
Other witnesses have confirmed that they have seen the group in a white van but in a different location, near Pop Rock Cafe in Iligan City.
As posted by Silahis in their Facebook Page, the official Student Publication of the MSU-IIT, Here are the names of the six (6) MSU-IIT students that went missing:
1. BERZON REY PAESTE
2. CID RICK JAMIAS
3. JUHARI GUBAT
4. ELOISA LACSON
5. HANNA YURONG
6. KEVIN LIMPIN
Until now, not even one of them can be reached through a phone call.
There are some who have heard the news suggested that the CCTV installed at Caltex Tibanga should be checked to further enhance the investigation of the case.
If you have any information about these people please contact Silahis or the following numbers:
09061263531
09061263531
09778477913