06 Jan

7th Kuyamis Job Fair To Be Held This January 8 @ Capitol Grounds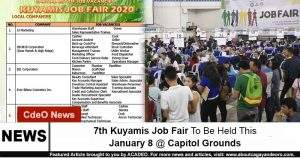 Mga higala! If you're looking for a job, you should participate in the upcoming 7TH KUYAMIS JOB FAIR, which will be held this Wednesday, January 8, 2020, at the Provincial Capitol Grounds, in Cagayan de Oro City!
The Kuyamis Job Fair will be open from 8:00 am to 5:00 pm with many job vacancies from local companies and agencies.
If interested, just bring the following documents:
Updated Resume with recent ID Picture (as many as you can)
Photocopy of Transcript of Records (if available)
Photocopy of Certificate of Training Attended (if available)
Photocopy of Employment Certificate (if available)
For the list of available jobs, check out the images and Facebook post below: