01 Jul

8 New Attack AW-109 Helicopters Acquired by AFP! – Now Being Used in Mindanao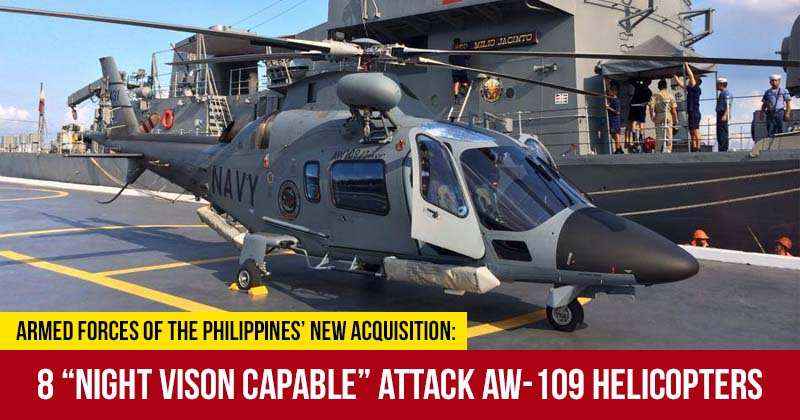 The AFP Modernization Program has begun years before, but the Duterte administration will look to bolster it to a much higher level said the outgoing Department of National Defense (DND) Secretary Voltaire Gazmin.
Gazmin is very optimistic about the Duterte administration. The AFP has already acquired 8 new attack AW-109 helicopters! These are now being used in close-support missions in Mindanao to counter the insurgency and terrorist threats there, mostly in the utmost part of the southern Island.
These power helicopters have a night vision and can attack enemies in pitch black darkness.
Gazmin stated that Horizon 1 items of the project have already been delivered or in the process of being delivered. Horizon 1 is the first phase of the AFP's Modernization program.
Horizon 1 includes the acquisition of other equipment too. It includes the Hamilton-class cutters, multi-purpose assault craft, armored personnel carriers, brand-new C-295 medium lift aircraft, C-130 heavy transports, FA-50PH light-interim fighter aircraft, utility and attack versions of the AgustaWestland AW-109 helicopters, landing craft heavies, multi-purpose attack craft, and strategic sealift vessels to name a few.
When phase 1 will be completed, which is currently almost done, phase 2 will begin under the Duterte administration. Included in this Phase is the AFP's acquisition of multi-role fighters, missile batteries, and other advanced weaponry.
Gazmin said, "Once they look into the Defense System of Management (DSOM), they will see the need for the continuation of the program and priorities needed to be addressed by the acquisition."