12 Apr

A Starter Guide For Choosing Your Real Estate Agent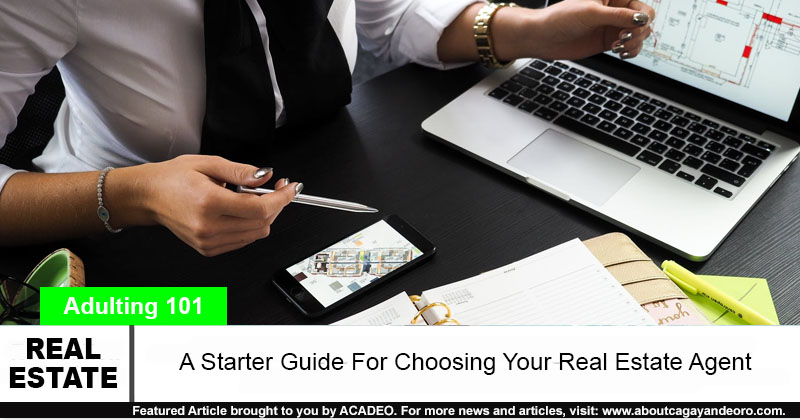 Hi, Acadeo friends!
Let's mix things up a little today with our real estate discussions. We always talk about info you need to know if you're buying a home – but what if you're selling a home, or a real estate property? What sort of information do you need?
Well, that's what we're here for! Here's a quick list of things you should keep in mind when choosing your real estate agent!
WHY DO I NEED A REAL ESTATE AGENT?
This seems like an unnecessary question, right? A real estate agent is paid a 5-10% commission for every property they sell, which is taken out of a property's sale price. It would make sense to just sell your property yourself and save the money, right?
Well, not really. What you save in commission fees will end up getting eaten by legal and tax fees (to help mediate the sale and make sure everything is legal and fair), property inspection costs (which you'll be responsible for), negotiating fair market prices (which you may or may not be familiar with, even with extensive research), and other paperwork like notarizing the deed of sale, transfer of property ownership, construction permits for any pre-negotiated repairs, and so on.
On top of all that, you'll need to be familiar with various ordinances in effect within your property's barangay or district, which can affect things like car or pet ownership, construction limitations, and right of way clauses.
There's also the banks! Banks process house loan payments differently, and you could end up waiting for months for a payment to reflect in your account if you don't know what you're doing.
Whew!
You can learn all of that from scratch and manage everything yourself while also working your day job, or you can hire a local real estate agent to manage all of that for you for a fee.
SO, WHAT SHOULD I LOOK FOR IN A REAL ESTATE AGENT?
Experience in Selling Residential Properties
Just like how there are different kinds of doctors, there are different kinds of real estate agents.
Some agents focus on housing developments, meaning they have experience in selling homes that are still being built and can be moved into after 1-2 years of equity. Some agents focus on commercial properties, and are best if you're planning on selling a residential home in a highly industrialized area or sandwiched in a business district.
If you're selling a home, ask your agent if they have experience not just in selling lived-in homes, but if they've successfully sold any similar properties before. This would mean that they're familiar with the requirements of not just marketing your property, but closing the sale as well.
Licensed by The Professional Regulation Commission (PRC)
Not just anybody can be a real estate agent (or, as we call them in the Philippines, real estate broker).
As of 2009, the Philippines has enforced the Real Estate Services Act (RESA, or Republic Act No. 9646), which requires that a person intending to sell real estate properties in the country must pass the Real Estate Licensure Exam and have a valid PRC license.
Of course, many professionals in the industry may not have a PRC license yet, as this is a fairly new law, so consider also the length and success of the real estate agent's career, if they don't have a PRC license.
Accredited or Associated with A Licensed Brokerage Firm
This one isn't a hard and fast rule, but here are the advantages of having a real estate agent who belongs to a brokerage firm:
They have more connections to potential buyers through their firm, as well as have screening processes in place to check the potential buyer's legitimacy.

There's more assurance that your real estate agent will handle your property sale professionally, as they have bigger legal liabilities for unprofessional conduct.

A brokerage firm has more leverage for negotiating market prices because they have a bigger knowledge foundation about the real estate market.

If your real estate agent were to take ill, the brokerage firm may be able to provide you with a new agent sooner rather than later, to keep your account.
Of course, not all freelance real estate agents are bad – some are very successful! But if you're the type of person who prefers the comfort of organization, getting an agent from a legitimate, licensed brokerage firm is a good choice.
These are the points on our checklist when looking for a real estate agent in the Philippines. Let us know in the comments if you have others that you trust very well!