29 Dec

ABS-CBN News Team Encountered Ambush in Marawi City

Happened last December 26, 2015, Saturday at around 12:40 p.m., ABS-CBN media staffs was ambushed in Lanao del Sur.

Before the incident occurred, the team consists of three media crews were said to be on the field in Remain town, Lanao del Sur to cover about the story of bombing and toppling of the National Grid Corporation of the Philippines (NGCP) towers by unidentified armed men in Marawi City.

According to a phone interview by Sun Star to Ronnie Enderes, an ABS-CBN broadcast journalist, the team was in Marawi City during noontime and he was with Emelito Balansag (cameraman) and Gary Montecillo (driver) when their vehicle was shot by a motorcycle-riding in tandem men.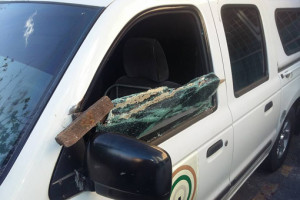 Enderes also shared, from Remain town heading to Iligan City, there were two (2) motorcycles following them. Due to what they've noticed, the driver increased their cab's speed but still, the assailants kept on chasing them. When they reached Banggolo, two (2) gunshots were fired which destroyed the left-side window of their crew cab.
Joel Ramirez, ABS-CBN spokesperson for Northern Mindanao opened up in an interview that when their news team noticed that the motorcycles were tailing their path, they immediately changed their route out of Marawi City.
Enderes said, "Thank God, none of us was hurt, but we could not describe the trauma we've experienced after that incident. We thank the News Safety Training conducted by National Union of Journalists of the Philippines (NUJP) earlier for it has helped us a lot to survive that hostile situation. The scenarios during the news safety training became a reality after all."
They were so much grateful and relieved that regardless of what happened, no one was injured.
After the police officers retrieved bullets at the crime scene, the report shows that the assailants used .45 caliber pistol.
Due to the occurrence, The Iligan-Lanao del Norte chapter of National Union of Journalists of the Philippines (NUJP) ordered the PNP team to hunt for the unknown assailants and condemned the attempt on the lives of the ABS-CBN Northern Mindanao news staffs.
As the attackers are still unidentified, Cagayan de Oro Press Club (COPC) president Hugo "Jerry" Orcullo, is currently seeking for justice and demanded Marawi police be the one to discover the truth about the incident.