31 Oct

8 Soldiers Injured, 2 Abu Sayyaf Members Killed During Combat in Sulu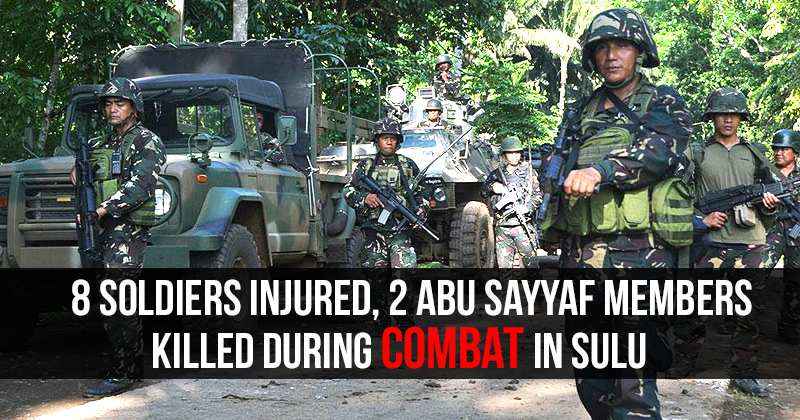 On October 30, Sunday, eight soldiers were injured and two terrorists were killed in a separate confrontation between the government forces and the members of the Abu Sayyaf in Indanan and in Patikul towns in Sulu.
The first encounter commenced at around 6:45 a.m. in the hinterlands of Indanan. Units from the 11th Scout Ranger Company and a group of 8 Abu Sayyaf men clashed. Two Abu Sayyaf member were slain, stated in an official report from the Western Mindanao Command (Wesmincom).
Wesmincom spokesman, Major Felimon Tan Jr. said that the residents reported the presence of armed men in the area which prompted the Rangers to move out.
Two of the terrorists were killed in the brief encounter. One of the bodies was recovered by the government while the other was carried away by the escaping group.
An M16 assault rifle with an M203 grenade launcher attached and an Improvised Explosive Device (IED) was recovered by the soldiers.
Around 100 Abu Sayyaf members encountered with the elements of the 21st Infantry Battalion during their second encounter at 12:44 p.m. in Barangay Panglayahan, Patikul.
During the second firefight, 8 soldiers were wounded, Wesmincom's Tan Jr. said, adding that an unknown number of fatalities on the terrorists. As he spoke, "Initial result of the encounter is 8 soldiers wounded and undetermined casualties on the enemy side."
The troops were conducting a combat operation and were proceeding to a former detachment when they opposed the ASG, Tan added.
The commander of the 501st Infantry Brigade has " directed all adjacent operating units to block the possible routes of enemy withdrawal, while 105mm Howitzer canons delivered initial 4 rounds and an MG 520 helicopter gunship provided close-air support," according to Tan.
News Source: InterAksyon