24 Oct

Abu Sayyaf Seized South Korean Cargo Ship, Kidnaps Captain and Filipino Crewman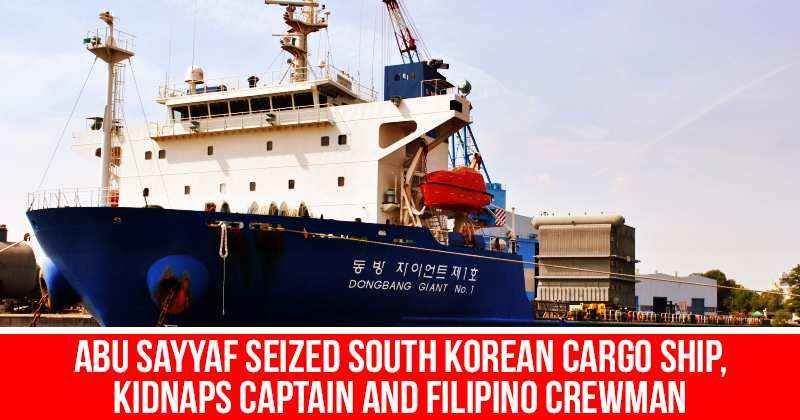 On October 20, Thursday, a South Korean cargo ship was hijacked by the suspected Abu Sayyaf militants and kidnaps the captain and its crew off Bongao town in Tawi-Tawi province.
At least 10 gunmen riding on a speedboat boarded and obstructed the Korean vessel, MV Dong Bang Giant as it was sailing off Bongao town.
The ship's captain, Park Jul Hong and Filipino crewman, Glenn Alindajao were seized by the bandits.
It was said that the cargo ship was heading to South Korea from Australia when they were seized by the gunmen in the Sulu Sea.
The captain was able to make a distress call before he was seized by the gunmen, according to initial reports.
The spokesman for the Western Mindanao Command, army Major Filemon Tan stated, "They were seized by ten armed men suspected to be members of the Abu Sayyaf group under Jul Hassan and Abu Sayyaf sub-leader Idang Susukan based in Sulu province."
Col. Custodio Parcon gave orders to the Joint Task Force-Tawi-Tawi (JTFT) to be alert and dispatch all units to intercept the gunmen and rescue the victims.
Tan said, "As of press time, validation and intelligence monitoring are currently being conducted by the military in coordination with local chief executives and the locals to track down the perpetrators and safely rescue the victims."
The gunmen spared other crewmembers, initial reports said adding that one of them was able to contact his family to report to the authorities.
Tan added that naval patrols off Tawi-Tawi and nearby Sulu, where Abu Sayyaf militants hide their victims, have intensified due to the series of kidnapping at sea mostly crewmembers from Malaysia and Indonesia.
"We do our best to secure that area but it's a wide body of water," Tan added.
News Source: PhilStar