17 Aug

2 Abu Sayyaf Strongholds in Basilan Seized by Military

On August 16, Tuesday, after a month of military operations, two strongholds of the Abu Sayyaf in Basilan were seized by the military.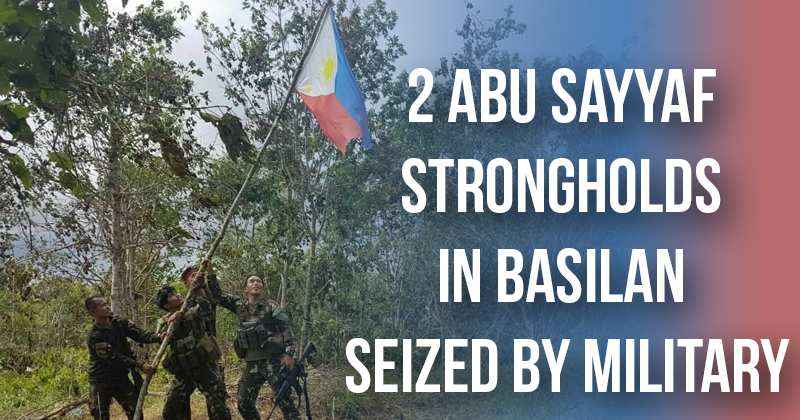 On Monday, soldiers finally able to set foot on Hill 355 in Barangay Silangkum, Tipo-Tipo, Basilan as said by Commander of the 4th Special Forces Battalion, Col. Andrew Bacala.
Bacala said, "The hill is the ASG's (Abu Sayyaf Group) last stronghold after the terrorists went on the run from the relentless military operation that started last July. A total of 10 enemy bunkers, four tunnels, several foxholes and two improvised explosive devices (IEDs) were seized on Hill 355."
Soldiers were able to seize and take control of Abu Sayyaf strongholds in Barangay Baguindan Proper and Kawilan Hill at the same time last Sunday. The month-long military operation helped the residents of Tipo-Tipo, Ungkaya Pukan, and Albarka to be freed from the holds of the Abu Sayyaf, Bacala said.
President Duterte announced that he wanted the Abu Sayyaf eliminated that there's no point in talking peace with them since it was not clear whom they're fighting for or what doctrine they have.
Town mayor of Ungkaya Pukan, Joel Maturan said, "the Abu Sayyaf was finally flushed out of our towns."
Now that the bandits are out, the former Abu Sayyaf strongholds will be a place for developments of the town said Gov. Mujiv Hataman of the Autonomous Region in Muslim Mindanao (ARMM). As he spoke, "The provincial government of Basilan has plans to develop the place to make sure the armed men who terrorized our poor people will no longer return and occupy the place."
Hataman said that the residents in the areas are now free and can now start to live a normal life.
Local government units plan to improve the town and provide opportunities to the local residents. "There are interventions being done by local government, livelihood, training, education and security to make the affected communities strong against these lawless elements," Hataman said.