25 Oct

11 Abu Sayyaf Members Surrendered Saying Tired of Combat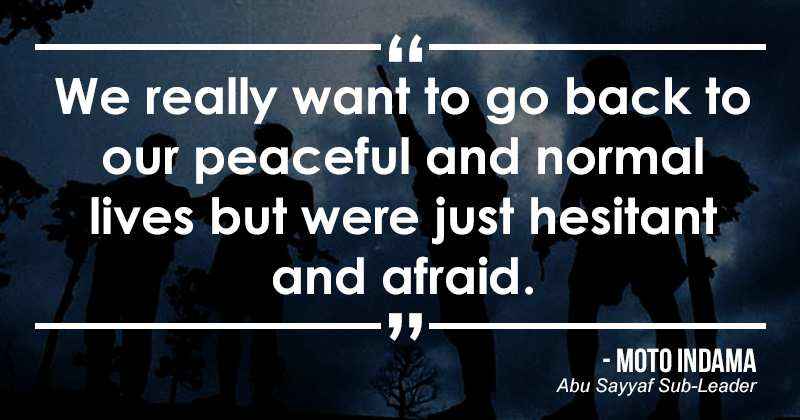 On October 24, Monday, an Abu Sayyaf sub-leader and 10 members including a 12-year old boy submitted themselves to the government. The militants decided to yield as they were tired of combat.
The militants presented themselves to the Western Mindanao Command chief Lt. Gen. Mayoralgo dela Cruz and Basilan Gov. Jim Hataman-Saliman.
High-powered firearms were also surrendered by Moto Indama, aged 26, a relation of notorious leader Furuji Indama, and his comrades.
A Minimi sub-machinegun, an M653 assault rifle, an M16 rifle with an attached M203 launcher, an M1 Garand rifle, a shotgun, three .45 caliber pistols, a caliber .38 revolver, and ammunition were hand over to the authorities.
Two weeks ago, 21 other Abu Sayyaf members surrendered and they were also present during the ceremony.
Indama's group initially sent surrender feelers before they concede, Mayor Gulam Boy Hataman said.
Haimin Hji Jalil, 17; Marham Musana, 18; Sadjara Hadjaraman, 23; Rari Murasimin, 12; Halid Murasimin, 20; Gulam Hajim, 19; Haraward Sahirulla, 20; Basri Laisun, 35; Nasim Baliyung, 21; and Ring Langka, 15, all from Sumisip, Basilan surrendered along with Indama.
Among those militants in Barangay Baguindan in August were Indama's group, and were pursued by the Army Rangers and Special Forces.
Mayor Hataman stated, "We witness the bravery of our brothers to surrender. They have chosen to surrender and the path of peace."
He said that they instantly coordinated with the police and military for the formal surrender of the Abu Sayyaf members.
Indama stated, "We really want to go back to our peaceful and normal lives but were just hesitant and afraid," adding that they were tired of hiding and fighting.
The military, on the other hand, described the submission as a "happy moment" as it saved lives, according to Lt. Gen. Dela Cruz.
He stated, "Even our President (Rodrigo) Duterte, who visited recent here said we can't be killing each other every day."
The 11 militants made the right choice, Dela Cruz said, adding that the 12-year old boy still has a bright future.
He said, "The Armed Forces and the government is open for your surrender."
To help with the education for those young surrenderees, the provincial government with the support of the Autonomous Region in Muslim Mindanao (ARMM) will find ways to support them, Gov. Saliman said.
Saliman added that other members of the Abu Sayyaf group who also sent surrender feelers.
Mayor Hataman stated, "We are aware of the possible reprisal and we are ready to protect those who surrendered."
News Source: Philstar