06 Mar

Up Close and Personal: Acadeo's Choice Awards Hotelier of the Year, Mr. Jerome De La Fuente (Talking about the City with Reasoning, Sense, and Sensibility)

Last February 11, 2016, ACADEO (About Cagayan de Oro) held ACADEO's Choice Awards 2016 and through the Acadeo Team's decision, awarded The Hotelier of the Year (special award) to Limketkai Luxe Hotel's General Manager Mr. Jerome De La Fuente.

 According to Sir Jerome, this double whammy has sealed the deal in giving local recognition to Cagayan de Oro's first and locally owned 5-star international hotel. But with the double award now comes the often high expectations – some realistic, some not-so-realistic – of the people in general and how to live up or at least be consistent to the awards given. This is on top of other major national awards to their hotel given in 2016 and in the start of the year alone that definitely ups the expectations even further.

With this, Sir Jerome plans to improve even further every detail, nook, cranny, and departments, as well as the food, general services, and customer service. So far, the hotel is now at par with the best that Manila and Cebu can offer, but he still wants to be even better. A major move by Sir Jerome this year has been to get airlines to collaborate with the hotel in a media deal. This is one way for him to highlight the city and its tourism.
Talakayan at Limketkai Luxe Hotel
PIA Talakayan is a show that is held each week at the Limketkai Luxe Hotel tackling issues that concern or affect the city. When he was newly appointed, he decided that one way to get media attention was to hold a meeting with the local media in the hotel. So aside from being able to tackle issues involving the city, this show had also become an avenue to introduce the hotel and talk about local tourism. What started as something for just a day became a weekly program ever since, with him now sitting as one of the hosts.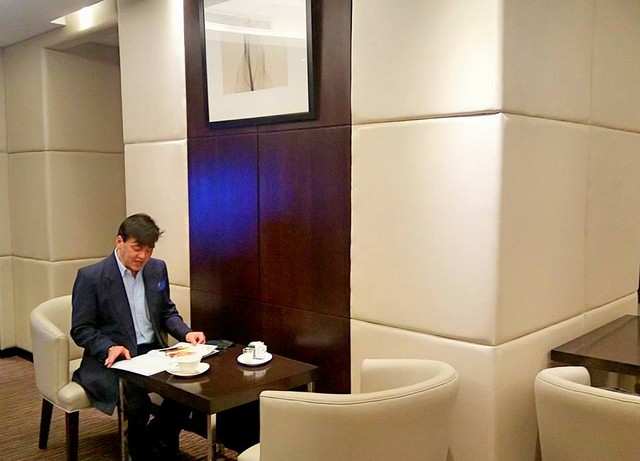 According to Sir Jerome, some of the past Talakayan sessions were quite good, particularly with the show that tackled the "ENDO" issue, which he considers a "heavy and interesting" issue that needs to be addressed immediately. Recently, the show tackled the hot topic of "flooding" in Cagayan de Oro wherein Sir Jerome was able to ask his concerns about the issue to the representatives of government officials in the various agencies involved.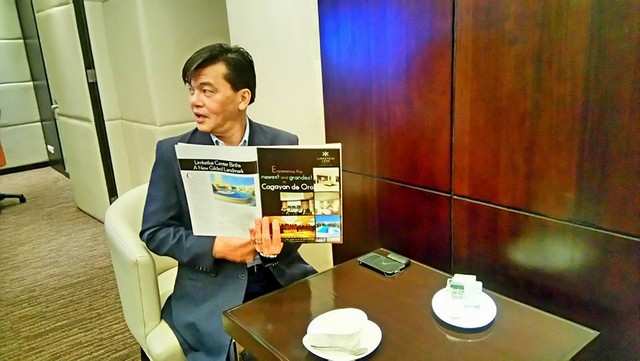 It was a successful show since Sir Jerome and the media were able to express their concerns about the issue and hopefully served as an awakening to these agencies to improve their services in helping the community with disaster control. This show is indeed very helpful to Kagay-anons because it does not only serve as a form of awareness about the city's issues but it also aims to assist in providing solutions to these problems by reaching out to the people concerned. Sir Jerome is indeed worthy of praise for this initiative.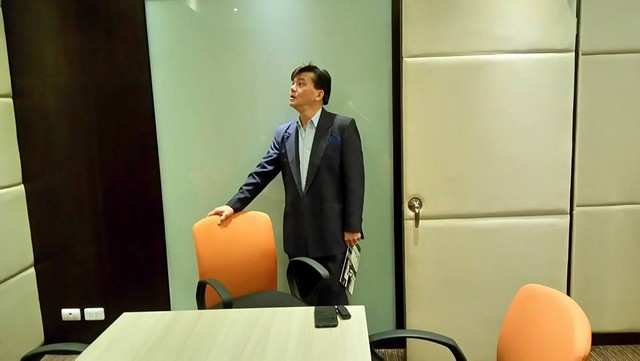 When you get to converse with the Limketkai Luxe Hotel general manager, Mr. Jerome De La Fuente, you tend to talk with him heart-to-heart about running the hotel or the tourism industry in Cagayan de Oro. One might think of him as a Kagay-anon who adamantly pushes to improve the city's tourism industry. This is because, for Sir Jerome, when you improve the tourist industry, you improve the hotel business in the city. For him this logic is not hard to comprehend.
But in reality, Sir Jerome hails from Manila; quite a feat considering that being a native from imperial NCR, he cares a great deal in improving the details that will attract Filipinos and foreigners alike to come to Cagayan de Oro for business or pleasure. He also cares a lot for all the hotel employees, emphasizing that proper training, a good attitude, and logical thinking all play a large part in the employee's continued service and promotion.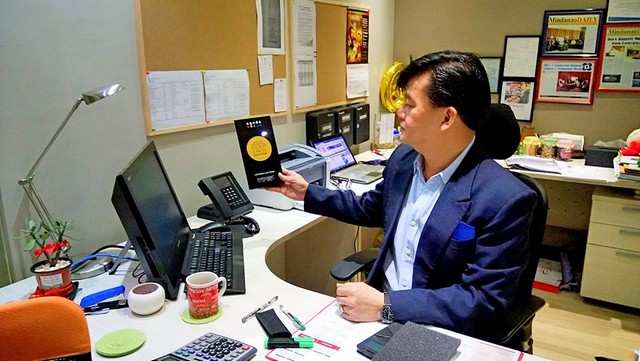 He believes that the local government needs to make an extra effort for Cagayan de Oro by investing heavily in the city and convincing others – especially fellow Kagay-anons – to invest in CDO as well.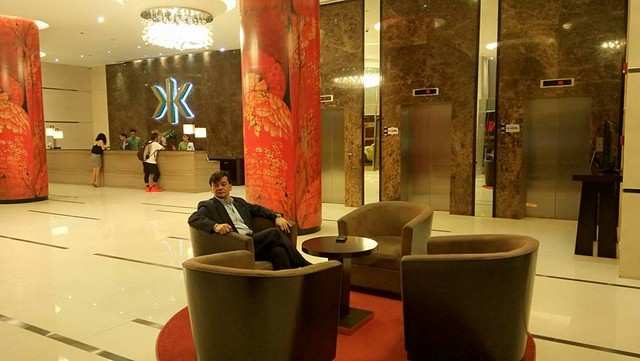 Though Sir Jerome's background was more in advertising, his passion and glamor seeking was inclined to the hotel business, having had vast experiences in public relations, sales, and eventually being a general manager for international hotel chains in China, Hong Kong, Malaysia, and Singapore.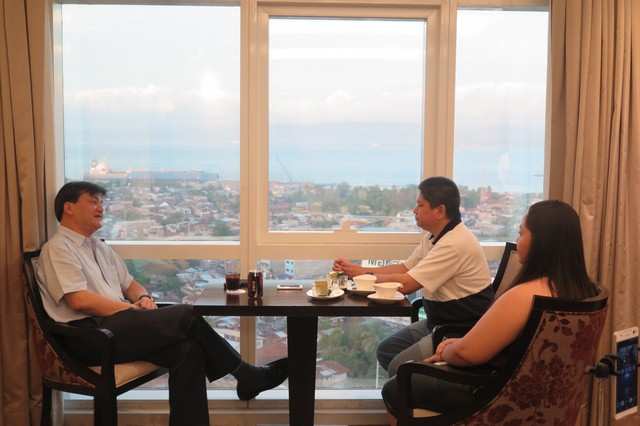 Sir Jerome owns a consultancy firm in Manila but now works full time as Limketkai Luxe's General Manager.
Ever since Mr. Dela Fuente took over as the hotel's GM, things are have been running smoothly in Limketkai Luxe which is a major sign that the hotel owners chose the right person for the job.
Fast talk with Sir Jerome: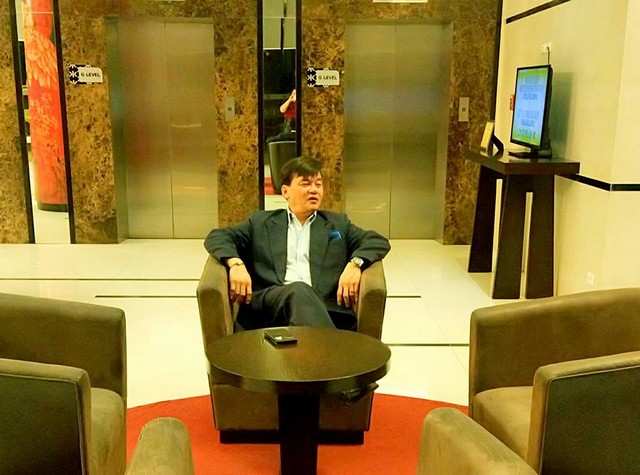 (Note: words or phrases in bold letters are his answers)
Black or white
Restaurant or bar
Beautiful or intelligent
Mall or beach
Sushi or ramen
Steak or ribs
Vodka or beer
Jollibee or McDonald's
SM or Centrio
Jazz or pop
Sing or dance
Hunter or gatherer
If you were stuck on an island, who would you want to be with there?
Rodrigo Duterte because he's a person who talks sense.
If you were inside a crayon box, what color would you want to be?
I would still like to be white; pure in mind.
If you were the president of the Philippines, what is the first thing you would do?
Fix the economic issues.
If you had superhero superpower ability, what would you want it to be?
The ability to transform the Philippines into a country like the USA which has a powerful economic state.
 If you won a million dollars in the lottery, what would you do?
First buy some little things to beef me up, then use some of the money to finance my personal charity for street children.
What is your motto in life?
Be part of it.
What is your weakness?
I lack patience to wait. If I want something to happen, I want it done immediately.
About the Interview Venue – Limketkai Luxe Hotel
Our interview and photo shoot with Mr. Jerome Dela Fuente was conducted at Limketkai Luxe Hotel. The hotel's name is now synonymous with providing 5-star accommodations, convenience, comfort, and lifestyle for all types of travelers.
Limketkai Luxe Hotel has been conceptualized to provide world-class service because it is a world-class hotel that has given Cagayan de Oro its first in the 5-star class category as accredited by the Department of Tourism.
Luxe is a name and a testament that proves now and always that Cagayan de Oro is able to produce world-class concepts and lifestyle providers, being the city and gateway for Northern Mindanao and its tourism industry.
For reservations and Inquiries contact them at:
Contact Number: 0935 414 0930
Facebook Page: Limketkai Luxe Hotel
Website: http://www.limketkailuxe.com/