06 Nov

#ACADEOGhostStories Contest Winners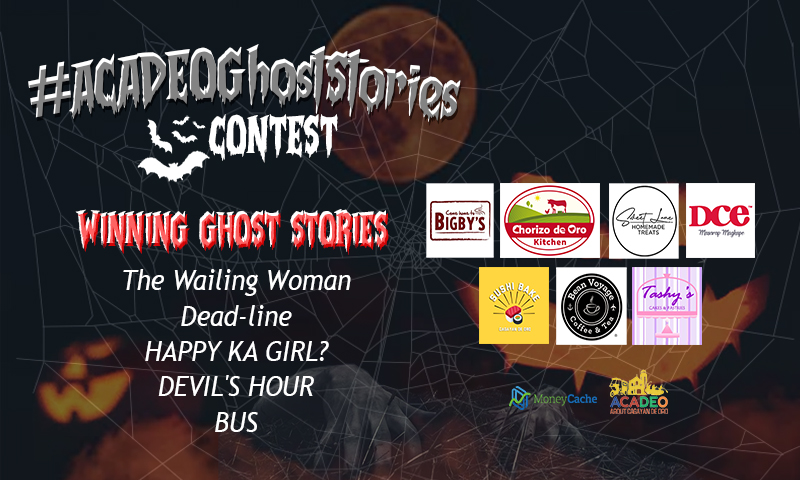 Mga higala! The wait is over as we have finally tallied and determined the winners of our recently concluded #ACADEOGhostSTories Contest!
But, before anything else, we would like to thank our awesome sponsors for providing the prizes and reviewing the entries:
Now, enjoy the most spine-chilling stories that our fellow Kagay-anons have shared with us to give us that spooky feeling perfect for the Halloween season.
4th RUNNER-UP:
"BUS" by Jasmin Joy Mozo Mapalo
Way back 2016 gikan ko ug CDO then mag uli nako sa amoa kay gkan ko nag take ug board exam, and nahuman na amo pag take so naka decisyon ko na mag uli na then gabie ko nag larga then sa pag adto nko terminal wla ko kabalo nganong gi kulbaan ko ug ayo..
so nipadayun lang gihapon ko ug pag byahe maski gakakulbaan nako na murag naay something jd, so pagka kaadlawon while naa nako sa bus naay ni sakay na babae gkan salay ni tapad sa akoa so mao to ako wla rasab ko, then pagka taod taod wlay ni duol na conductor basin nakatulog ra or busy sa CP, then ni hunong nasab ang bus unya natingala ko kay ni naog rag kalit ang babae na wla pay plete, wla ra ko then nag ingon dayun ko sa driver na "kol katong ni naog na babae kay wla pa raba to ka plete" ni tan aw ang conductor then natingala ug nag ingon na "wla man kay katapad day ikaw ra man isa" na shock ko na namugnaw na wla ko kasabot sakong gi bati 😭
then naa dayun mi na tagbuan na bangga unahan salay, ug nakita nako ang babae na akong katapad !! gi **** lang jd sukad ato wla nako ga byahe ug gabie 😭😭
PRIZE:
P500 Gift Certificate from Bean Voyage PH
P500 Gift Certificate from Sweet Lane Homemade Treats
———————————————————————-
3rd RUNNER-UP:
"DEVIL'S HOUR" by Ryan James Escabarte
Never gyud ko gaka hadlok ug ga too2x aning mga horrific stories, pero eshare gyud nako ni kai tinood gyud ni nahitabo sa akong kinabuhi. Based ni sa akong journal.
Date: May 16, 2014
Place: 30B Milparinka St. Glenwood New South Wales Australia.
I was a volunteer religious teacher that time when I had this experience. Normal ra ang adlaw bugnaw kaayo kai winter man to nga time. Akong kauban sa apartment nga gipuy.an kai 2 ka Americano, 1 ka Polynesian from Hawaii then ako Pinoy, upat mi tanan. Normal ra kaau to nga adlaw like wala gyuy interesting nahitabo, at 7pm galain akong gibati kai mura kog kahilantanon kai tungud sa tugnaw sa panahon. Gi pahibalo nako akong kauban nga di sa ko mu apil ug panihapon sa ila kai lain akong gibati, so ako ra isa sa kwarto pikas kai 2 man ka kwarto nga townhouse, so gi bukot kog comforter para maka singot ko, until naka tulog ko, fastforward…. Around 3am naka mata ko kai nalipong akong gibati and sa higdaanan naa ko sa ubos kai double deck man ang isa ka Americano kai naa sa Taas nga part, that time gamata2x ko pero wala ko nibangon, lights were turned off and street lights ra gahatag ug kahayag kai doul man ang bunkbed sa window.
THAT MOMENT GI BATI KOG KAHADLOK KAI NAAI MURAG GA LAKAW SA HAGDAN, bukot ko utro ug habol bisag gusto nako mubangon kai mangihi ug moinom tubig wa nalang nako buhata kai galain akong paminaw ga sagol ang hadlok ug kalipong ug hilanat. Gi tan aw nako ang digital clock mga 3:10AM AND LAIN KAAYO KAI GINA KULBAAN KO, 🥶🥴😰😱😫 Natingala ko kai murag naai ga tan aw sa ako sa door kai open man namo permi ang mga door sa kwarto, wala ra nako pansina pero gi kulbaan NAGYUD KOG AYO! pag tou nako first kai akong mga kauban sa pikas kwarto basin ga prank2x but lahi man gyud kaayo akong gibati murag ga bugnaw akong tiil. Gi tabunan nako akong nawong sa comforter kai legit nahadlok nako murag bata…
Until gaka feel nako ang footstep padulong sa akong left side which is fronting sa window, NATINGALA KO KAI DILI KALIHOK AKONG LAWAS AND Honestly NI MATA GYUD KO ATO!!! WALA KOI GAKA KITA KAI NGIT2X KAAYO BUT FEELING NAKO NAAY GA TINDOG SA KILID SA AMONG BED, pero di gyud ko ka tingug or ka storya, gi natingala ko kai akong comforter kai hinay2x niubos and murag naai ga bira, until nakita nako ang lower part sa gatindog pero black ra nga murag shadow… Since naa ko sa ubos di nako maklaro ang nawong, mata gyud akong Both eyes pero di ko kalihok gyud… Until Hinay2x nga ni luhod or ni baba ang upper part ug murag ni doul close kaayo sa akong nawong… Wala nako mabuhat but on my head cge kog ampo, and ni storya dayun sha tapos ang voice kai hoarse nga murag dalogdog nga dghan kaayog tawo, ana dayun sha "PAG AMPO PA, (EVIL LAUGH NGA TINOOD LEGIT GYUD) MAKUHA RA TIKA BWAHAHA" MAO TONG GI PUGOS NAKOG PIYUNG AKONG MATA KAI MURAG GI UYOG AKONG LAWAS SA KAHADLOK….until nangayu nagyud kog tabang sa Ginoo kai mura nakog mamatay sa kahadlok ug sagul pa sa akong gibati…
Naa dayun murag spark nga light gikan sa window akong kita, and nawala ra dayun tong tawo sa akong atubangan, pero nangluya ko kai murag niabot tog 30 mins nga struggle… Pag kalihok nako akong gipukaw akong kauban kai pauban ko sa hospital around hapit na 4am. So Mao to naka ingun gyud ko nga THEY ARE REAL GYUD! I just wanted to share this because I want to let people know my experience nga Demons and Devils are real and the only way we can be protected from these elements is OUR FAITH TO GOD and HIS POWER TO DESTROY THEM.
PRIZE:
P1,000 Gift Certificate from Bean Voyage PH
2 Sushi Bake Duo small trays from Sushi Bake CDO
---
2nd RUNNER-UP:
"HAPPY KA GIRL?" by Gboy Acha
year 2004 naconfine si mama nako sa CCC hospital(CUMC) katong murag kahoy pa ata to ang atubangan nga building. anang panahona naadmit siya kay heart problem. mga alas dose na to's tungang gabii og gipukaw ko ni mama kay ingon siya naa daw babae gakatawa. so ako nga bag-ong mata, niingon ra ko niya nga sus mama oy abi nako'g unsa. itulog ra na ma kay basin tungod na sa mga tambal nimo. og sa dihang nihigda na ko balik, nakurat na lang ko nga nahadlok kay naay nikatawa sa akong tungod. katawa siya sa usa ka dalaga nga kiatan. nibangon kog dali dali og nitapad kos bed ni mama kay first time nako kaexperience og hadlok hadlok. ginerbyos na akong mama sa kahadlok og sige siyag ingon nga pakatulga na mi please, ayaw mi samoka. pero imbis muhilom ang katawa, nipadayon nga mas nikusog og mas nikiat og samot. gakafeel nako ni mama nga gatuyok tuyok sulod sa room ang katawa sa usa ka babae. gakakulbaan ko sa katawa pero gakabalaka na ko ni mama kay gapangurog na siya. bahala og hadlok pero nitindog ko og nidool ko padulong sa pultahan para mangayo og tabang pero pila pa lang nako katikang kay napalong ang suga nga nikatawa na pod siya dool sa akong dalonggan. nanggahi ko og wala na ko kalihok nga nanawag kog tabang ka mama. pero si mama walay mabuhat kay nangurog na pod siya sa kakulba. nipadayon kog lakaw padulong sa pultahan og akong gisulayan og abri ang door knob pero dili maabri bisan unsaon nakog abri og mas nikusog ang katawa nga nalipay siya nga makita mi sa akong mama nga nahadlok. hangtod sa gidako ni mama iyang tingog sa pag ampo. niapil ko og ampo, hangtod sa naopen ra ang pultahan og nisiga balik ang suga. nishagit ko og tabang padulong sa nurse station. nakuyawan sila og abi nila naunsa akong mama pero nagrewuest mi nga mubalhin mi og room kay naay gakatawa sa room. di sila mutoo sa permero pero namugos gyud ming mama nga mubalhin og room. og ensigida namalhin mi og room tunga tunga sa kagabion. sa pagpanggawas namo sa room nakurat ang nurse kay nibundak og sira ang pultahan bisan wa pa namo gisira. og kalooy sa Ginoo after namo namalhin og room, wala nay gasinamok sa amo sa pagplastar namo likod sa nurse station na ang ilang ingon na mas hadlok daw ng naa sa mga dool sa nurse station.
PRIZE:
1 set of goods from Chorizo de Oro (Smoked Chorizo, Baba's Sausage, Kevin's Sisig, Original and Spicy Skinless Longaniza, Pork Tocino, Pork Tapa, and Special Humba)
1 layer Sinful Chocolate Cake (P800) from Tashy's Cakes & Pastries
1 pack of Ground Sulu Coffee (Kahawa Sug) & P300 Gift Vouchers from DCE Cagayan de Oro
———————————————————————-
1ST RUNNER-UP:
"Dead-line" by Dexter Luna
Hi ! Ang story ko naman ay mula pa ito nung 3rd year high school pa lamang ako. So here it goes…
Biyernes ng gabi ito nangyari mga bandang 9pm ng gabi. Dahil sa isa akong honor student at nasa pinakamagandang klasi o let's say Section A kumbaga ay kailangan na naming maipasa ang mga compilation namin dahil bukas na ang deadline lahat ng papers. Kasi DLP kami noon o Development Learning Program.
So, nung nakarating ako ng bahay ay inilatag ko sa kwarto lahat ng papers ko para isa isahing sunod sunurin ang numbers pero sa kasamaang palad tinawag ako ng nanay ko dahil may inutos dito at inutos doon. Anyway bumalik nko sa kwarto ko mga 8:40pm na yun at sinimulan ko nang mag arrange. Habang patapos nako ay bigla kong na remember na wala yung science papers ko, at pinuntahan ko yung president namin sa klase dahil sya ang may hawak ng susi ng classroom namin.
Nang mahiram ko na ang susi dali2 akong pumunta ng school para kunin ang gamit ko. Pagdating ko sa may gate ng school hindi ako agad ako pinapasok ng guard namin. Nag tanong sya sakin " anong sadya mo dito ? Alas 9 na nang gabi ", sagot ko naman ay " kuya guard may kukunin lang ako sa classroom namin na mga papers ko dahil deadline na bukas ". Hindi pumayag ang guard dahil gabi na pero dahil sa pagpupumilit ko ay pinayagan niya ako. Pagdating ko sa loob ng eskwelahan ay kailngan ko pa maglakad patungo sa pinakamadilim na part ng campus dahil nandun yung silid namin. Habang naglalakad ako, sinusundan pala ako ni guard sabay sabing " hanggang dito nalang ako sa may paanan ng poste at titingnan lang kita mula dito" so ok nalang ako dun dahil may nagmamasid sa akin. At mga 3 minuto ay nakarating nako sa silid namin. Habang papalapit ako biglang lumamig yung hangin pero binalewala ko na yun dahil sa kagustuhan kong makuha ang kailangan ko. Habang binubuksan ko ang pintoan ay parang may dumaan sa likoran ko pero tuloy2 pa rin ako. Before ko na on yung ilaw may nakita akong bata na nakatayo sa gilid ng CR namin pero nawala siya bigla ng umilaw na so dali2 kong kinuha lahat ng papers sa cabinet kung saan nakalagay papers namin.
Wala na akong pake kung kaninong papers yun dahil sa pagmamadali dahil na rin sa takot. Nang papalabas na ako sa classroom ay gumalaw ang upuan malapit sa pintuan, bigla akong napamura ng wtf !!! At sinabi ko na " tabi2 po, kung andito man kayo ngayon ay sorry po sa distorbo at aalis na rin ako agad2 kasi may kinuha lang ako". Then pagkalabas ko ng silid. Nilock ko na agad pero nalimutan kong e off ang classroom. Nang tiningnan ko ang papers kulang ang mga papel, at naisip kong nasa SSG office pala ang iba ( isa din akong ssg officer that time ).
Yung office namin ay nasa pinakadulo ng madilim na parte ng campus at malapit sa hagdanan na sabi nila marami daw doong nagpapakita. Pero nilabanan ko takot ko so ayun pumunta ako. Habang papunta ako dun may biglang ilaw na bumukas yun pala ay flash light ng guard. Sinundan ako ng ilaw niya hanggang sa nakarating ako sa office, yung ilaw niya kasi ay yung malaking ilaw na mamahalin. Binuksan ko ang office nang biglang lumamig na naman ang hangin at kinapa ko sa gilid ng pintuan ang switch pero ayaw umilaw. Nang narinig kong may tumatakbo papunta sa akin, yun pala c kuya guard sabay sabing bilisan mo na kunin mona kailangan mo. At dali2 kong kinuha lahat ng papers nakapatong sa ibabaw ng lamesa at lumabas. Sabay na kami ni kuya guard papuntang gate. Nang bandang aalis na sana ako ay tinawag ako ni kuya guard at may sinabi sya sa akin…"
Sa susunod na pupunta ka dito ay magdala ka nang kasama mo" tanong ko naman kung bakit. Reply na " alam mo kanina ? Pagdating mo palang ay may nag aabang na sayo, isang matangkad na lalaking maitim na pa kanina pa daan ng daan sa likuran mo at may balak sayo, kaya hindi ako sumama sayo sa silid niyo. At nung pagbukas mo sa office niyo ay nasa harapan mo siya at gusto ka niyang sakalin kaya dali2 akong pumunta sayo para hindi niya magawa yun. At umiwas sya sa ilaw ko. Kaya pinagmamadaki kita dahil muntikan ka nang patayin nun." At bigla nalang ako lumuha sa takot dahil sa narinig ko kay kuya guard at tumakbo na ako pauwi sa amin. At hindi ako makatulog kakaisip sa nangyari. Yun lng po sanay naustuhan niyo scary experience ko
Wakas…
Note: kilala kasi school sa dami ng kababalaghan sa lugar namin.
PRIZE:
P1,400 Gift Certificate from Bean Voyage PH
P500 Gift Certificate from Bigby's Café & Restaurant
1 Layer Ube Buttercream Cake (P850) from Tashy's Cakes & Pastries
3 Sushi Bake small trays from Sushi Bake CDO
2 packs of Ground Sulu Coffee (Kahawa Sug) & P600 Gift Vouchers from DCE Cagayan de Oro
———————————————————————-
GRAND WINNER:
"The Wailing Woman" by RS Haguisan
I have heard stories about The Wailing Woman on campus, each of them with different variations. All of them uniquely scary. The first time I heard about the Wailing Woman was from my father, who attended the same college as I did. He said that this woman was one of his classmates back in the 70's and that he had met her when she was still alive.
The second time I heard of the Wailing Woman was from my older cousin during the late 90's. She was a college freshman at the time. One of her classes was in a room located a floor above the Wailing Woman, and this class ended at 8:00 in the evening.
As she and her friend went down the stairwell, they heard a faint sound of a woman crying in an empty comfort room. The closer they got to the room, the crying got louder. Thinking that there was someone inside, they decided to investigate. But the moment she stepped in, she heard a loud curdling scream that sent her and her friends running for the security office.
My cousin's version was the most commonly shared story of the Wailing Woman. It was said that you don't really experience the college life until you met the Wailing Woman.
Fast forward to 2013. I was in my third year as a psychology student. I was 27 at the time and was the oldest student in our batch. You see, I didn't get to start college on time due to financial hardships. I worked my butt off to pay off my student loans and started fresh.
One of my classes then was in the lecture halls in the same building as the Wailing Woman, but I had not thought of it then. This class started at 5:30PM and ended at 7:30PM. However, this session was way different. Because it was nearing the midterm examinations, my classmates and I were in a rush to finish a project. We had decided to finish it inside the room after classes ended because it was the only time I was available. Being a working student sucked sometime.
We had finished the project 5 minutes before 10:00PM, which was close because students were only allowed in campus until that time. We packed up our stuff, closed the door, and made our way out.
One of my classmates, a female, wanted to go to the comfort room. I had volunteered to go and stay with her while the rest could go. Unfortunately, all of the comfort rooms on that building were closed, save for one. I had remembered that there was a room right next to the infirmary on the ground floor and told her about it, hoping that it would still be open.
We made our way to the ground floor and found the female comfort room. But the next few moments that followed were probably the most intense. As we got closer to the room, we heard a faint crying sound. My friend thought nothing of it and went on. It was only when I remembered the story of the Wailing Woman when I saw my friend halt right in the middle of the doorway, frozen in fear.
My friend let out a whimper and with her left hand, she had motioned for me to come to her. Her eyes were fixed on what was inside the room. Then I heard the wailing cry grow louder as I neared the comfort room. I approached my friend and she was already tearing up from the fear. I looked inside the room and there she was.
Standing three feet from us was a young woman with what looked like disheveled curly hair, wearing a white dress with what looked like a brown apron. She was facing the mirror before she turned our direction. In absolute fear, my friend quickly jumped behind me and quivered. I could hear her sobbing behind me.
The woman slowly faced us and with little light coming in from the hallway light. In her terrifying glory, I realized that she wasn't wearing an apron. She had a gaping wound 'round her neck and blood was flowing down her dress. She let out a deafening scream that would've rattled the entire area and she disappeared.
My friend fell to her knees and cried non-stop. I managed to escort her way outside the building and we went straight for the most well-lit area. One of the security guards caught us and asked us what happened, but in the back of his mind, he already knew the answer. My friend didn't go to school for the next three days.
A week after that incident, that bathroom was locked. There was even a metal door that was welded into the frame to prevent people from ever going into the building. A year later, the empty bathroom was destroyed and turned into an annex for the school infirmary. Rumors has it that the school nurses don't really stay on for too long even after dark. Sometimes, they still hear a faint cry from behind the walls.
Who was the Wailing Woman, you ask?
It turns out the woman was a college student, roughly around 19 to 23 years old. This fit my dad's timeline of them being classmates at one point.
Apparently, she got pregnant by her boyfriend that time and confronted him about it. They broke up because the ex was a college athlete on a scholarship. She ran into the bathroom and locked herself inside the stall, crying.
Then she took her life by breaking the mirror and using it to cut her own throat. The news of her death wasn't broadcast publicly. Instead, the school told people that she had hung herself inside the bathroom. But my dad and his friends knew the truth.
PRIZE:
P2,400 Gift Certificate from Sweet Lane Homemade Treats
P1,000 Gift Certificate from Bigby's Café & Restaurant
1 Layer Minimalist Cake (P1,500) from Tashy's Cakes & Pastries
Large Premium Sushi Bake Duo (2-flavor) tray from Sushi Bake CDO
3 packs of Ground Sulu Coffee (Kahawa Sug) & P900 Gift Vouchers from DCE Cagayan de Oro
———————————————————————-
There you have it! How are you feeling right now? Can you still sleep alone in your room tonight? Let us know which story was your favorite in the comments below!
Looking forward to more scary stories next year!