12 Aug

Duterte Gave Additional P2 Million Incentive to Olympian Silver Medalist Diaz

Olympian Hidilyn Diaz won the silver medal to 53kg weightlifting women's division at the Rio Olympics held in Brazil. And president Duterte has given Diaz an additional P2 million incentive.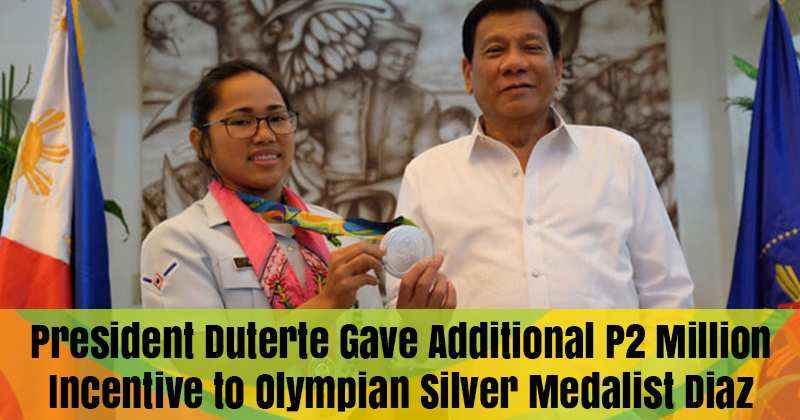 On August 12, Thursday, Diaz arrived in Manila after she finished second in the 200kg weightlifting competition last week. She then flew to President Duterte's presidential guesthouse in Panacan, Davao at 7:45 pm.
President Duterte broadcasted during the press conference with Diaz and Butch Ramirez, Philippine Sports Commission (PSC) Chairman, that Diaz has received the additional incentive. As he spoke, "She got a 5 million prize for winning and I just added another two million."
A check worth of P5 million was immediately given to Diaz, thanks to the government's Republic Act 10699, also known as the National Athletes and Coaches and Trainers Benefits and Incentives Act. Diaz will also receive a housing unit from 8990 Holdings Inc. – Deca Homes.
Diaz proved that Filipinos still has a chance to win a medal at the Olympics. She then gave her thanks during the press conference.
Diaz, first Philippine athlete to win a medal at the Olympics since 1996 said, "Nagpapasalamat po ako sainyo, sa nag dasal, sumoporta at naniwala saakin. Nung last August 7, naiwagayway ko ang bandila nang Pilipinas sa Olympics. Naipakita ko na kaya natin mga Pilipino manalo sa Olympics."
The President also agreed that, "If we just put in the discipline in any field with… a little help from the national government and the budget, we'd be able to get some miracles and surprises along the way."
The president said that he watched Diaz during her competition as he spoke, "I was also watching her. I was really scared when she was struggling to pull the weights. When she was able to do it, I almost shouted."
Diaz planned to purchase a land and build her own gym in her hometown where others can also get into weightlifting. "Bibilhin ko muna yung lupa, tapos mag papatayo ako nang gym duon para sa weightlifting club," she said during a press conference at Ninoy Aquino International Airport (NAIA) Terminal 3 last Thursday.
Duterte acknowledged the importance to give focus on sports training away from Manila. As he spoke, "Yes, I would agree with her plans, para yung iba naman na probinsya [may] attention. And also to give focus to the sports. Maybe you'll be able to harness good athletes."
Duterte jokingly said to the Philippine delegates before departing, "Wag kayo umuwi pag hindi kayo manalo." And he added, "Sabi ko, 'Do your best for the country. The honor is there, go for it. It would be a long quest, it would be a tedious one, but I said if you can bring some honor to your country, I'll be happy.'"