03 Aug

Anti-Prank Caller Act: Emergency Hotline Number Prank Callers Could be Penalized!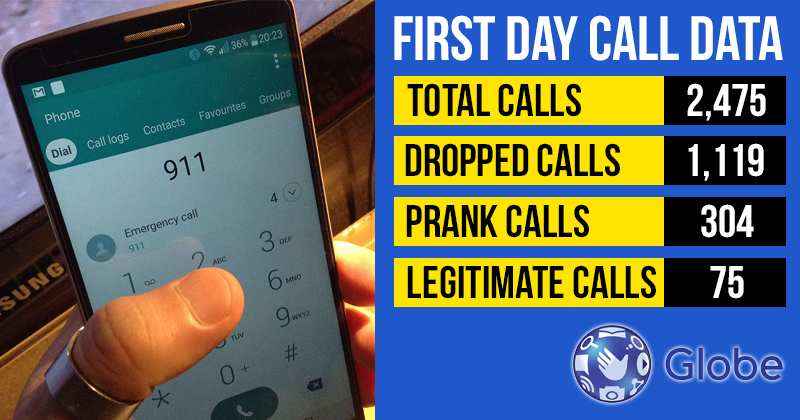 On August 1, the official Philippine emergency hotline 911 has been opened to the public. The hotline received 2,475 calls that day, but only 75 of the calls were legitimate.
It has been recorded that 1,119 of the calls were dropped calls and 304 were pranked calls. These came even after the Government mandated Globe to charge the callers P5 to P5.50 for every call made.
Taking action on it, Muntinlupa Representative Ruffy Biazon submitted the House Bill (HB) Number 2323 or the Anti-Prank Caller Act on Tuesday, August 2.
These are the penalties on the prank callers that Biazon seeks to be approved:
First offense: One day up to 30 days in prison, and a P5,000 fine
Second offense: One month and one day up to 6 months in prison, and a P15,000 fine
Third offense: 6 months and one day up to 6 years in prison, and a P30,000 fine
Fourth and subsequent offenses: 6 years and one day up to 12 years in prison, and a P50,000 fine
Biazon said, "This bill penalizes prank calling to protect the integrity and proper operation of emergency hotlines. These should not be burdened by irresponsible and senseless acts of mischief-makers for these to be able to relay the need for emergency services to the proper responders on time."
He also added, "It is hoped that the stiff penalties provided under this proposed measure would discourage would-be offenders and make them think before committing such imprudent acts."
Yet, a free call to 911 has been desired by the Filipino people. Communications Secretary Martin Andanar said that an Executive Order has already been reviewed regarding this request.