13 Sep

Artsada Inc.: Kagay-anon Art At Its Finest Purpose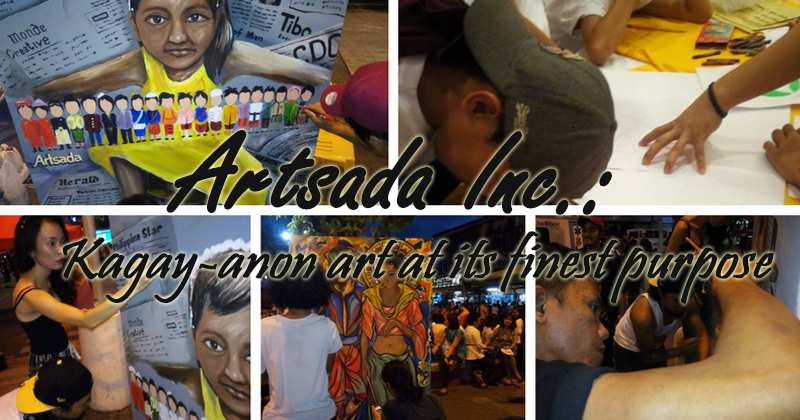 As one of the most prosperous city in the country today, Cagayan de Oro City does not only exist for those who want to be successful in business but it is also a promising venue for artists and art enthusiasts to take their passion to major events in the city and channel their thoughts through their showcased artwork.  
With the aim to promote the artistry and genuine expression of Kagay-anons through art to the fore, Artsada Kagay-an Inc. is one of CdeO's active arts enthusiast group who are now making scenes in public to showcase a different kind of art expression which tells about the issues of the society and to encourage stir the minds of their audience towards change.
The term Artsada comes from the combination of the English term "Art" and "Tsada", a Kagay-anon Cebuano term which terms "beautiful" or "nice". Together, it is used to name the organization in all their art activities to represent Kagay-anon art at its finest and truest sense of culture, history, and heritage.
The group is composed of young artists from Cagayan de Oro City who are talented enough to influence those who may see their creations in various forms and media such as coffee painting, papercut art, watercolor painting, modern/contemporary art through acrylic, oil and pastel painting among others.
Artsada introduced itself as a local organization in 2012 during the annual celebration of the city fiesta of Cagayan de Oro with its very first art exhibit titled "Artsada".
The administration of former Mayor Vicente "Dongkoy" Emano through the City Tourism and Cultural Office certified Artsada as a legitimate organization having the main goal of promoting local talents and the city's cultural heritage. It also helps in drawing more attention to the local art culture of Cagayan de Oro so that tourism could also be boosted through the numerous exhibits performed by the group in public.
It is truly remarkable how a small group of people can influence multitudes, just like how Artsada amazes thousands of people with their exceptional and unique talents. With the abilities, there are endless possibilities to what we can do as human beings.