20 Jun

ATI Offers College Scholarships For Children Of Farmers & Fishers In Region 10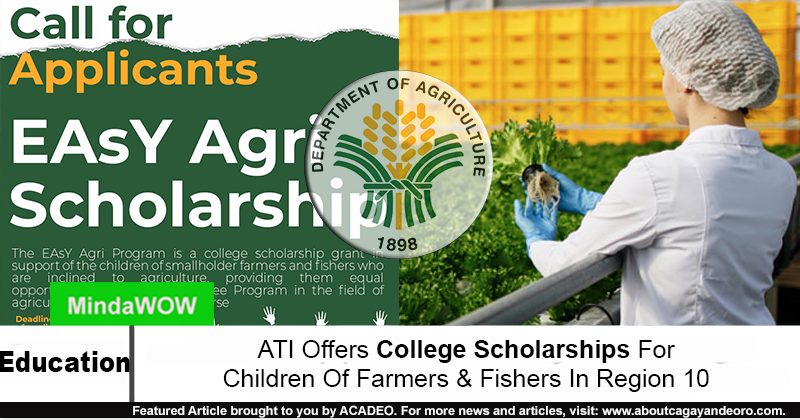 Mga higala! The Agricultural Training Institute (ATI) of Region 10 is now offering COLLEGE SCHOLARSHIP grants for the children of smallholder farmers and fishers who want to have degrees in Agriculture and other related fields!
About 14 slots are available. Apply now!
Below are the requirements:
Accomplished Application Form with 2×2 picture
Certification from the Municipal Agriculturist Officer (MAO) as a bonafide son/daughter of small-scale farmer/fisherfolk with RSBSA registration number or proof of filing for registration;
Proof of income (any of the following):
– Latest BIR-Income Tax Return (ITR) of parents/guardians issued by the BIR,
– Tax Exemption Certification issued by the BIR, or
– Certificate of Indigency issued by the Barangay Captain
Authenticated copy of PSA birth certificate
Certified true copy of Senior High School Report Card (Form 138);
Certification of good moral character issued by the High School or Barangay, or Police Clearance
Notarized Affidavit of non-delinquency in any previous scholarship
Notarized Affidavit of no relation with any ATI Employee, within the 2nd degree of consanguinity or affinity
Certification of good health from a government physician issued within the last two months, including:
– clear x-ray result
– negative drug test result
Certification of mental fitness issued by the Guidance Counselor of the scholar's chosen University or from a government/private institution
Deadline is on July 4, 2022, higala!
For more details, visit the link below:
https://ati.da.gov.ph/ati-10/programs/scholarship-programs
https://drive.google.com/drive/folders/1G5Eo_QWYclt8b0ChOT9yVbEuJBujjFFM