15 Aug

Bandung, Indonesia's Best Smart City to Help Make Mindanao A Better Place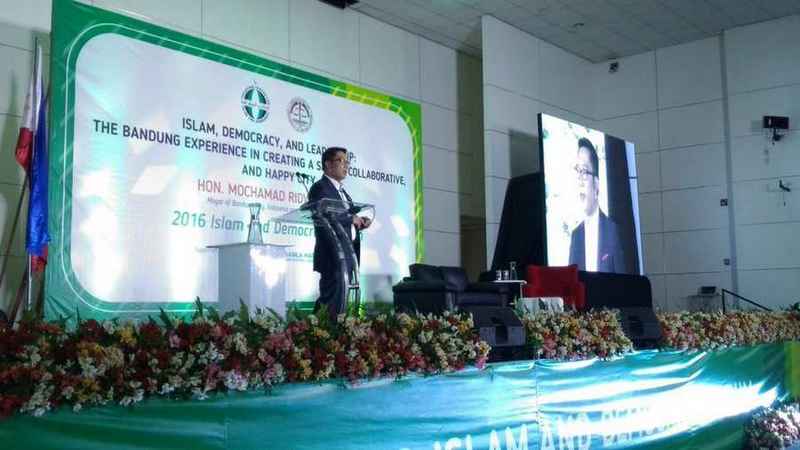 During the 2016 Islam and Democracy Forum held at the GT Toyota Asian Center Auditorium of University of the Philippines in Diliman Quezon City, the mayor of Bandung City Mochamad Ridwan Kamil lectured about Islam, Democracy, and Leadership: The Bandung Experience in Creating a Smart, Collaborative and Happy City mentioning that his city has a lot of experiences and things to share with Mindanao to make the island a better place.
Bandung City is cited as Indonesia's Most Smart City in 2016, and is offering to help make cities in Mindanao more livable through collaboration, innovation and creativity.
"I want to learn something from Mindanao, and Mindanao from me," said Kamil who also cited that Bandung can be a sister city not only of Davao City, Cotabato City and Marawi City, but of any of the Philippine cities. "If you invite me, I can come to Mindanao. Just give me a letter of invitation. I cannot leave without the President's permission."
"I will be very happy to come," Kamil added pertaining to Filipino Muslims and Christians when to visit Bandung.
As an architect, lecturer and social activist, Kamil was able to address corruption, drugs, criminality, lack of housing, unemployment, traffic, social injustice, squatting, peace and order, illiteracy and hampered economic growth, and promote transparency, accountability and good governance through utilizing the social media, in a PowerPoint presentation.
"I walk my talk. I visit the poor. I talk to the people. A lot of issues can be resolved through collaboration. That is how I was able to make Bandung a livable city," disclosed by Kamil.