07 Jul

Barangay 23 Chairman Jaime Frias II Refuses to Conduct TokHang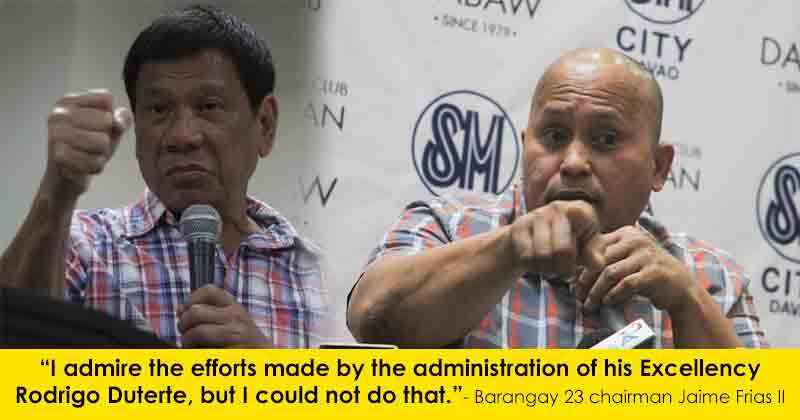 Barangay 23 chairman Jaime Frias II refused to give a list of suspected drug personalities in their area for the Philippine National Police's (PNP) 'Oplan Tokhang'. He said that it would stem human rights issues.
Frias said, "I admire the efforts made by the administration of his Excellency Rodrigo Duterte, but I could not do that."
According to him, there was no memorandum from the Department of Interior and Local and Government (DILG) and the PNP to conduct the listing, thus he shall not yield.
Once, there was a mother of a drug pusher in their area who came to him and asked when will be the scheduled surrender of the drug personalities in their area. Frias said that they are not conducting any operation 'TokHang' in Barangay 23.
Frias said, "Admitting would also inflict trauma to their children. Better your children know in the future that you quit rather than they know you are being monitored as they grow up."
Last December 23, 2015, P1.5 million worth of shabu was confiscated by the Philippine Drug Enforcement Agency (PDEA) has been seized in Barangay 23.
Regarding the operation last year, Frias said, "That took a toll against illegal drugs and that is enough for them to be aware and fear the law."
PRO Northern Mindanao spokesperson Superintendent Surki Alday Sereñas reacted on Frias unwillingness to submit, he said, "Ang purpose is para mahibaw-an ra man sa PNP nga dili na sila part sa target kay nag signify na sila nga moundang na and madocument sila para dili na sila ma-operationan."
"Dili man tingali ma-igo sa human rights violations kay ang pagtake sa picture sa usa ka surrenderee for profiling ra mana and dili for publishing sa media or sa bisan asa gawas kung i-publish na kana paglabag gyud sa human rights," Sereñas added.
---
Source: Sun Star Cagayan de Oro