26 Aug

The Best Lechon Establishments in Cagayan de Oro Just in Time for the Christmas Holidays and for Future Events and Occasions

Lechon! That ever popular roasting pig skewered on a bamboo spit and doing a rotisserie action over a steady open fire pit filled with wood and charcoal. Lechon, that roasted pork dish that has become the epitome and center of every Filipino celebration ranging from fiestas, birthdays, graduations, weddings, to Christmas parties and the like. It has become a sort of iconic cultural symbol in Philippine society, gaining the informal title of national dish.

Historically, "lechon" is not ours to begin with. It is actually a Spanish rotisserie dish that we learned from our Spanish masters during our stint as Spain's colony. "Lechon" is the original Spanish name for the dish, though the real meaning of the word is "suckling pig." In fact, it is just about the national dish of almost every country that has been a colony of Spain such as the Dominican Republic and Cuba. Surprisingly, Mexicans have a dislike for Lechon in spite of Mexico being a former Spanish possession.

In Cagayan de Oro, lechon business has boomed making it for Kagay-anons to easily and conveniently look for lechon to order. With this, we compiled some of the most praised lechonan place in the city.
House of Native Lechon
Kind of getting tired of all those lechon places that seem to sell common-tasting bland lechon meat? A new place opened up along the Buena Oro Road in Upper Macasandig, beside Kambingan.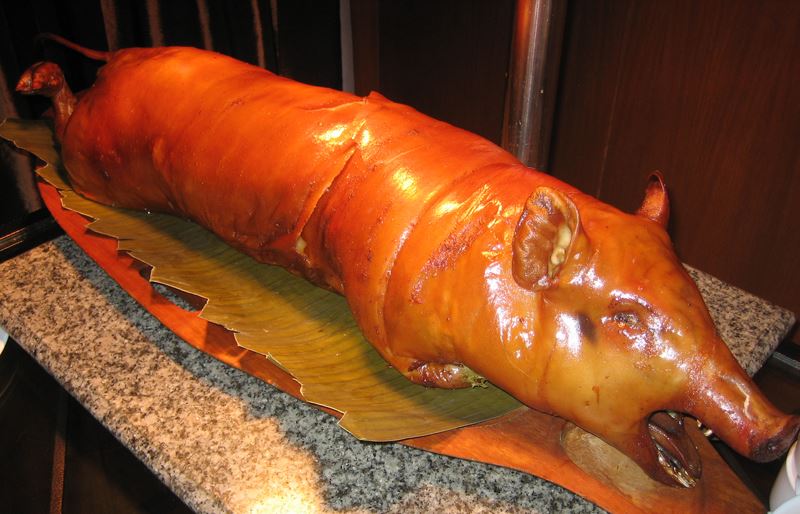 It's called The House of Native Lechon and it's a guarantee that when you get to taste their lechon you'll really taste the delicious difference. And since they serve an 'all you can eat' buffet, the buffet isn't just limited to just lechon or its meat derivatives.
The inspiration that drove Ramon and Maricar to open this type of restaurant stemmed from their experience in trying to find the "perfect" lechon taste.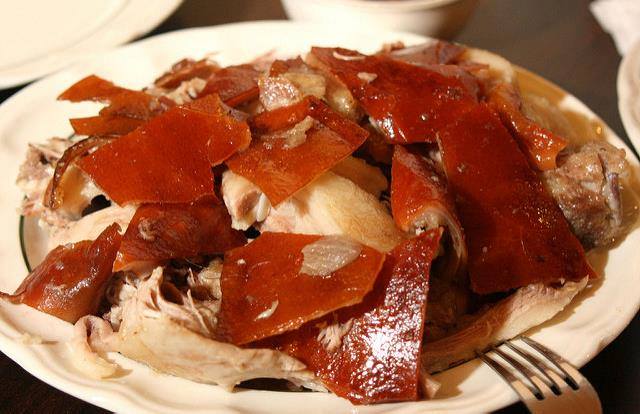 For the restaurant's theme, they chose a sort of "Pista ng Nayon" ambiance since lechon is usually associated with fiesta celebrations. This is why they decided to use a lot of native wood and bamboo as well as other native materials in the overall interior design of the restaurant.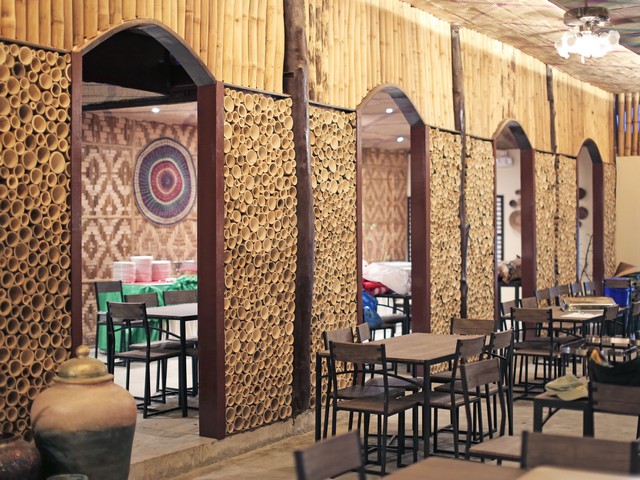 On average, the restaurant goes through 7 to 8 lechon per day, catering to an average of around 400 persons per day, both from lunchtime to dinner time.
The House of Lechon is open from Mondays to Saturdays, 11:00 a.m. to 2:00 p.m. and 5:30 p.m. to 9:00 p.m.
Mommy Inday's Kitchen / Tita Ins Lechon
Sometimes the original will go on to stay the best. Many Cagayanons still consider Tita Ins Lechon as the best tasting and flavorful lechon in CDO, and given the fact that it was the very first lechon house to establish itself in the city back in 1928 when it was still a town.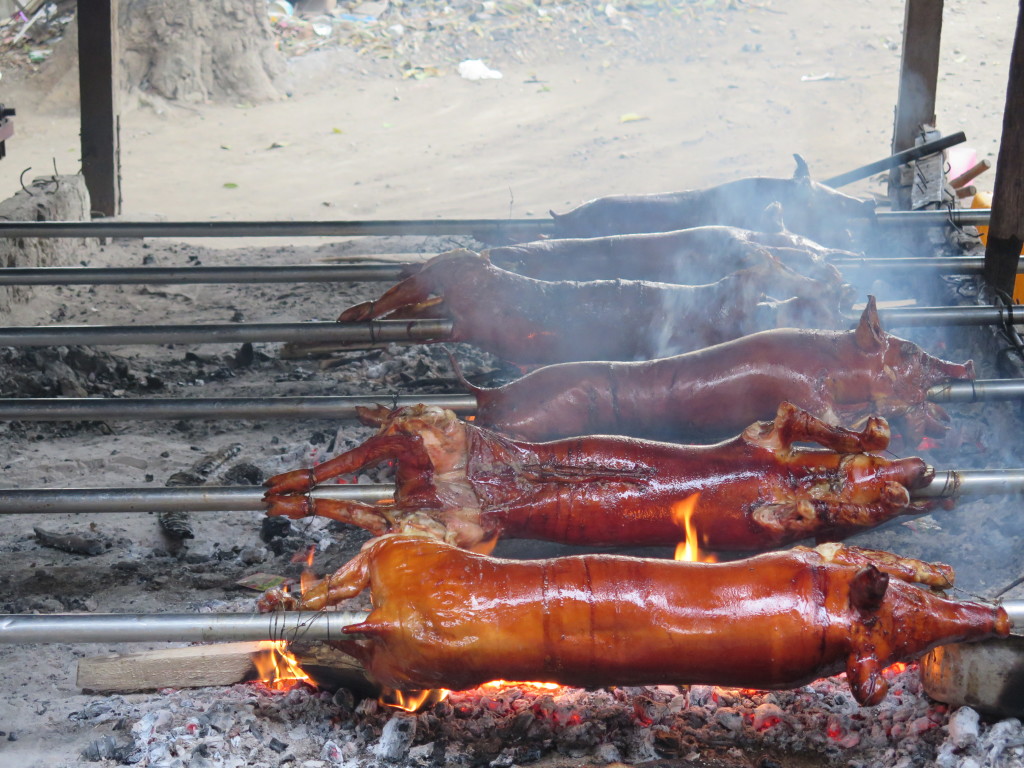 After almost 8 decades Tita Ins is now Mommy Inday's Kitchen, but still run be the same family business entity, and still with the same delicious taste, its equally delicious homemade lechon sauce (the only one in CDO), and great tasting dinuguan.
Mommy Inday's Kitchen/ Tita Ins can still be found at the corner of Yacapin and Burgos Streets. If you're lucky you might even catch a glimpse of Tita Inday Neri still cooking delicious dinuguan, paklay, and halang-halang at 80 years of age. You can get in touch with them at 09274984470.
Nono Lechon House
Although a bit outside of Cagayan de Oro, in terms of distance Nono Lechon House is only at Igpit, just before reaching Opol. It's along the highway so you won't miss it. If you do, all you need is to ask any store along the highway and they can show you the way. They're that well known in Igpit. They're still one of the old school lechoneros around that use arranged wood fires and bamboo spits to manually turn the cooking pig around. You can get in touch with them at 09152252260.
Mr. Pig Lechon House
Their original location is at 22nd and 31st Streets (Ramonal Compound) in Nazareth where they still use wood fires to cook their lechon and lechon belly.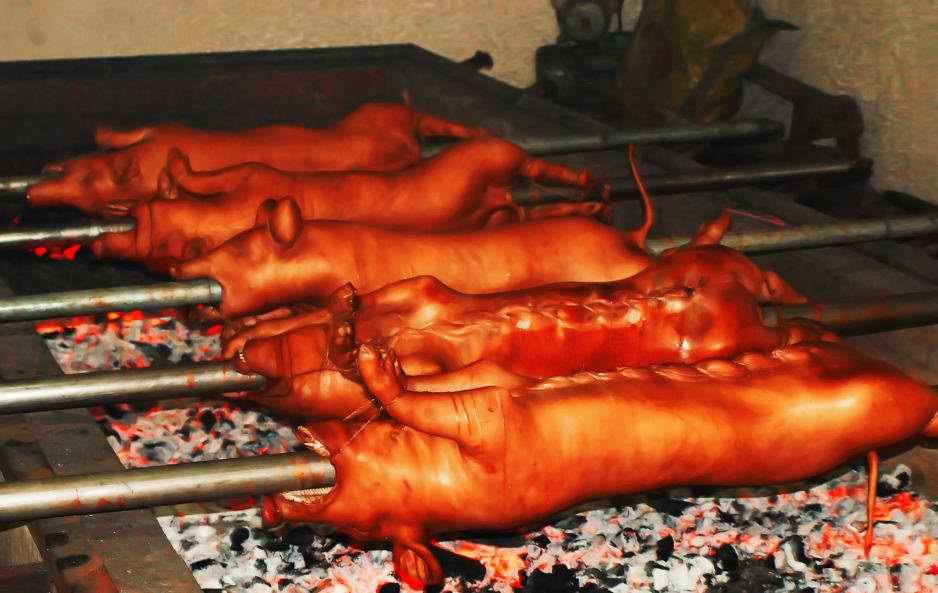 They have also branched out at the J.R. Borja Extension for their lechon belly slabs. Many also swear to their lechon and lechon belly as being delicious, crunchy, and juicy. You can get in touch with them at 09177222085.
Three Little Pigs
Manilans consider this one of Cagayan de Oro's best lechon places and even Cagayanons don't know where they're located because much of their business seems to center on Manila orders. However, many Cagayanons will also swear that their lechon is one of the best tasting they have ever tasted. Three Little Pigs pride themselves with raising their own organic hogs that are fed with soybean feed. According to owner, Nino Contreras, this is what makes the difference in the lechon's overall taste when it is cooked.
They run a piggery with about 200 to 300 pigs regularly in stock. This is a big marketing difference considering that other lechoneros in the city buy their pigs from other sources. Also, their lechon is grilled Cebu style, something that some CDO lechoneros have not adopted. All their pigs are so well seasoned that you don't have to put anything on it when you eat it. Salt is more than enough so you don't have to put lechon sauce. You can get in touch with them at 09177066143. For Manila or other orders outside Cagayan de Oro, you need to give them a few days' notice.
Dodong Paasa Lechon
"Dodong" is considered one of the old lechoneros in CDO and they can still be found at Mabini corner Burgos Streets near the iglesia ni cristo church. Not only do they accept lechon orders but also lechon baka, lechon kanding, sampayna, papait, halang-halang, and kalderitang kanding. Many old timers swear that they have been around for more than 30 years and have done well in the lechon business even without modern digital media. They even accept Manila, and Cebu, and other outside CDO orders. You can get in touch with Marco or Roro Paasa at 09274904397 or 09228949865.
Totong Lechon
You need to go to the western outskirts of CDO – the road going to Iligan – to look for Totong Lechon. You need to look close since its signage and the store that goes with it is somewhat old, faded, and under the shade of a big tree that sometimes covers the signage. It's not a restaurant, but your typical "lechonero" place where you can pick the pig you like for roasting. The lechoneros there have been doing it for many years now. Many Cagayanons actually swear to the succulent taste of Totong's roasted pigs and some families have been their regular "suki" (repeat customers) for two or three generations now. You do need to pick up the lechon though, but many say it's worth the trip. And because we also consider "lechon varieties," here some other "lechon places" that you may also consider.
Pigterest Lechon Belly by Tita Inday Neri
One of the original lechoneros in Cagayan de Oro, and many swear as the most delicious and most frequently copied for their ideas, is Tita Inday Neri's Lechon (Tita Ins) at Yacapin corner Burgos Streets. Today, Tita Ins is now called Mommy Inday's Lechon. With the coming out of lechon belly, Tita Ins has adopted and has now branched out with Pigterest Lechon Belly located at the Smiley's Food Hub at the corner of Corrales Avenue and Arch. Hayes Street, in front of Xavier University.
Both Tita Inday Neri's and Pigterest are open from 10:00 in the morning up to 9:00 in the evening. Pigterest sells their lechon belly at 1 kilo, ¾ kilo, ½ kilo, and ¼ kilo slabs. You can have it chopped or not. They serve rice meals with choices of regular lechon, lechon belly, or dinuguan. If you brought your own rice they sell lechon belly only without the rice. Their rice meals come with a glass of juice. The owners of Pigterest are also the owners of Fusion Resto Café on Corrales Avenue and they serve a whopping lechon belly sandwich there, just in case you want an air-conditioned venue. You can get in touch with them at 09274984470.
Poldo's Lechon and Fiesta Grill
Poldo's earned its name from being a lechon take-out counter that you easily spotted at major supermarkets around the city. The counters are still there, but it has a new fast food restaurant located along Vamenta Boulevard in Carmen, almost in front of Jollibee Carmen near the new bridge.
The restaurant sells all kinds of lechon and other pork dishes as well as caldereta, fish fillets, chicken dishes, and the like. You can always order a full lechon in advance about 3 days before your event and either have it delivered or you can pick it up.
Anon's Lechon
Another well-known name in the CDO lechon industry, it's another take-out counter business that flourished into a mini-eating place at the Robinson's Galleria at the Limketkai Center where you can order lechon for dine-in meals or take-out by the kilo. They recently opened a full Anon's Lechon Restaurant on Apolinar Velez Street in front of Sentro 1850. Anon's will deliver or have your lechon picked up for your celebrations as long as you order at least 3 days in advance. Many say their lechon kawali dish is superbly the best in the city.
Josephus – Cebu's Best Boneless Lechon Belly
Josephus is a cute lechon and Pinoy dishes restaurant at Tiano-Mabini Streets.
Aside from its lechon and other dishes for dine-in or take-out the place serves the first ever whole boneless lechon roast belly to come to CDO. A small one can serve up to 10 persons while a large one can serve 15-20 persons.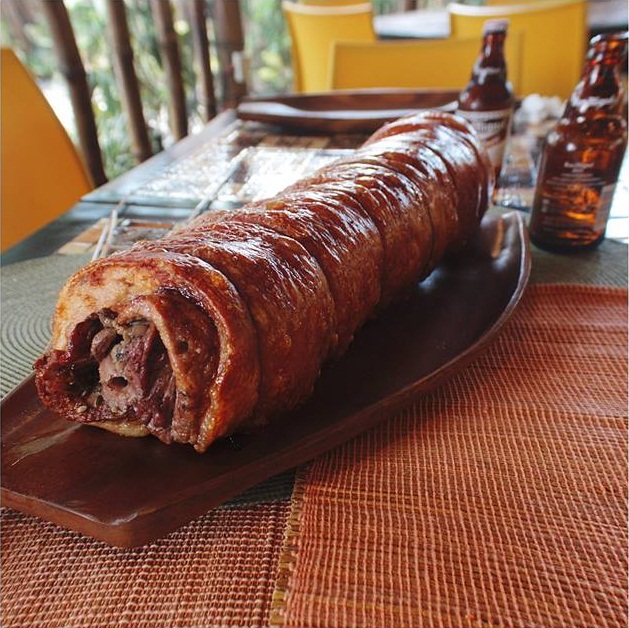 If you order around 4 or 5 of these for your party or celebrations, then you're good to go. It's something unique to serve your guests and visitors.
Tita Mimi's Catering
Yes, it's the same Tita Mimi's Catering along 15th Street, Nazareth Subdivision, and you probably didn't know that they accept orders for whole roasted lechon delivered to your doorstep, or just pick it up yourself. Like their other catering menu dishes, Tita Mimi's lechon is quite affordable and very tasty. It's a surprise for many but since catering services have been their business for many years, it's no wonder that they also serve whole lechon. You can even have the lechon chopped in advance whether it's part of a catering service or for pick up as a single order.
Fatzo Lechon Restaurant and Wholesale
This is a fairly new establishment along Magsaysay corner Del Pilar Streets. It's a bit hidden away, but if you know your streets then you simply head down Del Pilar and along the way you'll see Magsaysay Street and Fatzo.
Image Source | www.facebook.com/FatzoLechon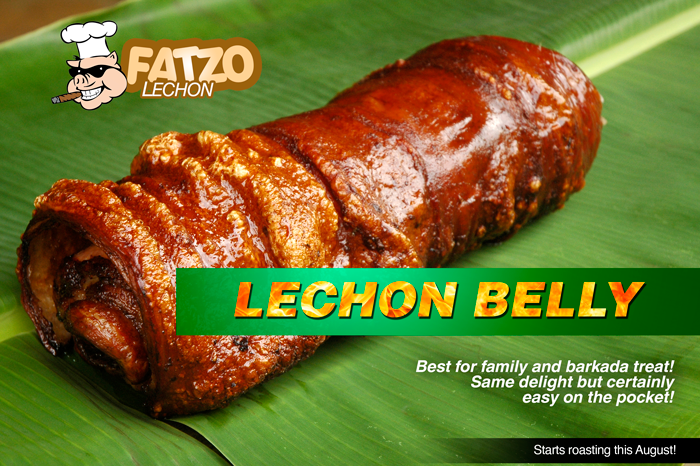 Image Source | www.facebook.com/FatzoLechon
They're probably the only lechon place in the city that guarantees free delivery to all points within city limits. One of their bestsellers is the boneless lechon belly which you can also order in place of a whole roasted lechon for your parties and celebrations.
Its proprietor is Kayce James P. Eduria. They provide free halang-halang or dinuguan for every whole lechon order and they also serve lechon kanding (roasted goat) and lechon baka (roasted cow).
Mom's Pig Out
There are now four of these cute lechon and pork dish restaurants around the city. It's a family business owned and Managed by Carlo Chiong that first opened at J.R Borja Extension which is the Main Branch, then at Carmen, Gusa and recently at SM City Mall.
Their bestsellers have always been their whole roasted lechon and boneless lechon belly. They also serve dinuguan, paklay, kilawin, lechon kawali, lechon paksiw, and sisig.
Cagayan de Oro is now considered as one of the cities in Mindanao to serve the best seasoned roasted lechon, almost at par with the best from Cebu. So if you're in the market to celebrate with a fat roasted pig, you might want to check out the places listed above. While there may be other smaller places you might have heard of, these establishments are considered the best that CDO has to offer.