22 Apr

Best Summer Getaways in Cagayan de Oro City and Nearby Areas

Summer: The word synonymous for sun, heat, and heatstroke (just kidding), and fun, of course. The word synonymous for weekend getaways, vacations, swimming, and even more fun. Cagayan de Oro will never run dry and certainly can hold its own when it comes to summer getaways. Aside from those within the city limits, most of the resorts and other getaways in nearby Misamis Oriental and Bukidnon are also favorite go-to's by Kagay-anons as well as out-of-towners. So, instead of going far and wide by plane or boat to get some sun and fun, grab your summer outfits, suntans, sandals, and head on down to the nearest fun place that's just a ride away.
Whitewater Rafting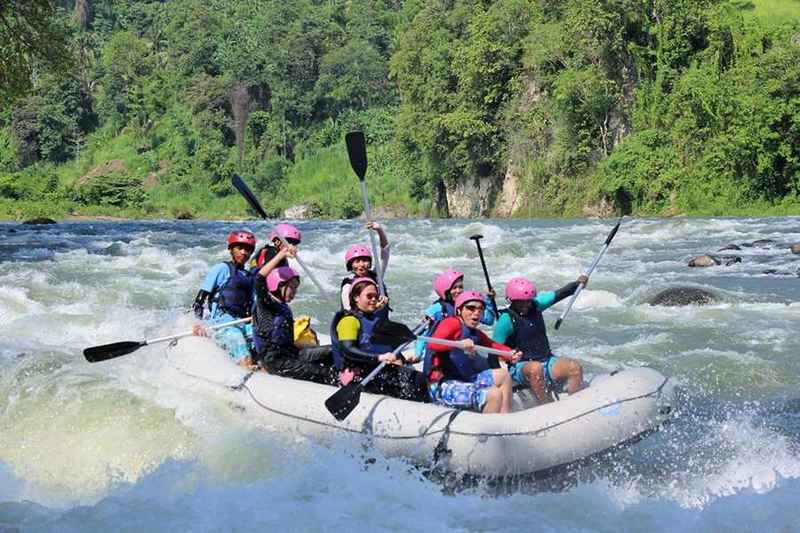 Naturally, we need to start with Cagayan de Oro's prime/main/premier tourist attraction, thanks to nature's bounty, and this is the Cagayan River. Whether a Cagayanon or not, you need to experience what has made CDO famous and officially placed the city on the tourism map. Literally everyone from the edge of Luzon to the outer rims of Tawi-Tawi who have experienced the whitewater rafting on the Cagayan River has given very positive reviews about it.
From the city proper it is only around a 45 minute drive to the launching point at Mambuaya. There are package tours available for every conceivable grouping. Participants in the past have commented on the highly safety-conscious nature of the rafting guides. Courses may last up to 2 hours depending on the river's condition. One rafting option is the "short course" in which you need to pass through 14 rapids, costing around P900 for each person. The "long course" passes through 21 rapids and costs P1,000 per person. Each package is allowed a minimum of five persons per group. Even international rafting experts now consider Cagayan de Oro as the whitewater rafting capital of the Philippines.
Makahambus Adventure Park
Still not a very popular getaway, it deserves more from the local populace in terms of tourism. This is a 40 minute drive outside the city just beyond the city's Lumbia HHnP air station. The best thing to try in this park is the sky bridge for a really great adventure. Be sure to ask your guide about the Battle of Makahambus that took place within the area.
The park is actually a series of underground caves with a 150-foot circular gorge. The sky bridge is actually three hanging bridges that are tied to three very tall trees. There is also a zip line and rappelling. The only part of Makahambus cave allowed to be explored starts at the cave's large opening; you will need flashlights to navigate the cave path until it terminates out onto a promontory with a great view of the Cagayan River.
Apple Tree Resort
This resort is situated in Taboc, Opol, Misamis Oriental. It is only around 20 to 30 minutes from the city center. It's a great getaway place with two swimming pools where family and friends can go swimming, or enjoy the private beach area for swimming and picnics. If you're there for the food, the resort has an indoor and outdoor restaurant with complimentary Wi-Fi. Night dining will give you an awesome view of the Macajalar Bay. Should you decide to stay there overnight with the family, they have 39 guestrooms and suites with good amenities.
Ultra Winds Mountain Resort
The infinity swimming pool at this mountain resort in Baungon, Bukidnon, is now considered to be the biggest in the area. The swimming pool is called as such because it is inside the mountaintop resort with a view overlooking the Cagayan River and most of Cagayan de Oro. The view at dawn or dusk can be very breathtaking. The resort pool is open from 8:00 a.m. to 5:00 p.m. each day while the resort is open from 7:00 a.m. to 9:00 p.m.
The resort is actually on the Cagayan de Oro-Bukidnon boundary and is accessible through the Taguanao access road just after the CDO Convention Center. From the city center it is only a 30 minute trip. It is a family-friendly resort with a dining restaurant whose main attraction – aside from its good food and menu lineup – is the panoramic view at night overlooking the river and the city. It also has hotel rooms, accommodations, and amenities as well as a downhill zipline.
Dahilayan Forest Park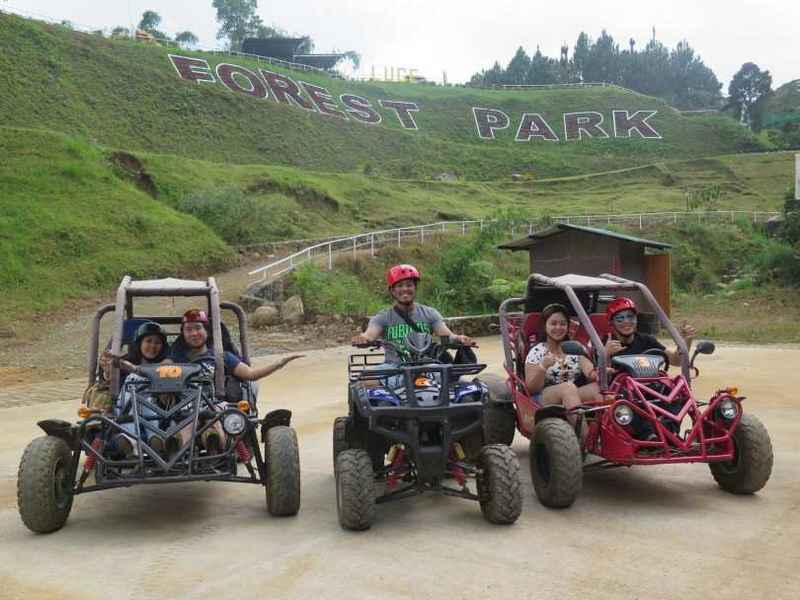 This world-class adventure park is located in Dahilayan, Bukidnon, at least an hour and a half from Cagayan de Oro City. It is a family destination in a foggy park with a dream-like sprawling playground on a mountain, picnic grounds amidst pine trees in the cool breeze, and animal sculptures all over. The resort now boasts 40 hotel rooms. The park has gained popularity in the tourism industry and from the influx of people from all over the Philippines. The adventures and rides include ATV (All-terrain Vehicle) and Buggy trail adventure ride, Luge Sled Downhill Ride from New Zealand, Zorbit Ball, Bumper Boats (instead of bump cars), Barrel Train, Bungee Bounce and Net Trampoline, Hanging Bridge, Forest Putt Mini Golf, Tree Top Adventure, and Horse-back Riding.
Mapawa Nature Park
This is the other of only two adventure parks within Cagayan de Oro, located at the Malasag area in Cugman. Reaching the park is at least a 30-minute drive. You can take advantage of their package tours and treks at around PhP1,200 per person. The resort is a 2,500 hectare eco-tourism park ideal for trekking, hiking, and zip lines. The flora here, especially the trees, is said to be centuries old. They also have rappelling, cliff jumping, and a water slide. You can bring your own food there for cooking. They also have a restaurant and outdoor swimming pool.
ARJE Resort
This is a free-flowing cold water resort located in Jasaan, Misamis Oriental. It is only a 40-minute drive from Cagayan de Oro. The cold water pool is just that, so naturally cold coming down from the mountains, and the spacious pools and space makes it ideal for the family or large groups looking for bonding time. They have cottages, tables, and room accommodations for those looking to stay a bit longer. There are separate pools for adults and children. Cooked or uncooked foods can be brought in.
Kahulugan Spring Resort
This natural flowing cold water spring resort in Jasaan, Misamis Oriental, is considered the biggest and best in Jasaan. It boasts two adult pools and a children's pool.
The cold water pool is brought on by the natural springs from the nearby forests. The resort has tables, cottages, and room accommodations. The pools are guarded by life guards. Cooked or uncooked foods can be brought in, and there are spaces suitable for cooking.
Mantianak Wildlife Park
This is a wildlife and nature park in Sugbongcogon, Misamis Oriental, complete with natural forests and wild animals. That's right, and it's only an hour's drive from Cagayan de Oro. The park's main attraction is its male and female Siberian Tigers (yes, they're a couple).
There are pathways that lead around the forest and to the picnic area where cooked food can be brought in for gatherings.
Other exotic animals there include rare bird species and rare ponies.
There are cottages available for overnight stays. There is even a playground for the kids and a wonderful mini-falls and fishpond filled with exotic fish. The park is operated by the local municipal government of Sugbongcogon.