30 Nov

Bigby's Café and Restaurant to Hold 18th Anniversary Buffet

November 29, 2016 – Cagayan de Oro City – Bigby's Café and Restaurant, Cagayan de Oro City's top fusion and foreign cuisine restaurants, will hold its Super 18th Anniversary Buffet on December 8, 2016, Thursday, at all Bigby's Restaurants across the country. Since its first anniversary, Bigby's Café and Restaurant always holds an anniversary buffet in order to banner the restaurant's top bestsellers and flagship dishes. There are actually two buffets to be served: Lunch Buffet and Dinner Buffet. Tickets are at P395 for adults and P250 for children.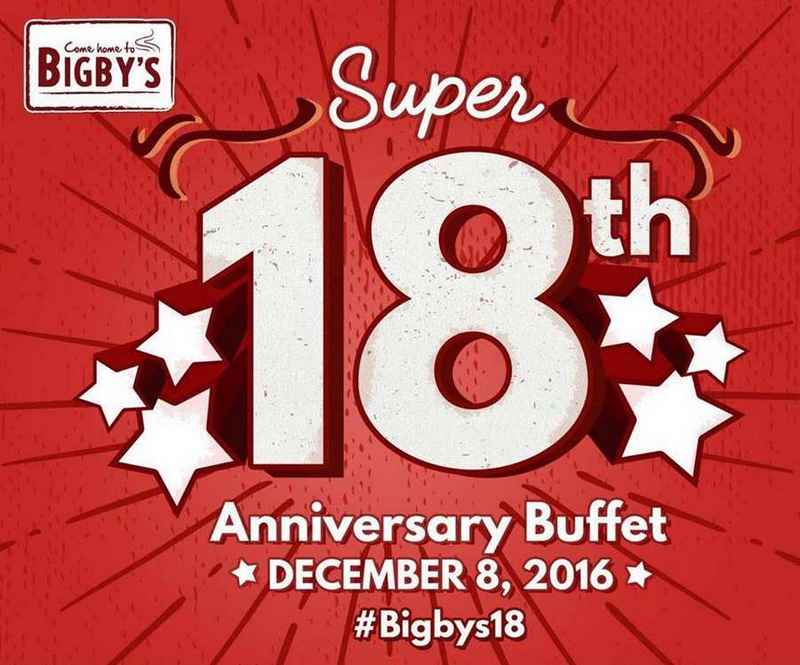 The 18th Anniversary Buffet will be served at both Cagayan de Oro branches at Ayala Centrio Mall and SM City Mall. It will also be served at the Bigby's branches at the Ayala Center Mall Cebu, SM City Mall Cebu, Abreeza Mall Davao, SM City Mall Davao, and Veranza KCC Mall in General Santos.
The buffet menu lineup will include Rack-a-bye baby back ribs, Tapa bai, Chix ahoy, Pineapple ham carving, Oki poke salad, Caesar salad, Jalapeno cheese sticks, Passion fish, Chin's fish cutlets, Sriracha garlic, chicken wings, pasta Carbonara, fresh fruit platter, fudge brownies, and iced tea.
These have been known to be some of Bigby's signature dishes in the past.
About Bigby's Café and Restaurant
Bigby's is one of the most famous restaurants to be established in the city, and it comes midway between fine dining and fast-casual eating. One of the restaurant's major achievements is being the grand champion for six years in the annual KUMBIRA Culinary Show, professional category, for 2000, 2002, 2004, 2005, 2006, and 2007. Duly recognized by Go Negosyo (Philippine Center for Entrepreneurship), the Cagayan de Oro Chamber of Commerce has also seen fit to give Bigby's its Most Outstanding Business Enterprise Award.
Bigby's has also been featured in Yummy Magazine, Philippine Daily Inquirer, F&B Magazine, E&B Magazine, Good Housekeeping Magazine, Business World, Manila Bulletin, Food Magazine, and Masigasig Magazine. Most recently, TripAdvisor Philippines awarded four restaurants in Cagayan de Oro its Certificate of Excellence. This excellence certificate is only given to restaurants that meet their excellence standards based on traveler and customer reviews. One of these four was Bigby's Café and Restaurant.