10 Jun

Who's the Biggest Spender Among CDO Mayoral Bets During Their Campaign?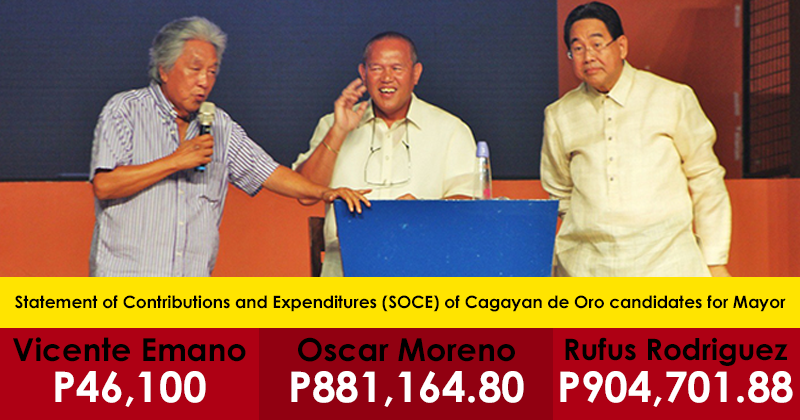 The poll body received the Statement of Contributions and Expenditures (SOCE) of Cagayan de Oro candidates for Mayor at the last day of the filing on Wednesday, June 8.
It was then seen that Rufus Rodriguez is the top campaign spender for the mayoral race in the recent May 9 elections. Rodriguez's total expenses summed up to P904,701.88, all paid out from "personal funds and resources."
Next to him is re-elected mayor Oscar Moreno with expenses amounting to P881,164.80, which also came from personal funds and resources.
Last in the list is former mayor Vicente Emano who spent only P46,100 paid out of personal funds and resources.
"Basin wala sad gayud nag-contribute sa ilang kampanya kay zero man ang nakabutang sa ilang total contributions received nga item diha sa form," said City Comelec Officer lawyer Joel Dexter Nagtalon who believed that the three candidates did not receive cash or in-kind as donations from their political parties or from other sources.
After the submission, the Candidates had sworn and signed that all data on their SOCE including attached documents are true and accurate.