11 Dec

Have a Weekend Getaway at the New Blu Sands Beach Resort for a Unique Beachfront Experience

Once in a while About Cagayan de Oro and All About Cagayan de Oro (on Facebook) feature establishments outside of Cagayan de Oro that somehow contributes to the economy or tourism of the city. Cagayan de Oro is, after all, the capital of Misamis Oriental and on occasion the province contributes profusely to the city's tourism, and vice versa. So in this case we feature the Blu Sands Beach Resort in Tubigan, Initao, Misamis Oriental.

Geographically, Cagayan de Oro is located inside Macajalar Bay, and while this makes for good waters for ship ports and facilities, it doesn't give access to good beaches.

Instead, the almost straight access to open waters of the eastern and western coastline of Misamis Oriental creates some of the best beach resorts in the province such as Ajis, Midway, Hapitanan, Duka Bay, and now, Blu Sands Beach Resort.

Blu Sands has just opened this month, providing Cagayanons, Misamisnons, and other tourists a resort for those brief "stress release" vacations or weekend bonding getaways that won't take you far from the city since Initao is only about one hour from Cagayan de Oro.

First time visitors won't get lost because Blu Sands is located between Midway and Hapitanan. This is a prime location for beach resorts famous for its dazzling sunsets especially during clear weather conditions and on the summer months. The large part of the resort is given to the hotel itself, with screened and roofed beach side cottages on the beach front.

This is something different compared to the more common open cottages in other beach resorts so that food is not exposed to the elements and flies.

The beach cottages are good for families and other groups who want to enjoy beach swimming while at night guests can enjoy the large swimming pool for night swimming, though the pool is also open during the daytime for guests who prefer fresh water to salt water. There is even a children's swimming pool for the small kids to traipse in.

The resort's rooms are all non-smoking rooms and rates are quite affordable as shown below:
Deluxe Room – P1,800.00
Deluxe Room with Veranda – P1,800.00
Twin Room – P2,200.00
Family Room – P2,500.00
Suite Room with Kitchen – P3,800.00
Barkadahan Rooms good for up to 12 persons – P5,000.00
All resort rooms are air-conditioned. There is a free breakfast good for 2 persons for all rooms except for the Barkadahan rooms. The resort has an indoor restaurant for guests to enjoy their good food and dishes.
There is a swimming pool fee of P150.00 from Monday – Friday and P200.00 on Saturday and Sunday. Cottage rentals good for 15 persons is P1,800; beyond 5:00 p.m. you need to add P2,500. Cottages for 30 persons are at P2,800; beyond 5:00 p.m. you need to add P2,500. There are also table rentals at the beach front available at P800.00.
Below are their room and cottage rates: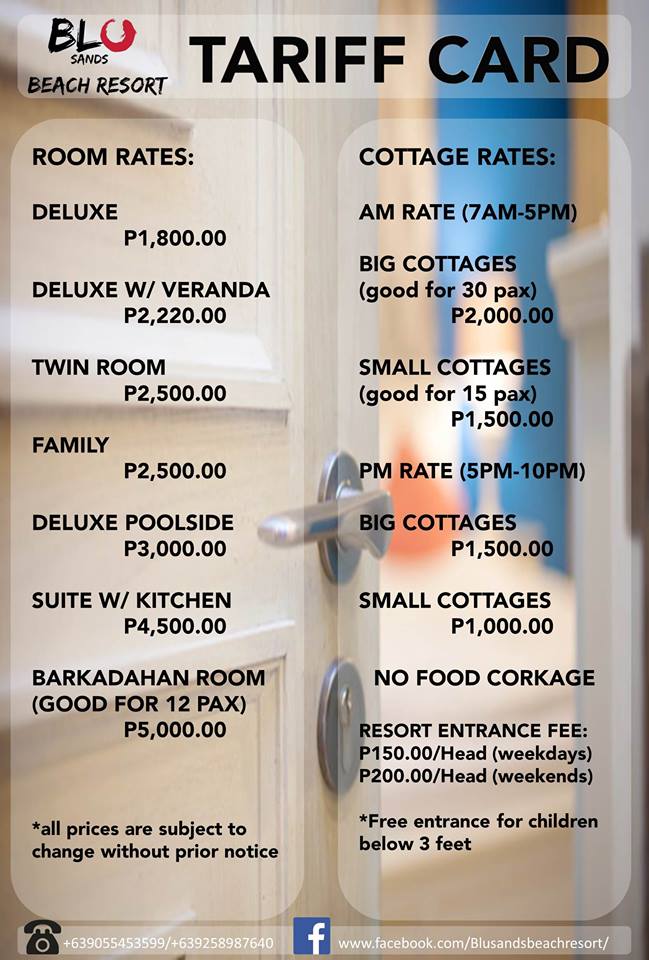 Conclusion
Obviously, and in line with the December holidays, Blu Sands offers a unique venue for those small to medium company Christmas parties or generally to celebrate any occasion or event. There is even the choice of having it indoors or outdoors. If you're on the hunt for a really good resort outside of the city, now is your chance to take a look at the newly opened Blu Sands Beach Resort.