01 Mar

LOOK: The Boardwalk And Mangrove Eco-Park Of Alubijid MisOr

Mga higala! Wanna relax and explore this weekend?

Then you should try and visit the scenic BOARDWALK and MANGROVE ECO-PARK in the Municipality of Alubijid, Misamis Oriental.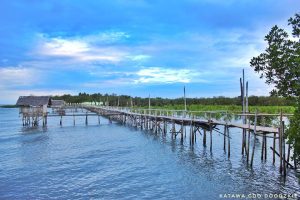 This beautiful Boardwalk and Mangrove Eco-Park is only 1 hour away from Cagayan de Oro City and can easily be reached by riding a bus and a habal-habal motorcycle.
Entrance Fee is only 20 PESOS and they are open from 7:00 am to 10:00 pm.
HOW TO GET THERE:
Ride a bus or jeepney bound for Alubijid at the Westbound Bus Terminal of Bulua.
Get off near an overpass at the center of Alubijid and ride a habal-habal in the nearest road crossing.
Ask the driver to take you to the "boardwalk" at Barangay Baybay and pay around P30.
Upon reaching the destination go to the entrance and pay P20.
You can then explore freely all over the boardwalk and eco-park, and you can also rent a cottage for as low as P300.
NO CORKAGE! You can bring your own food.
You can also bring appliances like electric stoves and rice cookers by paying an additional fee of P50.
For more pictures, see the amazing shots posted by Katawa CDO Doodzkie below: