31 May

Brigada Eskwela Launched, More Volunteers Needed!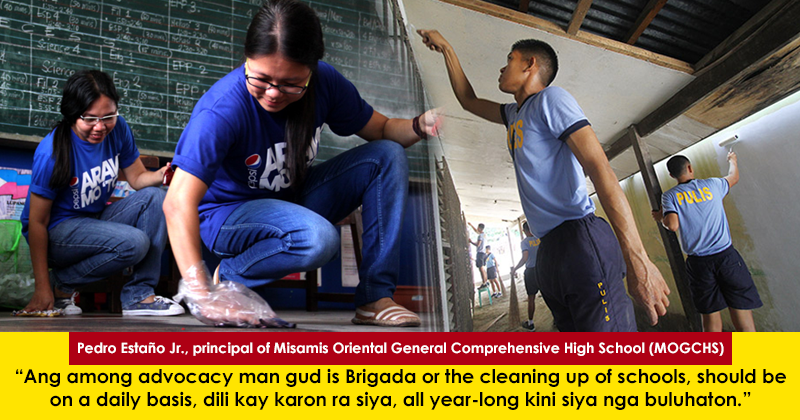 On Monday, May 30, the Department of Education (DepEd) launches their annual Brigada Eskwela program.
The Brigada Eskwela program will last until June 4. Schools, particularly here in Cagayan de Oro City needs more volunteers to get the job done on this year's Brigada.
Pedro Estaño Jr., the principal of Misamis Oriental General Comprehensive High School (MOGCHS) said that they have accumulated P2 million donations from stakeholders that started as early as January this year.
"Ang among advocacy man gud is Brigada or the cleaning up of schools, should be on a daily basis, dili kay karon ra siya, all year-long kini siya nga buluhaton,"he emphasized.
"Ang problema man gud diri is kulang gyud ta kaayo ug classrooms mao kining dili kita maka-accommodate ug more students for the K-12. Ang proseso gane diri is double shift, lahi nga batch ang gabie ug buntag. Kung naay mag-enroll gyud, pwede gabie na gyud ang klase," he also added.
Estaño praises the improvement of the classroom to student ratio for MOGCHS that went down from 1:50, now at 1:40. This is expected to improve again for this year as they are waiting for the promised 100 classrooms that are yet to be given by the city government.
Since Mayor Oscar Moreno had his focus on education, specifically in building school buildings, then the 100 classrooms that are planned to be erected for MOGCHS is anticipated.
Meanwhile, Arnold Tejero, the City Central School principal said that he is overwhelmed by the support from the government and various private companies. Manpower was sent to aid the program. He is expecting to have the support continue until Saturday and is eyeing for more help to further elevate their performance in executing Brigada.
"Overwhelming kaayo ang nangabot na materials ug financial support na gi-donate sa mga lain-laing grupo. Grabe gyud ang among paningkamot kay contest man gud ning Brigada so gitawag namo ang mga ginikanan ug uban pa na gusto lang gyud mutabang nga muanhi na sa atong tunghaan," he said.