11 Aug

2 Brothers Killed During a Drug Bust Operation at Barangay Puerto

On August 8 at Purok 6, Barangay Puerto, there happened a drug bust operation enforced by the Criminal Investigation and Detection Group (CIDG)-Northern Mindanao and the Regional Intelligence and Investigation Division (RIID). There was an exchange of shooting for about two minutes and two brothers who were suspected to be involved in illegal drugs were killed.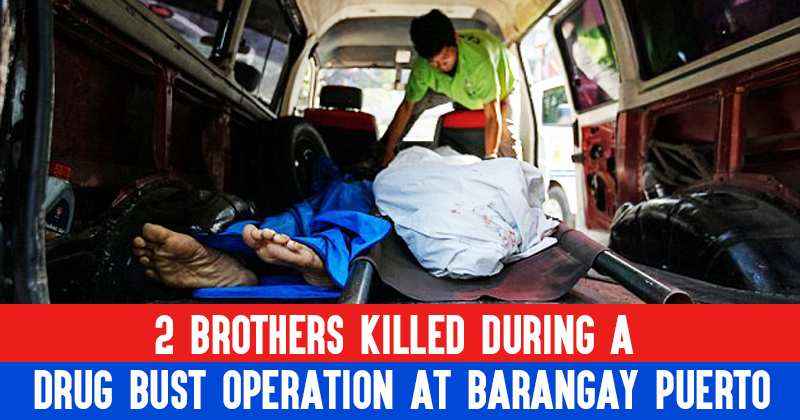 The brothers were Jose Louise Calderon and Ramon Carlos Calderon. They resist getting arrested by the police officers and was exchanging gunfire with them.
Following the intelligence reports, these brothers were under surveillance for two months as they were suspected to be illegal drug pushers, said Police Chief Inspector Melgar Devaras, CIDG-Northern Mindanao deputy regional chief.
The suspects fired at the police officers who were trying to arrest them causing the officers to fire back and subdue the situation.
There were gunshot injuries on the head and body of the suspects and were rushed to the hospital. But the attending physician declared dead on arrival.
These brothers were big time drug pushers and cited to live nearby a drug den, according to Devaras.
Devaras stated, "May drug den sa isang bodega at adjacent room ay bahay nila. Ang nangyayari bumibili sa bahay nila at dun sa bodega dinadala." The drug production was huge as these illegal drugs were produced from Ozamiz.
Sachets of shabu and dried marijuana leaves, 1 caliber 38 revolver, marked money, drug paraphernalia, 14 pieces caliber 38 bullets, 1 magnum revolver with one fired cartridge and 2 misfired bullets, 2 air gun rifle, 1 air gun pistol, 1 improvised handgun and 1 caliber 38 revolver made in Danao city were recovered in the area.
Suspects' aunt, Kristie Sabanpan admitted that her nephews were involved in illegal drugs. The family mourned and prayed for the eternal repose of their souls.
Sabanpan stated, "We are sad we lost them despite sa ilang gihimo nga not good at all. It's a choice they made in life. Wala mi nagkulang sa pag-remind sa ila. This is the circumstance of their choices, but we cannot blame them also. Usahay dili mabut-an ang tawo, there might be something going on inside them nga dili sila mag choose sa what is needed to be done, aware man sila but this is where their life ended."
The family does not have any idea on how the suspects got their guns that were confiscated by the police. The brothers were partners in a meat shop business.
"We don't know their actions during the operation so we can't say kung nisukol ba gayud sila but this is how it ended, we have to accept it," Sabanpan ended.